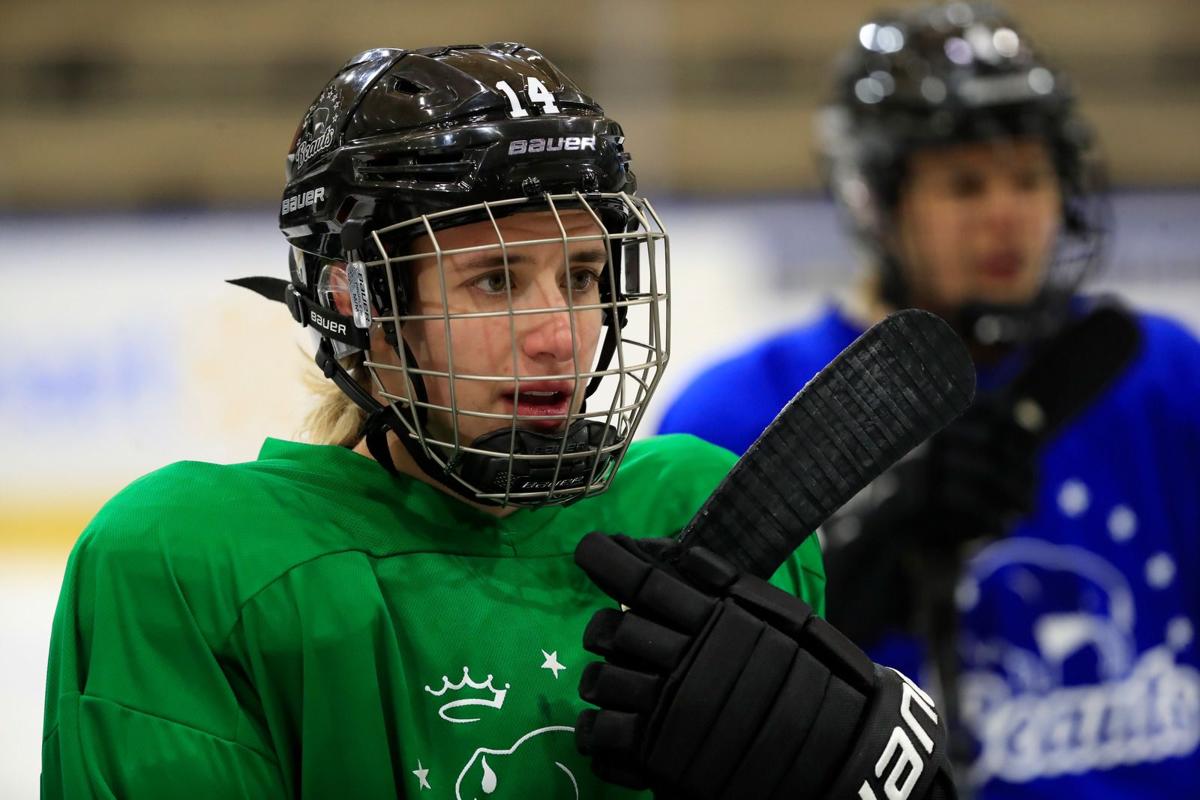 As Hayley Scamurra trained Monday in Calgary with the 24 best U.S.-born women's hockey players, her father, Peter, glanced at a small booklet that's a symbol of his daughter's relentless pursuit to realize a dream.
The pages contain hockey card-like photos featuring members of the 2005-06 Wheatfield Blades peewee travel team. Date of birth, favorite player, favorite NHL team and personal goal are listed under each portrait.
While her male teammates aspired to reach the National Hockey League, Hayley wanted to someday be a U.S. Olympian.
"I knew that was the height of women's hockey," she recalled in a recent phone interview. "There was no professional league to look up to, but the Olympians were our pro hockey, our NHL. It's a dream come true. It's pretty unbelievable."
Thus began a journey that will inspire young girls who wish to someday reach the sport's pinnacle. A Getzville native and Nichols School alumnus, Scamurra wasn't invited to Team USA camps as a teenager or college student. International competition seemed unattainable, as women her age were already embedded in the USA Hockey development program.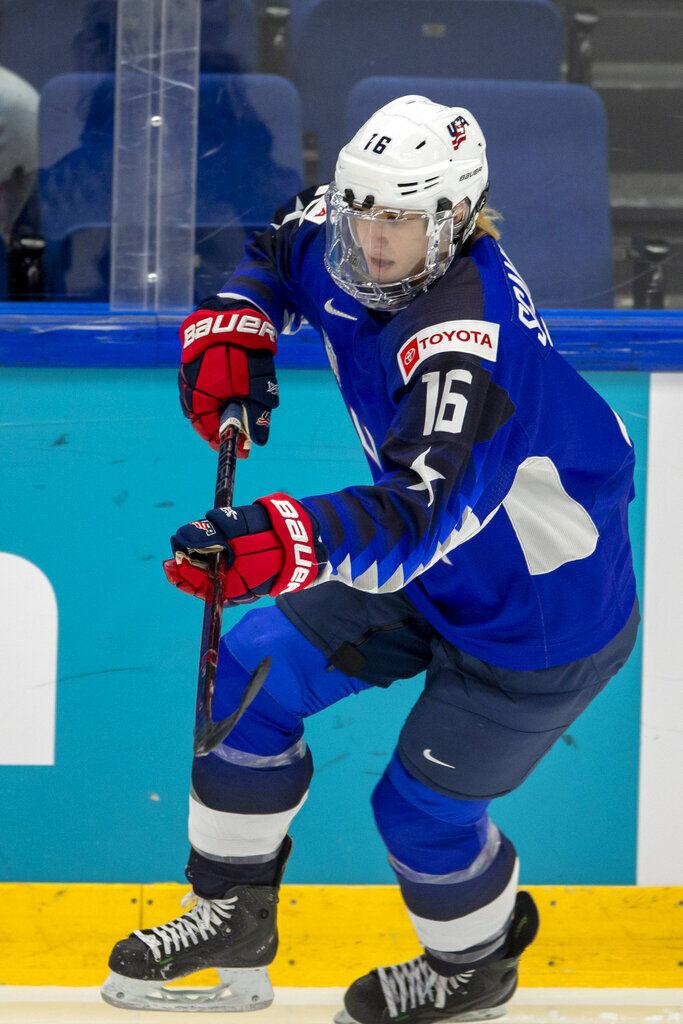 Driven by a passion for hockey that traces back to her family's backyard rink, Scamurra honed her skills competing on boys' teams until she was 12 years old, established herself as a top collegiate player at Northeastern University and proved with the NWHL's Buffalo Beauts from 2017-19 that she has all the talent needed to compete, and excel, against the best in the world.
Scamurra, a 26-year-old forward, is on the cusp of achieving her dream. She'll represent the United States and Buffalo at the IIHF Women's World Championship in Calgary, beginning Friday and culminating with the gold medal game Aug. 31. Games will be broadcast on NHL Network.
In October, Scamurra will attend the USA Hockey residency program in preparation for 2022 Winter Olympics in Beijing – almost four decades after her father was cut from the U.S. team in his bid to play in the World Cup.
"It was something I've always wanted for her, but we never pushed her to accomplish that goal," said Peter, who became the first person from Buffalo to play in the NHL when he debuted with the Washington Capitals in 1975. "I wanted her to feel that, enjoy it, experience it and just wherever the ride takes you, it takes you. But she's surpassed my expectations, that's for sure. She's thrilled about being there."
Peter Scamurra, a 2019 inductee into the Greater Buffalo Sports Hall of Fame who played four seasons in the NHL as a defenseman, had long been retired from his playing career when he first built the backyard rink that sparked Hayley's love for hockey.
Peter and his wife, Rebecca, have three sons – Jared, Colin and Travis – who spent countless hours skating on the sheet of ice. It wasn't until the sixth or seventh year of the rink's existence that Hayley was old enough to join her brothers. On Christmas Day, at Hayley's behest, Peter strapped leg pads on his daughter so she could attempt to play goalie.
"I think the backyard rink is hockey in its purest form," Hayley recalled. "It's so much fun. And you're just free and you play however you want late into the night. And there's something different about the cold air hitting your face, you know?"
Hayley attended Nichols School and eventually moved her career to Canada, where she played junior hockey for three seasons in the Provincial Women's Hockey League. Then came the move to Northeastern, a Division I program that competes in the rugged Hockey East and counts Kendall Coyne Schofield among its many talented alumni. In four seasons, Scamurra totaled 39 goals and 111 points in 123 games. She was named the conference's best defensive forward for the 2016-17 season and made the all-rookie team as a freshman. In 2016, Scamurra was selected by the Beauts with the No. 10 pick in the NWHL draft.
"In general, with her work ethic, I think that she would succeed pretty much anywhere," said Maddie Elia, a 26-year-old Lewiston native and fellow Nichols School alum who was also a teammate of Scamurra's with the Beauts. "I know, I used to play against her in college, and we never liked playing against Hayley just because of the way she played. She always played hard. She was never going to give up on anything."
Scamurra made an immediate impact upon joining the Beauts in 2017, helping the club reach the Isobel Cup final with four points in two games. In two full seasons that followed, Scamurra used the professional experience to learn more about how she could use her skills to make an impact. She was named the league's rookie of the year and co-MVP of the all-star game in 2017-18, and in 2018-19, her final season with the Beauts, she led the NWHL in points (20 in 16 regular-season games). Scamurra's on-ice instincts, vision and playmaking ability assisted in Elia being named the league's most valuable player. Scamurra was also named the NWHL Players' Association's top player of the year.
It was also the season in which she finally received a call from the national team. In December 2018, Scamurra attended USA Hockey's Women's Winter Training Camp in Plymouth, Mich., where she competed alongside some of the world's best for five days. An impressive showing earned Scamurra a spot on the national team for the 2019 world championships in Finland, where she helped her home country capture a fifth consecutive gold medal.
"She has a cool story," said Elia. "Most of these girls have been with Team USA since they were in high school, but to see Hayley be persistent and determined to get to where she wanted to be and to finally get there, is definitely really, really cool. And it's definitely cool for other people to see too, that there's a couple of different paths to go. And if you know what you want like Hayley did, then you can pretty much do whatever you think you can."
The path changed for Scamurra when in 2019-20 she was one of 200 players to boycott the NWHL. The best players in the world demanded a say in establishing a new league that would provide the salaries and benefits to allow them the financial means to train like professionals, rather than being forced to supplement their income with another job.
The athletes created the Professional Women's Hockey Players Association, an advocacy group working toward that goal. 
The 2019-20 NWHL season proceeded without those players, while Scamurra and the others participated in showcase events to increase visibility for women's hockey. Scamurra also decided to pause her pursuit of a graduate degree in speech and language pathology from the University at Buffalo. She wanted to focus all her energy into the once-in-a-lifetime opportunity.
However, the Covid-19 pandemic caused the cancellation of the world championships in 2020 and prevented the PWHPA from holding more events in arenas across North America. Scamurra participated in an exhibition at Madison Square Garden in February 2021, but she needed to get creative with her training over the past year.
"For me, I'm by myself, really, in Buffalo," said Scamurra. "There's a few other girls but not from the national team. So, I've had to just kind of find my own way through it. I actually practiced with a Junior Sabres team a few times a week. And then I had to go to skills (sessions) in Rochester, and then, you know, various other coaches helped me when I needed it, getting ice by myself. It's been a juggling act, for sure. Just trying to find any ice I can."
When brighter days returned amid a global health crisis, Scamurra's dream was back on track when she and the rest of Team USA gathered for training camp in Maine ahead of the world championships in April. They were amid preparations for the tournament, which were scheduled for May 6-16 in Nova Scotia, when the team learned the tournament was canceled.
Scamurra and her teammates remained on the ice for 15 minutes, sobbing and in disbelief that after all this time, and despite other tournaments being held around the globe, their bid for a sixth consecutive gold medal might have to wait another year.
The tournament was eventually rescheduled, providing an important platform to women's hockey and affording players from each participating country the opportunity to prepare for the Winter Olympics.
"It's huge visibility and that's so important," Scamurra said. "And you know, for two years, we haven't been on people's TVs. It's like, 'Where's the women's hockey team?' I just think it's super important for us to be on TV and young boys and girls to see it, and know that it's possible and know where you can kind of go with it."
Many young girls in Buffalo have learned about Scamurra's path through her coaching learn-to-play clinics. She's an example to aspire to, following in the footsteps of Emily Matheson (Pfalzer), a Getzville native who won gold at the Winter Olympics in 2018. Matheson, who was part of Team USA as a teenager, also won gold medals at the world championships and under-18 world championships.
Before Scamurra embarked on the recent trip with the national team, her father reminded her that it's a "big deal" that she's the only woman representing Buffalo at this latest tournament. While other former Beauts are on the roster – Megan Bozek, Dani Cameranesi and Nicole Hensley – she is the only one who hails from Western New York and trains here year-round.
"I think it's easy to kind of say the bigger names in hockey, but to have someone who kids can physically see in Buffalo and you see her at the rink, and someone that went to a local school," Elia said of Scamurra. "I think that has way more of an impact because you're seeing what you want to be right in front of your eyes rather than just reading about it or watching on TV. So Hayley's kind of living proof that a little girl from Buffalo can pretty much do whatever she wants, if she puts her mind to it. …