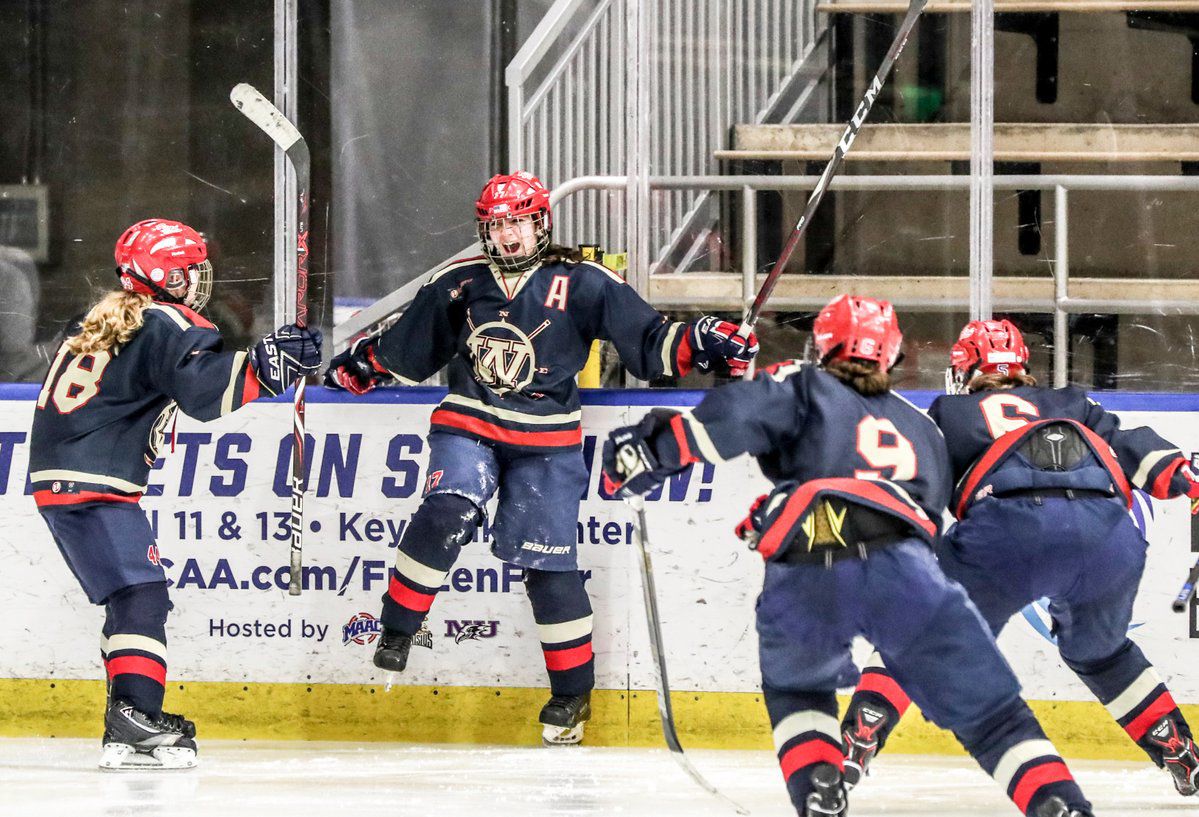 There's no denying it's tough but not impossible for a team to win four games in six days. But how about winning five elimination playoff games over the course of six days?
It's a gauntlet for sure, but one that a Section VI champion completed in the New York State Public High Schools Athletic Association tournament to turn its ultimate title dream into reality.
Williamsville is the girls hockey capital of the state, as Jenna Cavalieri's goal at 3 minutes, 12 seconds of overtime lifted the team to a 5-4 victory over Section III's Skaneateles in the state championship game Saturday night at HarborCenter.
Seconds after Emma Roland was tripped on a breakaway, leading to a delayed penalty call, Williamsville prevented the Lakers from gaining possession to stop the play which resulted in Cavalieri firing a rebound of an Erin Roland shot over diving goalie Evie Sheridan to spark a wild celebration.
"I don't think it's ever going to set in," said Liz Sidorski, one of just two seniors on the team who had been part of three sectional runner-up teams. "Winning tonight ... it's one of the best days of my life."
With the Blizzard of 2019 delaying the start of the Section VI playoffs a week, Williamsville found itself in a tough spot. In order to win sectionals it needed to win three games in as many days starting with Monday's quarterfinal. Williamsville, the No. 2 seed, did it -- ending top-seeded Frontier/Lake Shore/Orchard Park's reign as section and state champions in the process. The two-day state tournament began Friday, ending with a historic moment for the team Saturday.
"It's hard to put in words," said junior Emma Roland, who had two assists. "It's pretty crazy."
Ella Huntley scored three goals and had an assist, while Sidorski also scored for Williamsville (16-3-0). Erin Roland also collected two assists, while Elizabeth Timby made 25 saves for the winners.
Williamsville never trailed but held three leads only to see Skaneateles fight back to tie.
After both teams played to a scoreless first period, the offenses got rolling after the intermission.
Huntley scored unassisted just 2:44 into the period, stealing a bouncing puck from the defense and firing a shot that initially was stopped by Sheridan (33 saves) but was poked in by Huntley. The Lakers tied it a minute later as Megan Teachout scored unassisted.
Huntley struck again with 7:03 left in the period as she knocked in a loose puck seconds after linemate Emma Roland had been thwarted on a breakaway chance. Skaneateles tied it with 2:31 left in the second on Rebecca Cain's long, seeing-eye shot from just outside the blue line.
Instead of letting that goal burst the collective bubble, Williamsville continued to grind away.
Williamsville pounced early in the third to regain the lead with Sidorski scoring during a two-man advantage through a screen just 1:53 into the period. Williamsville had a reason to believe this could be its night when Huntley scored 53 seconds later.
That was the second of three instances in which Emma Roland, who came in with a program-record 30 goals, was denied on breakaways by great stops by Sheridan only for the play to continue and Williamsville end the sequence with a goal nonetheless.
"At the end of the game it's a team sport so I'm just as happy my teammates ended up scoring as if I were to have scored and I was able to help contribute to those goals," Roland said.
Teachout, who came into the game with 30 goals, showed off her scoring touch as she stole a puck at the Williamsville blue line and needed but a couple strides to fire a howitzer of a wrist shot into the top corner with 7:05 left. Campbell Torrey tied it less than two minutes later poking in a rebound off a goal-mouth scrum.
Williamsville held a 35-27 advantage in shots through three periods.
Prior to Cavalieri's game-winner, the Lakers had a chance to win it, but Timby made consecutive stops off the rush to keep hope alive for the Section VI champions.
"It feels great. It is what players dream about," Williamsville coach Rick Hopkins said. "It's what coaches dream about. ... I have a very easy coaching job because I coach in Williamsville which is a hockey community and all those girls are so well-coached by their travel coaches. It really does take a community to build a state champion. And the parents obviously to put in the time and sacrifice the money to get their girls on the ice. ... It feels great.