A cool fresh breeze, clear blue sky and supportive spectators set the scene at West Seneca West for the Section VI Class AA track and field championships.
The beautiful day led to great performances, thrilling finishes and Williamsville North's girls repeating as champions, while the Hamburg boys were crowned team champions for the first time in program history.
The Spartans won comfortably with 119 points to Orchard Park's 76 points.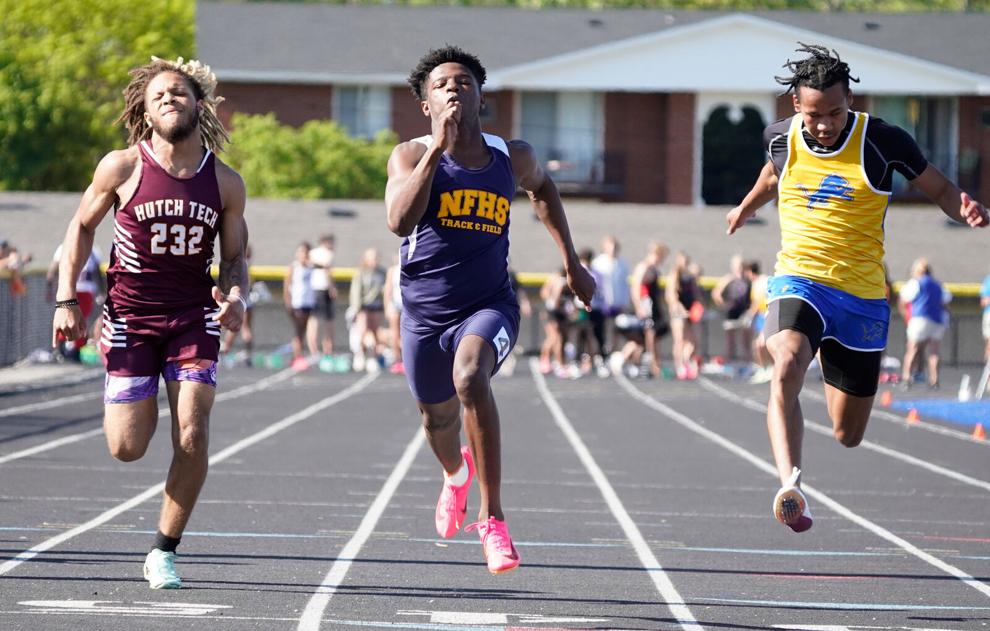 As for the Bulldogs, their final tally was 68 points, 12 points higher than last year's champion, Clarence.
"They did what they needed to do," Williamsville North coach Caitlin Triantafillou said. "We talked about coming in and executing what we've worked on all season. Each of them stepped up and did their part in their events. The girls came out and did their job, and we're very proud. It's very exciting because back-to-back is very hard to do, and the team we had was young with a lot of talent. And it was a thought to go back-to-back and it's been a good week."
Williamsville North won the 400-meter hurdles (Melia Kupchanko, 1:07.54), 400-meter dash (Kupchanko, 59.62 seconds), 100-meter hurdles (Miranda Burgett, 15.23 seconds, personal and meet record), long jump (Burgett, 17 feet, 2.5 inches, meet record), high jump (Burgett, 5-4), discus throw (Beatrice Delille, 114-2) and shot put (Haley Domagala, 35-9). In the shot-put competition, the Spartans owned the top three with Burgett (35-2) and Delille (32-11.5) having top finishes.
"Melia is a competitor, and I'm super proud of what she did," Triantafillou said. "We got an incredible effort out of her, and that really kept that energy and the team going. In shot put, they did their part over there. Those three ladies are very strong, and they did their part today very well and that was a big help today."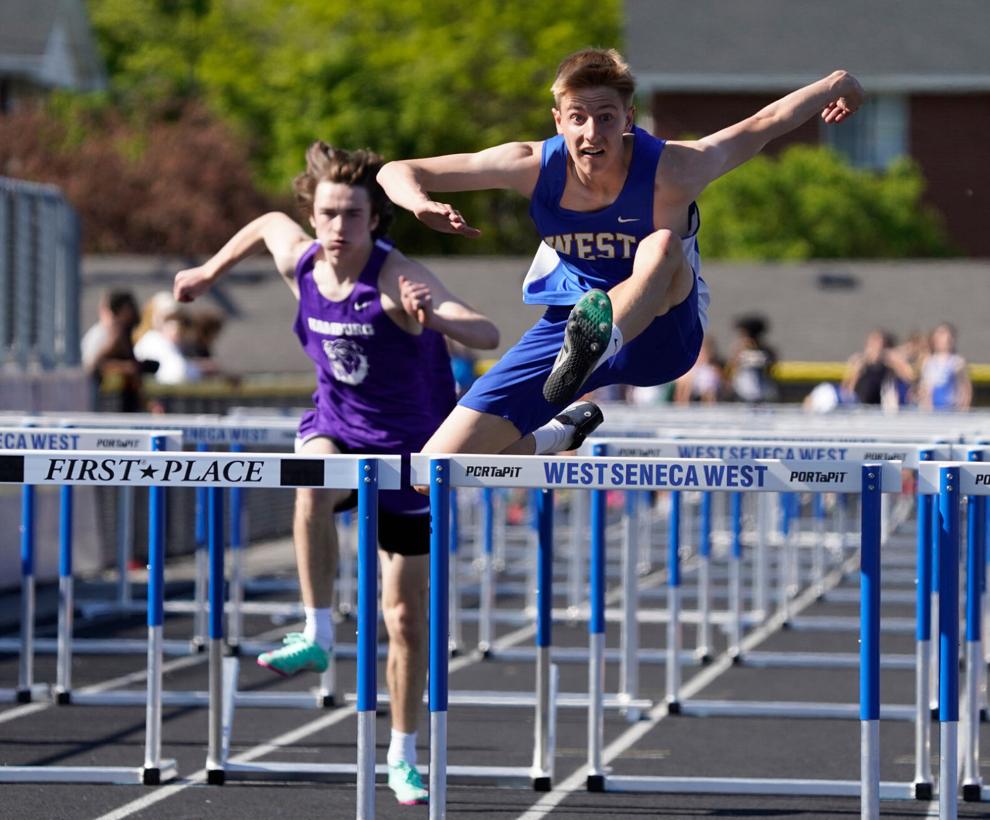 Next weekend will be the state qualifier at West Seneca West. Burgett is the reigning New York State Public High School Athletic Association's Division I and Federation champion in the pentathlon and is also an Arkansas State signee.
On the boy's side, Hamburg was victorious in 400-meter dash (Brycen Coleman, 51.61 seconds), the 800-meter run (Andrew Donner, 1:59.60), triple jump (Mathew Fitzner, 44 feet, 6 inches), and narrowly won the 4x400-meter relay, as Coleman surrendered a lead during his leg but regained it back near the finish line for a dramatic finish.
The Bulldogs won with a time of 3:33.92. The 4x400 team included Coleman, Griffin Monile, John Neudeck and Andrew Donner.
"Brycen has really been honing in on finishing races well," Hamburg coach Kyle Brown said. "He's been anchoring for us the last couple of weeks, and he's been letting these kids get him a little bit to get them in the mindset that they have a shot and then taking off."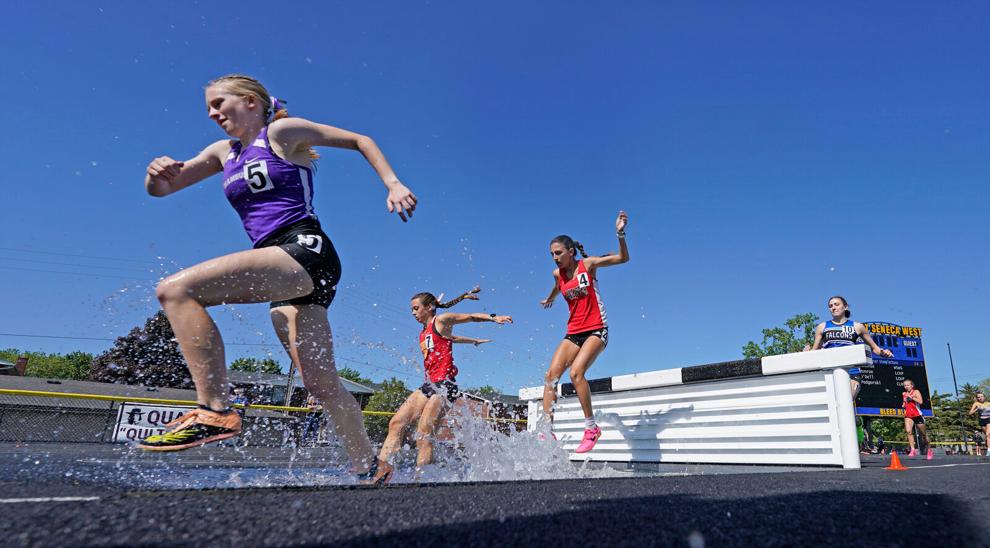 It has been a tough season for Hamburg because they have been practicing without a field, as the district has been renovating its field. In the interim, the Bulldogs have practiced at Orchard Park, their hallways and at times on the street to prepare themselves for meets.
"We had a really good meet," Brown said. "The last few weeks we've really turned it up. I think the hard work these kids have put in really showed today, and this was a testament to the kids. This hasn't been an easy season because our track has been getting repaired since April."
Girls high jump: Amari Hall (Sweet Home), 36 feet, 5.75 inches.
Boys 4x100-meter relay: Cameron Stoudemire, Ilias Day, Ervin Myree, Neil Stoudemire (Sweet Home), 43.09 seconds.
Girls 3,000-meter run: Lillie Bogdan (Frontier) set the meet and track record with a time of 10:01.00, 25 seconds faster than the second-place finisher.
Girls 1,500-meter run: Noel Barlette (Orchard Park), 4:43.50.
Boys 1,600-meter run: Joseph Bertola (Orchard Park), 4:23.43.
Boys 100-meter dash: Tyris Parmer (Niagara Falls), 11.02 seconds.
Girls 100-meter hurdles: Miranda Burgett (Williamsville North), 15.23 seconds.
Girls 200-meter dash: Deborah Borysewicz (Hamburg), 25.66 seconds.
100-meter dash: Tyris Parmer (Niagara Falls) set the track and meet record in 11.02 seconds.
200-meter dash: Parmer's time of 22.27 seconds is a meet and track record.
Boys long jump: Maxim Bliemeister (Orchard Park), 21 feet, 7.25 inches.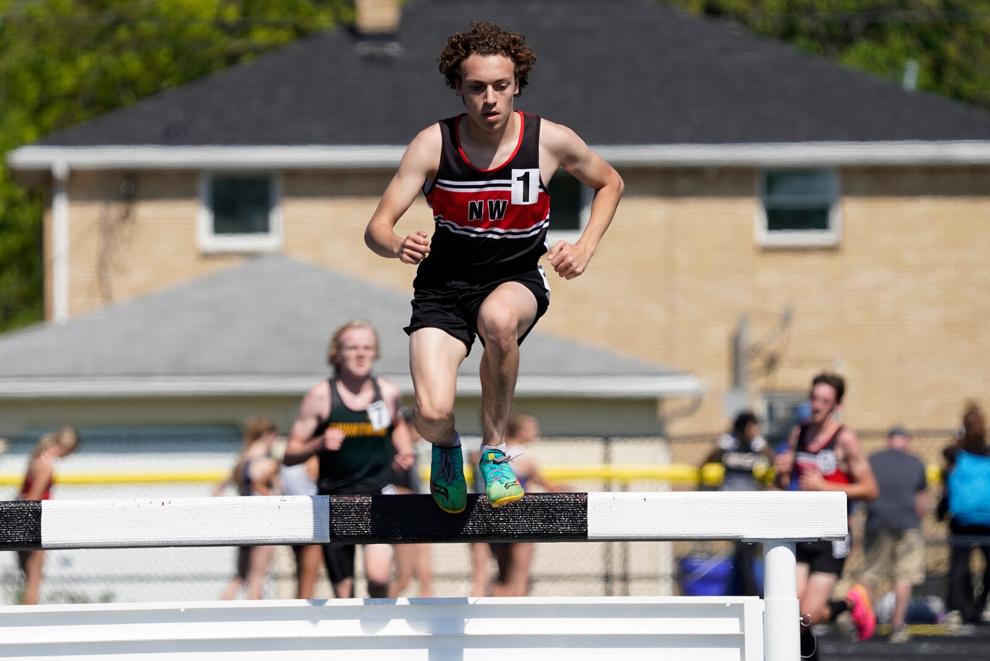 Bogdan lapped the competition to win the 2,000-meter steeplechase with a time of 6:45.97, 32 seconds faster than the second-place finisher.
Bogdan's brother, Cameron, finished the 3,200-meter run in 9:41.18, beating the second-place finisher by 24 seconds.
Along with winning the 200-meter dash in record fashion, Borysewicz won the girls 100-meter dash in 12.39 seconds.
Orchard Park sophomore Anthony Mancabelli won boys pole vault with a 13-3 mark.
Sweet Home sophomore Brenton Baker leaped 6-foot-5 inches to win boys high jump.
Clarence's Emmett Forrestel won the 400-meter hurdles with a 1:00.58 mark.