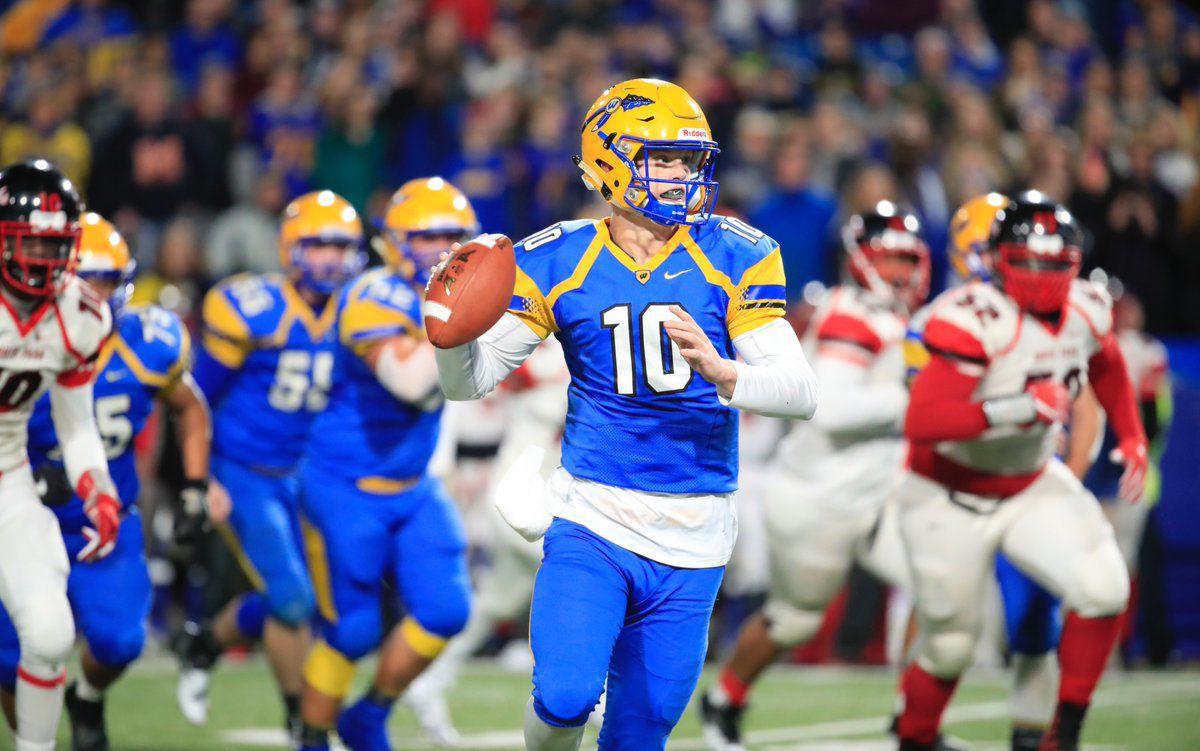 West Seneca West weathered a flurry of haymakers from South Park and then countered with a few of their own.
The result: A comeback that will go down in history as the one that produced the program's biggest victory, yet.
They stormed back from a 12-point third-quarter deficit to defeat previously unbeaten South Park, 27-24, Saturday night in the Section VI Class A football final at New Era Field.
An estimated crowd of 4,000 – mostly West Seneca West fans – watched senior quarterback Matt Myers rebound from two straight turnovers by engineering a pair of scoring drives that gave the unbeaten Indians the lead for good. They also watch senior Josh Karmazyn provide what proved to be the decisive points with 8 minutes and 10 seconds left on a 75-yard interception return for a touchdown as West captured its first sectional football title in program history.
"Awesome moment right now," said Myers, who completed 15-of-23 passes for 150 yards and rushed 13 times for 70. "I'm just lost for words. We battled hard. … I'm so proud of these guys. It's an awesome feeling."
The Indians (10-0) advance to Friday's New York State Public High Schools Athletic Association Far West Regional contest against Section V champion Wilson at 8 p.m. at Eunice Kennedy Shriver Stadium at SUNY Brockport. Wilson crushed Irondequoit, 40-19, on Friday night.
West, the News' No. 3-ranked Large School, battled hard to survive this clash between Class A South Division co-champions who did not meet during the regular season due to the way the Section VI schedule worked out.
For a moment, it looked as if fifth-ranked South Park (9-1) would leave New Era Field with its second sectional title in three seasons – and the Buffalo Public Schools' third straight championship moment at the home of the Buffalo Bills (Remember, Bennett won the Class A title last year).
The Sparks used big plays to not only rally from a 6-0 deficit but surge ahead 18-6 in the third quarter. Clarence Thomas' 82-yard kick return touchdown tied the game with 3:50 left in the second quarter – 15 seconds after John Speyer's 1-yard touchdown run for West broke the scoreless deadlock.
Dayquan Anderson, who played a sensational game for South Park, scooped up a Myers fumble near the end of a run play and raced 21 yards for the touchdown 45 seconds into the third quarter to break the tie. Twenty-two seconds later, Anderson (six receptions, 78 yards, two TDs) became just the second player to intercept Myers this season. A block in the back penalty negated a long return that could have given South Park a drive at the 1.
The Sparks overcame that penalty as Anderson capped a 10-play drive by outmuscling a defensive back for the ball in the end zone for an 8-yard touchdown catch on a fourth-down play with 5:57 left in the third.
The presented the first two-touchdown deficit of the season for a West team that came into Saturday's final having scored at least 35 points in each of its first nine games.
"There's no one else to blame for those turnovers other than me," Myers said. "I apologized to the guys. We had to put that behind us and it was time to get going."
The Indians did just that. They cut the lead to five nearly 2 minutes later on Myers' 5-yard keeper. He connected on a 46-yard pass to Jesse Broad to start that four-play drive.
"That was a momentum switch right there," Myers said.
After forcing a turnover on downs on the Sparks' next possession, West took the lead for good with 9 minutes left on Myers' 4-yard TD to Kyle Haettich. Earlier, Myers and Broad (five catches, 70 yards) hooked up for a 7-yard pass play on fourth down that kept the drive alive.
South Park responded by matriculating the ball down field for a potential go-ahead score. Karmazyn foiled the Sparks' plans by stepping in front of the intended receiver, who was hobbled after getting dinged up prior to the pick six. Karmazyn received a huge block down field from Liam Scheuer that wiped out the last defender between him and the end zone. Josh Clifton's third  extra-point kick of the day made it 27-18 and gave the blue and gold fans in attendance a reason to start thinking about a championship celebration.
"I owe that touchdown to Liam Scheuer. Great block," said Karmazyn, who also made seven tackles. "I'm just so happy. It feels so good. Section VI champs. We're not done yet."
Perhaps the ride is just getting started as the dream of merely ending a 12-year postseason drought became more ambitious once the Indians bolstered their roster during the summer by gaining Bishop Timon-St. Jude transfers Myers, a first team All-Western New York pick and last year's Monsignor Martin Offensive Player of the Year, and junior receiver Juston Johnson.
"They said our goal is a state championship," Karmazyn said. "I thought they were crazy but here we are starting to chase titles. We have the Section VI title down. We have three games to go."
South Park moved the ball on its last two drives. The first stalled at West's 4 with 1:44 left. The Sparks scored on the final play of the game – a 3-yard pass from Deabeyon Humphrey (16 for 31, 209 yards; 21 rushes, 60 yards) to Anderson.
South Park gained more yards (320-235) and had more first downs (19-13) than the Indians.
It wasn't the Sparks' day. It was West's.
"Every team's goal is to get here," Myers said. "We knew we had the players and the coaching to make it here. Now that it's happened … there's no better feeling."
Get in the game with our Prep Sports Newsletter
Sent weekly directly to your inbox!