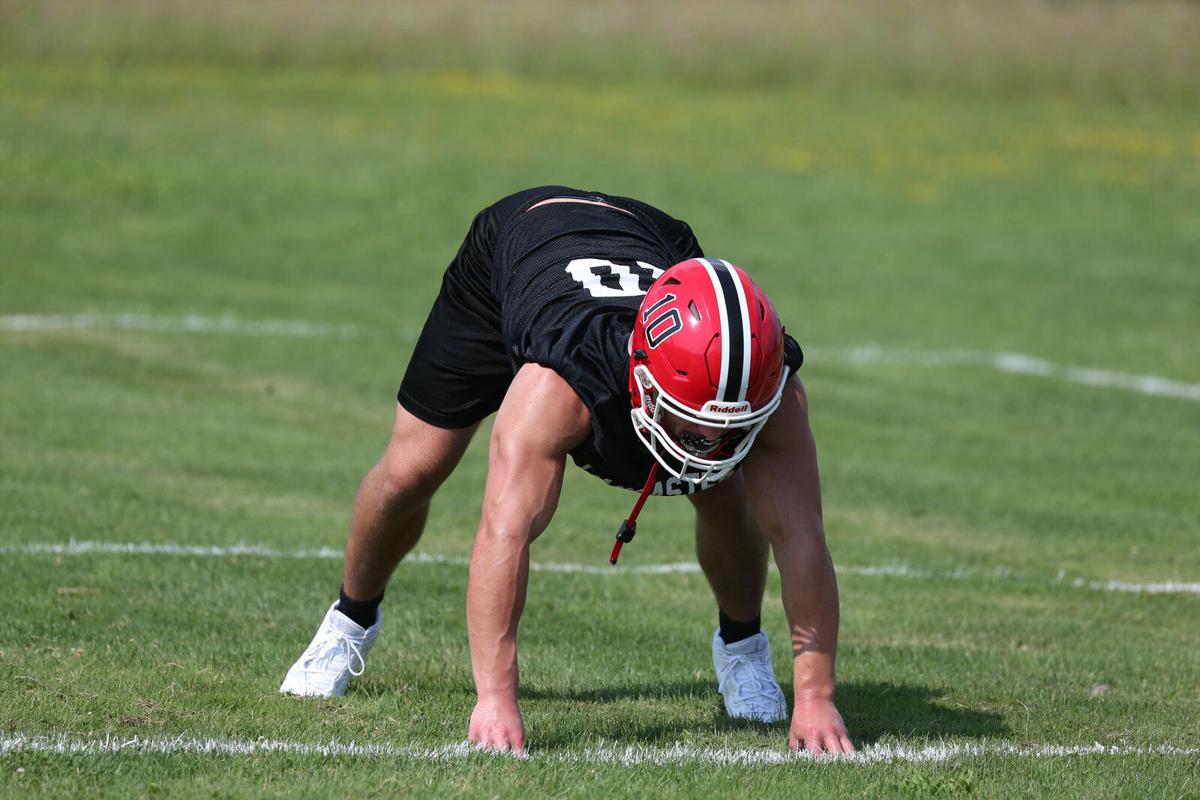 It's a toss-up as to which event is more amazing.
The fact that Joe Podraza didn't find out his father was secretly planning to surprise him by showing up for his son's senior night festivities at Lancaster on Friday night even though Joe expected him to be away at work. Or, that the stars aligned so that John Podraza could arrive from Washington, D.C., to be part of his son's special night.
What isn't up for debate is the life memory forged when John, dressed in his Navy working uniform, ran onto the field to join his daughter Olivia, wife Annette and Joe during Joe's introduction. They met at the middle of the goal line and then made the walk to midfield to thunderous applause.
"When they called me out and he wasn't there with me, I was kind of bummed out," Joe Podraza said Wednesday. "When he ran out there and touched me on the head, I just broke down and started crying."
So did John, as the situation caused several folks to get misty-eyed. Lancaster football coach and athletic director posted the video on Twitter, which as of Wednesday afternoon had received 989 likes.
John Podraza, who holds the rank of commander, watched his son score a rushing touchdown and play well defensively during the Legends' 48-14 victory over Williamsville North.
"It just meant the world to me, and I know it meant the world to him," John said of being able to attend the game. "I was really grateful to be able to do that.
"The second he saw me running on the field, he just broke down overwhelmed with emotion which, of course, got me choked up."
The elder Podraza is stationed at Walter Reed Medical Center in Bethesda, Md. He's worked there for a few months after a long assignment at Camp Lejeune in North Carolina.
Podraza has been in the Navy nearly 20 years. He's originally from downstate as he played high school football at Monsignor Farrell in Staten Island. He then played collegiately at Lehigh University before enlisting. He married a Western New Yorker.
Because moving around is tough on a family, especially with school-aged children, Annette, Joe and Olivia moved to Lancaster eight years ago since she had lots of family in the area. Prior to the Covid-19 pandemic, John was able to come home once a month. The pandemic led kept the family apart for nearly a year.
Joe said his dad tries to take time off from work around his football schedule. John saw Joe play twice earlier this season, but wasn't expected to be able to make it to senior night.
John told Joe he had to work and wouldn't be able to attend the game.
Apparently, that was a little fib, as John planned to attend the game as a surprise all along. Olivia and Annette were in the know, along with the football team.
They all kept the secret as Joe didn't suspect a thing. Even when Rupp pulled Joe aside before introductions and told him he's going last.
Traditionally at Lancaster, seniors are introduced from lowest number to highest. Joe wears No. 10 and would have been the fifth one introduced until Rupp set it up for him to be the 19th senior.
Rupp had a good reason. Olivia received a text from John notifying her he had to take a later flight since his original one was delayed four hours. John arrived at 6:20 p.m. Olivia relayed the information to Rupp.
John had a friend waiting outside the airport to drive him to the game, which was 4.5 miles away or a 12-minute drive.
"We just had to delay," Rupp. "We had luck on our side."
With a special memory as the reward.
"It's 100% something I'll remember for the rest of my life," Joe said.