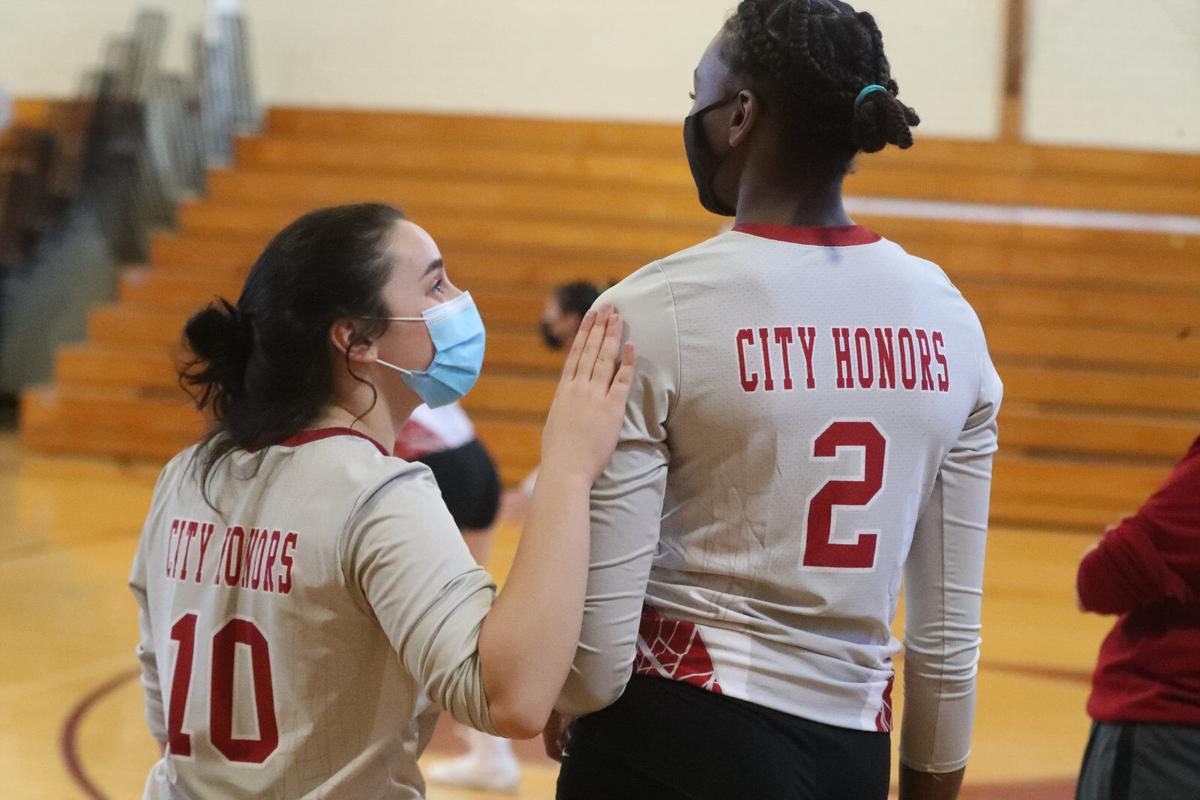 Before the Covid-19 pandemic delayed the Section VI girls volleyball season last fall, City Honors coach Deborah Matos was optimistic. The Centaurs were runner-up to Cheektowaga in Class B-1 of the last Section VI tournament, held in the fall of 2019.
"Had everything been normal, the team that would be returning was, in my opinion, going to make a run for the regionals of the state," Matos said.
That outlook had changed slightly when the season began this month in the newly created Fall II.
"A few parents decided not to allow their children to return," Matos said. "It kind of put a hole in our lineup. We had a lot of key players that returned and some key players that did not."
Matos and her Centaurs team have kept plugging, nevertheless. City Honors is 4-0 entering Thursday's match against Kenmore West. 
"We've put together a lineup that should be able to handle the challenges, We're doing some good things," she said.
That lineup includes senior basketball standout Kyra Wood, who will play hoops at Temple and is the first girls basketball player in the Buffalo Public Schools to reach 2,000 career points.
"We're just glad that we could get back on the court and play volleyball this year," Wood said. "There were multiple times where we started to lose hope of a season at all and we were all super bummed about that because not only did we want to play this year, but redeem ourselves from our sectional loss before Covid hit.
"We are adjusting with the new roster this year, but making the best of it and so far with success."
Because of her basketball ability, Wood is the most famous of the Centaur volleyballers, but certainly not the only standout.
Two other seniors, outside hitter Majda Kassem-Lopez and defensive specialist Adele Fuchs, are strong performers, as is junior middle blocker Drea Favorito. 
Those four should keep City Honors girls volleyball in the forefront of the Buffalo Public Schools athletics.
So dominant was the Honors program, it has carried on independent of the other BPS teams since 2013.
At one time, the Centaurs had won 27 consecutive city titles, a streak that included a string of 876 games and 343 matches without a loss under the late Drake Francescone and Matos, who took over in 1996. She has coached Honors to six sectional titles and a state Class C championship in 2009.
Often, it's been Eden that has stood in the path of City Honors on the way to a sectional or state title run.
"More than I care to remember," Matos said. "We probably would have had four or five more state titles if it hadn't been for Eden."
The 6-foot-4 Wood can't help but be the centerpiece of this City Honors team.
"She came to City Honors as an eighth-grader and I immediately snatched her up," Matos said. "She had never touched a volleyball in her life. By the time she was a junior, there were Division I college volleyball coaches inquiring about her.
"She loves volleyball. I think she could play at a Division I level if she wanted."
"I have the skill to be a DI volleyball player," she said. "I could have been if I chose to do that, but I ended up choosing basketball to play in college. I had some interest and still do receive some emails about playing volleyball at colleges."
Wood has strong support.
Kassem-Lopez is perhaps as interesting at Wood.
"She's barely 5 feet tall, but plays like she's a 6-footer," Matos said.
Surprisingly, Kassem-Lopez plays as an outside hitter.
"She can fly. She has unbelievable lift ability, is very athletic and very determined," Matos said.
Defensive specialist Fuchs is hard-worker who keeps things organized from the backline.
"Drea Favorito is an impact player who is also in the conversation among college coaches," Matos said. "She's an outside hitter who has had to move to the middle this year."
The City Honors roster includes eighth-grader Charlotte Lester, who, although not a starter yet, reminds Matos of where Wood once was at the same stage of her development.
"She's about 5-6 or 5-7," Matos said. "Kyra came in about 5-10 as an eighth grader, but in terms of her athleticism, long legs and readiness to play volleyball, I see some similarities.
"Lester is extremely talented for her age, extremely athletic and very driven. We're working to get her in some more. Volleyball is very choreographed, almost like a dance. You have to know where to be and where to go."
That's something Lester is learning.
It's a challenge for Matos to put together an independent schedule each year. Some schools choose not to play Honors. Others are limited to league opposition. A lot depends on what dates are available for nonleague play.
In normal years, Matos has taken the Honors team to tournaments outside Western New York.
Honors will have eight games left after this week, including next Thursday's match with Kenmore East, currently undefeated.
Four matches in five days will be challenging at the end of April, and the regular season finale will be against North Collins, a small school with a strong girls program.
"We're not going to shy away from the great teams," Matos said. "That's the only way to get better.
"We have a major hill to climb. We're going to go for it, attack it and see what we can pull off."
Frontier League girls race is shaping up
A battle royal is shaping up for the Niagara Frontier League girls championship. Four teams (Grand Island, Niagara Wheatfield, Kenmore East and Lockport) went into the week with undefeated records before they started encountering each other.
Niagara Wheatfield knocked Lockport out of the unbeaten ranks Tuesday. Grand Island and Kenmore East met Thursday and GI will host Lockport on Monday.
The race could come down to the last day of the regular season when Grand Island and Kenmore East clash May 7.
Usual suspects standing out in boys play
Some usual powerhouse teams in Western New York boys volleyball were undefeated entering the week.
Orchard Park in ECIC I, Starpoint and West Seneca East in ECIC II, and Eden/North Collins in ECIC III had perfect records.
Canisius in the Monsignor Martin Association won its first seven league matches and seems headed for another league title.
Defending state champion Grand Island was the only Niagara Frontier League team without a loss in league play. It's early, though. The Vikings have nine league matches left, including Friday's home match against Lockport and a return match on the Lions' home court May 4.
Hvizdzak leads Randolph to a revenge victory
Panama defeated Randolph in the crossover round for the sectional Class D girls championship in fall 2019. 
Although Randolph went into its match April 9 with only a 2-2 record, the Cardinals swept all three sets against Panama in their only meeting of the season.
It's been a quick transition for several Randolph players from basketball to volleyball. The Randolph girls basketball team won a sectional title and finished 18-0. 
Senior Sydney Hvizdzak, whose basketball scoring average (26.8) was third in Western New York last season, helped power the victory against Panama with 19 kills.