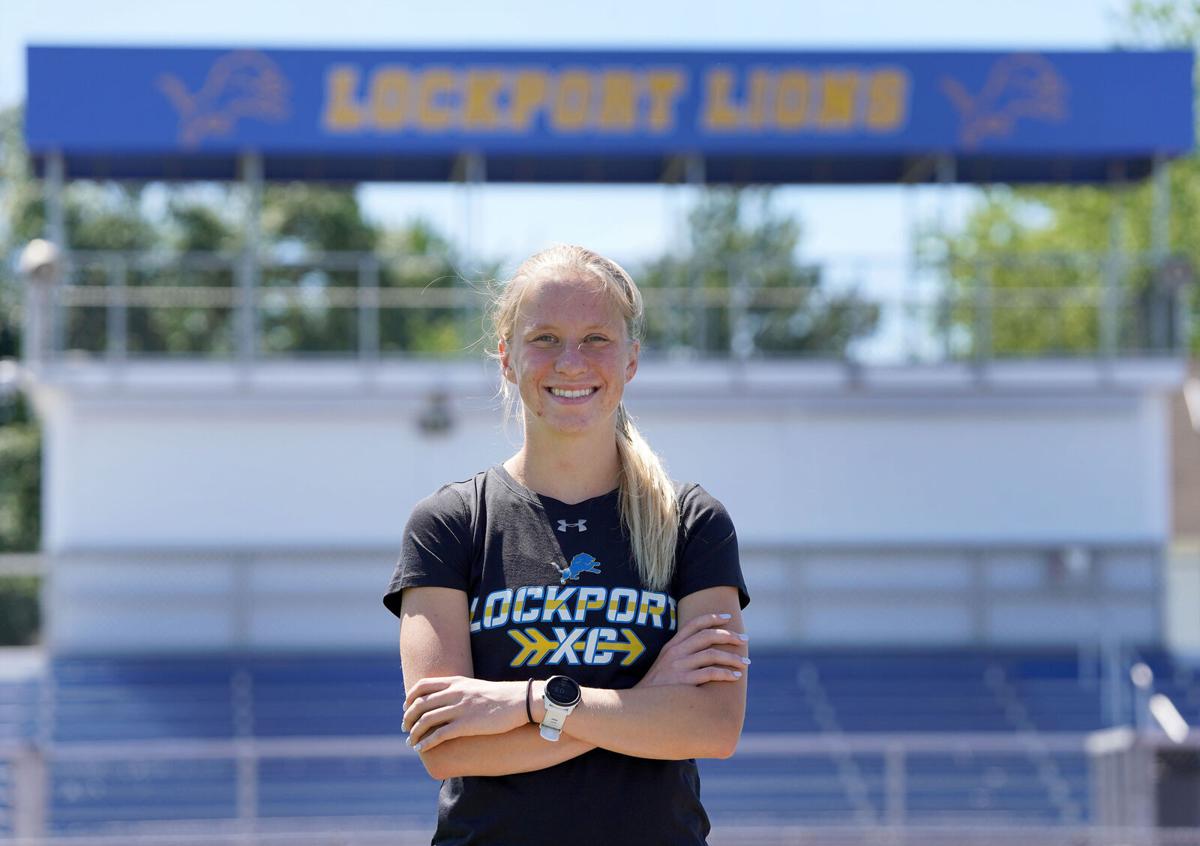 LOCKPORT – The timing of Sydney Nowicki's final track meet of her junior year of high school was fortuitous.
If it wasn't for the fact that she competed in a state championship indoor track meet on March 7, 2020, she doesn't think she'd be heading to Syracuse in the fall to join its women's cross country and track and field teams.
Nowicki, a senior on the Lockport girls track and field teams, finished sixth in the 1,000-meter run at the New York State Public High School Athletic Association 2020 indoor track and field state championships that March day on Staten Island.
Less than three weeks later, the state's governing body for high school sports canceled its remaining winter sports championships, in response to the Covid-19 pandemic, and the NYSPHSAA later called off its spring sports championships.
"It happened, literally, a week after my dream came true," Nowicki said. "If it was earlier, I wouldn't have had that opportunity. That was one of my races that got me recruited at Syracuse. I don't know if I would be going there now if that race didn't happen, so I was really lucky it happened that week."
Nowicki, the Lockport Lions' cross country and track distance runner, announced her commitment to Syracuse University.
Nowicki will compete in distance-running events in her final two high school track meets: the Class AA meet at 10 a.m. Saturday in Lancaster, and the Division I meet June 24 at Hamburg. She holds Section VI's top time in the 3,000 meters this spring (10 minutes, 3.69 seconds).
The Section VI track championships begin Thursday with the Class A meet at Pioneer and the Class B meet at Falconer; both meets begin at 4 p.m. The Section VI championships continue at 4 p.m. Friday with the Class BB meet at Olean and the Class D meet at Randolph, and the slate concludes at 10 a.m. Saturday with the Class C meet at Allegany-Limestone and the Class AA meet at Lancaster.
The Division II meet is at 4 p.m. June 23 at Falconer and the Division I meet is at 9 a.m. June 24 at Hamburg. To compete in the divisional meet, individuals or relays must meet a sectional qualifying standard at some point during the season.
Nowicki developed into one of Western New York's top high school runners over the last six years, but she found a new passion in running in the last 16 months, as the world changed due to Covid-19. When she took time off to recover from an injury, Nowicki's perspective changed, too.
"I'm grateful I had that time," said Nowicki, who plans to study chemistry at Syracuse. "It gave me a lot more respect for the sport and a lot more appreciation for how much work I had to put in.
Senior Sydney Nowicki, the defending individual champion, decided to sit out the race to prepare for sectionals. But three underclass teammates ran away from the field to claim top spots.
"It was easy to stay focused and do everything that my coach told me to. And it was fun. I got to explore more. I didn't put as much pressure on myself to perform. I got to appreciate running more. I found that peace with running. It was something that became a routine, not something that was a chore. It became something that I really appreciated."
As Nowicki paced through remote learning a year ago, she changed how she approached training. Instead of going at a grueling pace, she ran long loops through a series of local parks, local bike paths and on different tracks in the Lockport area and in Niagara County. On other mornings, she woke up at 6 a.m., ate breakfast, then ran a 13-mile route along the Grand Island bike path as her mother, Sarah Phillips, rode a bike nearby.
However, Nowicki ran a limited cross-country schedule in the fall, after she was diagnosed with the start of a stress fracture in her right foot, just after the start of the school year. Again, timing mattered.
She only missed five weeks of competition and training because the injury was diagnosed so early. Had she kept running through pain, it would have meant taking as many as six months off in order to recover from a full fracture.
"It was hard to say, 'I have a stress fracture, and now I have to take time off,'" Nowicki said. "I had to make that decision. It hurt. It wasn't like I was running without pain, but if I had pushed any harder, I would have run with pain for six months, and it would have made it so much worse."
A week of 11 league meets that wrapped up on Saturday leads into Section VI competition this week.
She was refreshed upon her return to running, a sport she has been involved in since she was in the seventh grade. That path began when she ran in a meet involving fifth- and sixth-graders in the Lockport area.
Lockport coach Tim Willett looked through the times of the elementary and junior high students, and Nowicki's jumped out. She ran a 2,000-meter race in about 9 1/2 minutes, which translated to roughly a 7 minute, 44 second mile.
"She was super-excited about getting involved, and in the summer, we had organized runs, two or three times a week," Willett said. "She was a seventh-grader, and she was keeping up with the boys who were in the 10th or 11th grade. She was already showing she could run at that level."
Encouraging Nowicki to run competitively wasn't a hard sell. It came with both an immediate and a long-term return.
She first ran on the varsity level as a seventh-grader, then finished second in the Section VI Class A cross country championship as an eighth-grader. She won the Class A sectional titles in 2017, 2018 and 2019. As a freshman in 2017, she qualified for the Nike Cross Nationals cross country championship in Portland, Ore. She won the 1,500-meter run and was second in the 3,000 at the 2019 Section VI outdoor championships, and won the 1,000 and 1,500 at the 2020 sectional indoor championships.
She also has helped the Lions maintain their spot as one of Western New York's dominant girls distance-running programs. In October, even with Nowicki sidelined due to the injury, the Lions shared the NFL title with Grand Island. Lockport's Lily Schulz, Kennedy Doran and Alexis Trautwein were the top three finishers in the NFL meet. Two weeks later, Nowicki finished third in the Section VI Class A championship at Bemus Point, completing the 5-kilometer course in 20:28.38.
"I'm trying not to think about the fact that in two weeks, she won't be here anymore," Willett said. "She's not just the typical kid that comes through. Knowing what she's meant to our program, not just the running and winning races, but the influence she has had on her teammates has been huge.
"How we won our league meet this year is due to her. She didn't run in our league meet because of her injury, but all summer long, Sydney was running summer captain's practices with the kids. When we talk to kids about, 'what do you want to be?' we're looking at her because she sets that standard."
Nowicki has placed an emphasis on rest and recovery in a condensed spring track season. On her recovery days after competition, her single-mile pace is about 30 seconds slower than her competition pace, as a way to make sure her legs are getting physical rest.
"If I push my running too much, I won't be able to race well," Nowicki said. "Also, I've been getting nine hours of sleep a night, just to make sure I can get enough sleep. I underestimated how much stress this season would be. I was so excited for it, but I didn't think about how my legs would feel in the middle of the season, or having to race on tired legs and still trying to hit the goals I set before the season."
Nowicki wasn't daunted by the detours she has taken in the last 16 months. Instead, she looks at each one as another challenge. A fun challenge.