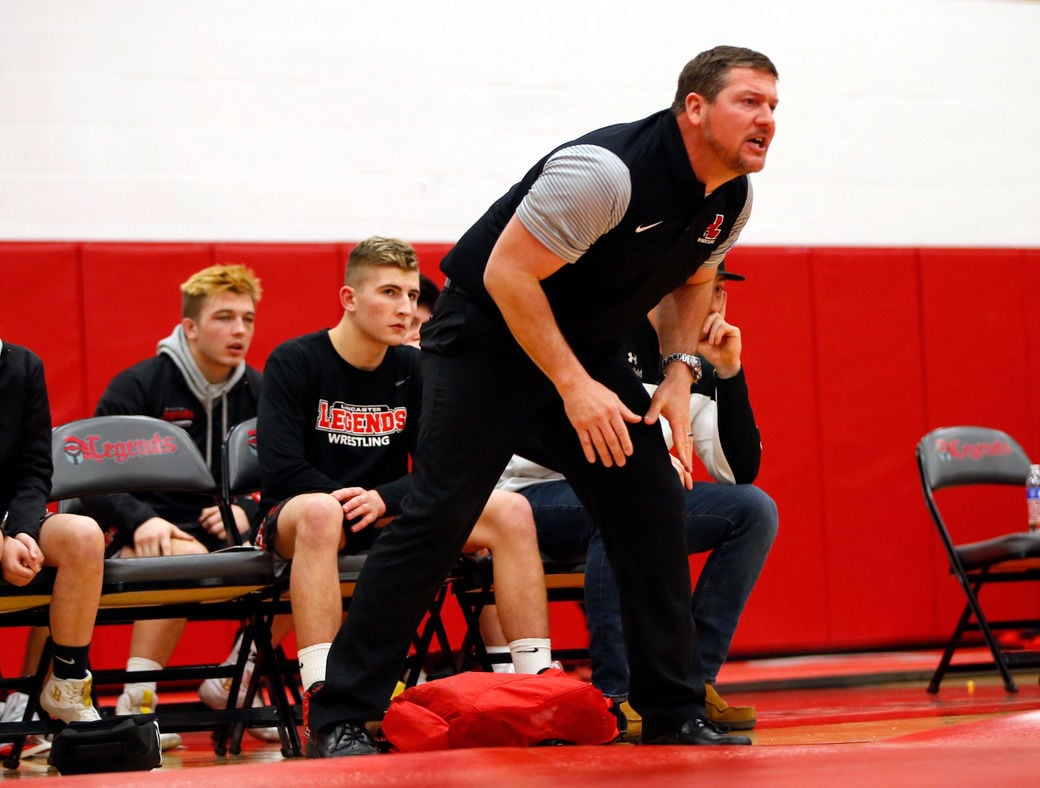 On the cusp of becoming Western New York's all-time winningest wrestling coach in 2006, Dennis Beck told The Buffalo News, "This isn't just me that has done this."
Ron Lorenz learned from the Lancaster coaching legend.
"Coach Dennis Beck, he was like my second dad, for crying out loud," remarked Lorenz, who won 100 matches in his high school career and a sectional championship in 1996 before returning to Lancaster a decade ago as the sixth head coach in the program's 65-year history.
Lorenz would often remind wrestlers and parents that the Lancaster tradition was bigger than any individual.
"And that includes myself," Lorenz said on Saturday in repeating a message he left the Lancaster wrestling team with when announcing his resignation at the postseason banquet in March. 
"I learned from the guys that came before me, the essentials it takes to sustain a strong team," Lorenz said. "I was losing my passion to keep up with every little thing you have to do as a coach to stay on top."
Lorenz is going out on top. Lancaster was the No. 1 large school in the final Wrestling Review of WNY rankings. The Legends won the annual Border Brawl match with No. 3 Clarence to complete an undefeated dual season in the competitive ECIC I division and were the top-scoring team at the ECIC tournament. They gained a wild-card entry into the NYSPHSAA Dual Meet Championships after placing second on tiebreaker criteria against No. 2 Niagara Wheatfield at the Section VI Duals.
In 10 seasons under Lorenz, the Legends compiled a 116-27 record in dual matches and won five ECIC titles, three Class AA crowns and one Section VI Duals title. The individual medal count was 25 sectional champions and 14 state place-winners.
"Ronnie continued the strong tradition we had," Lancaster athletic director Brian Wild said. "He wrestled under Dennis Beck, and following him as coach, he kept us in that strong position as one of the top programs in the area."
Wild learned of Lorenz's decision soon after the banquet, but the coaching vacancy was not widely known until this week when Lorenz told alumni at the program's annual golf outing, and the Lancaster wrestling Twitter account announced, "Coach Ron Lorenz has retired," on Friday night in a message listing the program's achievements over the past decade.
"It got out there as a retirement, but I wouldn't call it retirement quite yet," said Lorenz, who turns 42 this month. "It's not 100% that I'm going to walk away from the sport totally."
Counting his time as an assistant coach at Amherst and Lancaster, Lorenz said, "I've been doing this for 20 years, and even longer than that going back to running the youth program when I was still in high school.
"So it's not a retirement so much as I'm definitely taking a year off to spend with my family and see what my life is like without wrestling. I've got two daughters, a 4-year-old and a 2-year-old. I haven't had a winter to spend with my family yet. And I was losing my fire at Lancaster for a couple different reasons. So I decided it was time to pass the torch."
The succession plan, Lorenz said, is for assistant coaches Clint Schaefer and Brandon Becker to remain with the program, and for one of the Lancaster alumni to be elevated to head coach.
"We always had a coach-by-committee process and our own part to play in the system," Lorenz said. "It will be a seamless transition. Nothing is official, but that's the plan we talked about before I resigned."
Wild said the coaching position will be posted for 15 days, according to district rules, and he encouraged both assistants to apply.
Lorenz is highly regarded in the WNY wrestling community. Ahead of the annual state tournament, he opened Lancaster's gym and organized group workouts for all the section's qualifiers.
"His dedication and compassion for his team, his section and his sport can not be replaced," Wrestling Review of WNY editor Kristin Knuutila Clark commented on the Lancaster team's Facebook page.
Get in the game with our Prep Sports Newsletter
Sent weekly directly to your inbox!