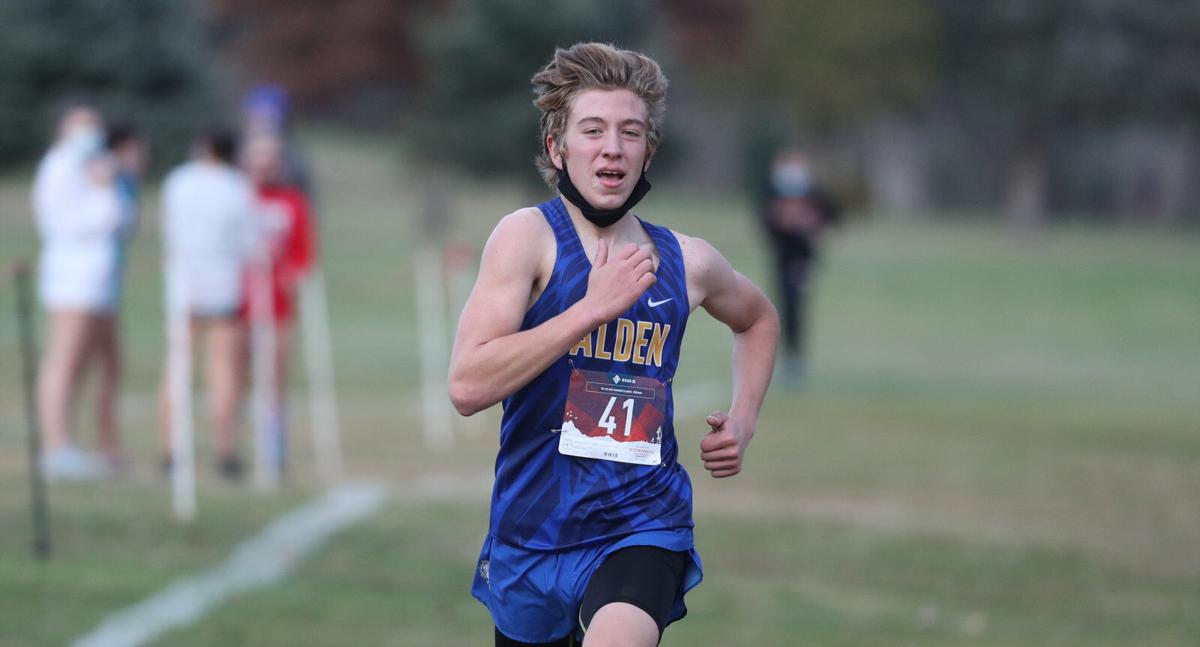 Three of the eight individual championships at the New York State Public High School Athletic Association cross-country runs were won by Section VI athletes Saturday at Chenango Valley State Park.
Individual winners from the region were Kyle Urban of Alden in boys Class C; Emilia O'Leary of East Aurora in girls Class B; and Angelina Napoleon of Allegany-Limestone in girls Class C. Also, East Aurora won the girls Class B team title to cap perhaps the most triumphant day for Western New York at the state meet. Also, Section VI overall won the girls sectional Class B title.
A second-place finish in the boys Class C sectional run last week at Knox Farm State Park in East Aurora spoiled an otherwise undefeated season for Urban, but the Bulldogs senior rebounded with a strong race Saturday. He dominated the race once he made his move away from the pack. Urban's time for the 5,000 meters was 16:14.7
"I was in a group and I just decided I needed to go and I did and it felt awesome," Urban said.
Urban put his hands to the sides of his head in a gesture of disbelief as he crossed the line with no other runner in sight on the finishing chute.
Part of it, Urban said, was coming back after the disappointment in the sectionals.
"Unbelievable," Urban said. "My best friend came down and my family was here. It was just a bunch of emotions I had never felt before. It was just an amazing feeling."
Jacob Brink of Allegany-Limestone, who edged Urban for the sectional Class C title last week, finished 25.9 seconds behind the Alden runner in Saturday's race. Aside from the three first-place finishers, Brinks' second place was best by a Section VI runner among the 941 in the state meet, both boys and girls.
Section VI Class B girls champion O'Leary, a freshman, led East Aurora to its seventh state team class championship, which included a run of six in a row from 2005-2010. She became East Aurora's first individual champion since Sophia Tasselmyer won in 2014 and 2015. O'Leary's time was 18:33.9.
"My goal today was get top five or top three," O'Leary said, but she had thoughts of doing better than that.
"Inside of me, I said, 'I can win it.' I had a bunch of confidence in my mind," she said, noting the support from teammates and friends who were telling her beforehand, "Stay confident, you're strong, you can do it."
Still, O'Leary felt bogged down early in the race when she was unable to get to the outside of the pack where she could run more freely. 
"I thought, 'I got to get out of here,' struck in the middle like I was at the beginning." O'Leary said.
She made her move and the rest is history.
Urban and O'Leary did not score upsets. They ranked first among the runners in their class in the latest speed ratings by Tully Racers. Napoleon was rated second in girls Class C, behind Alexa Doe of South Jefferson.
Napoleon said her strategy was to stay with Doe early in the race and "keep that pace as long as I can." 
"Just to be here and then to win it, it's insane," the Allegany-Limestone junior said.
Napoleon was timed in 18:37.7
Izzie Sullivan of Fayetteville-Manlius won the girls Class A race in 17:40.8. Sophomore Brynn Bernard of South Lewis took the girls Class D run in 18:42.2 finishing one place ahead of her sister, Lexi, a senior.
Besides Urban, other boys champions were: Jack Gregorski of Corning in Class A (15:45.7); Glitch Hayes of LaSalle Institute of Albany in Class B (15:37.1); and Colton Kempney of Beaver River in Class D (16:06.5).
Zack Winnicki of Lancaster was ninth in the boys Class A race. Orchard Park's Aidan Kincaid and Joseph Bertola were 18th and 25th, respectively. Brody Jones of Pioneer/Holland was 11th and Evan Castlevetere of Iroquois was 18th in Class B, respectively.
In Class C, Daniel Casey of Allegany-Limestone was fifth. Joe Krenzer of Falconer/Cassadaga Valley was 18th, and Ethan Luce, Nate Lewis and Trenton Shutters ran 21, 22 and 24 to lead Southwestern to second place in the Class C team scoring.
Lukas Baer of Maple Grove (fifth) and Roan Kelly of Randolph (sixth) were the top Section VI finishers in Class D.
Best finishes by Section VI runners in girls Class A were Lillie Bogdan of Frontier (13) and Noel Barlette of Orchard Park (17).
East Aurora's scoring in its Class B team win was by top 10 finishers O'Leary, Kaitlyn Houghton and Megan McLaughlin, as well as Catherine Schoeneman and Samantha Hulme. Starpoint eighth-grader Shannon Zugelder was 18th and Mallory Grubb of Amherst was 22nd.
In girls Class C, Kylie Bowman of Newfane was 11th, and Kirsten Melnik of Springville was 18. Newfane was third in school team scoring, with top 24 finishes by Leah Siegmann and Catalena Ersing.
Section VI champion Abby Brunanavas of Maple Grove had the best finish of the section runners in the Class D race. She was 16th. Teammate Allison Bohall was 18th.