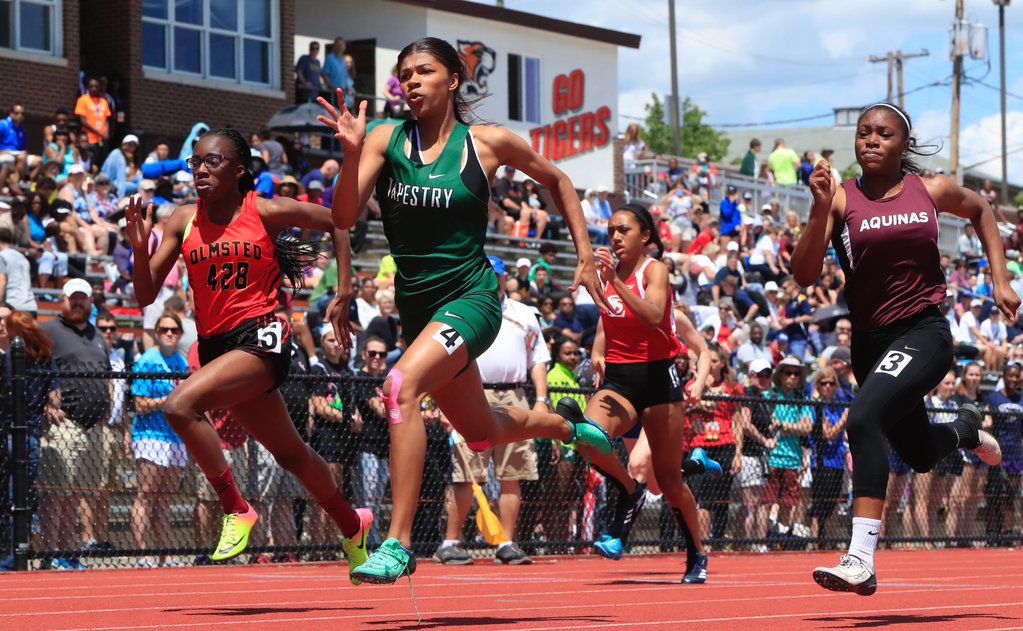 ENDICOTT - Nia Stevens has a chance to lead Tapestry Charter High School to an overall state title in the 4x100 relay Saturday after anchoring the group to a Division II title Friday at Union-Endicott High School. Tapestry, anchored by Stevens, turned in the best time of the 16 Division II schools with a 48.42-second mark. The victory gave Stevens her third consecutive Division II title in the 4x100.
Stevens also ran the fastest 100-meter dash in Division II preliminaries with a blistering time of 12.59 seconds. The Division II finals in the event will take place shortly after 11 a.m. Saturday.
"I was nervous about my starts, so I came out good," Stevens said. "It is great to be here with really good people, so it is fun."
It seems like just that for the sophomore, who also ran the fastest 200-meter time of anyone in Division II at 24.92 seconds. Her time slotted her fourth overall out of 32 runners in both Divisions I and II. Stevens will race for the Division II title in the 200 meters Saturday shortly after 12:25 p.m.
Tapestry's 4x400 crew featuring Stevens didn't fare nearly as well, finishing sixth in its heat with a time of 4:07.72.
Elsewhere in Section VI action, three girls runners finished right by each other in the 800-meter championship. Abby Gostomski of Cattaraugus-Little Valley finished sixth in the second section of three in the 800-meter final with a time of 2:14.95, while East Aurora's Molly McLaughlin came in seventh at 2:16.50 and Iroquois' Kathryn Blair finished eight with a time of 2:17.59.
"It was kind of tough because people kept cutting in front of me, so I just made sure I didn't get far behind after they did that," Gostomski said. "I just tried to stay in the group that I was in and I went as fast as I could at the end.
"It was hard, but I was expecting it."
Gostomski said the obstructions came toward the end of the first of two laps, and neither her nor her two Section VI opponents could overcome them to crack the top five in their section.
Two other events involving Section VI girls held finals Friday, with nobody from the section making significant noise in either the pole vault or the 3,000-meter race.
In the pole vault, Falconer's Rachael Ward finished sixth overall with a maximum height of 11-6. Clarence's Mallory Prelewicz finished ninth overall with a height of 11, while Williamsville North's Gabrielle Gaygen (12th) topped out at 10-6 and Salamanca's Mushirah Sheppard (17th) reached a top height of 10.
In the 3,000 meters, the final track event of the day, Cattaraugus-Little Valley's Bailey Gostomski finished 15th overall in a time of 10:18.03 to top the three Section VI runners in the race. Holland's Riley Jones came in 16th at 10:18.77 and Clarence's Katrina Patterson finished 26th in 10:59.50.