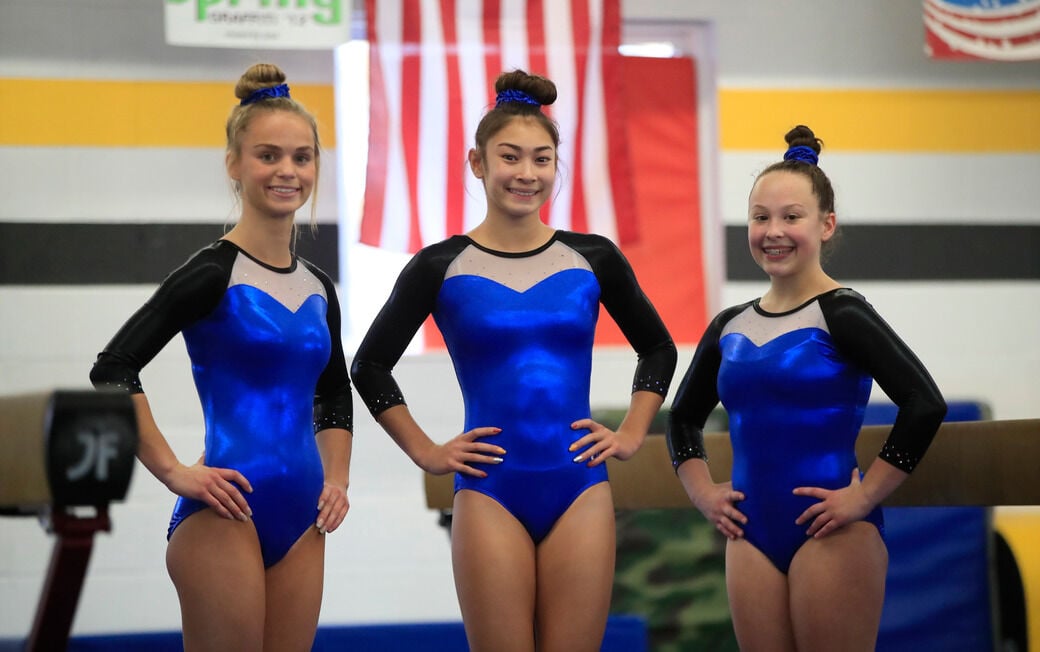 Frontier broke through last fall to win its first Section VI girls gymnastics team title and sent three athletes to the New York State Public High Schools Athletic Association championships.
The Falcons figure to be even stronger this time around.
Back from the 2019-20 season are senior Jenna Blair, sophomore Kayla Gleason and junior Cari Czarcinski, who all qualified for the state meet in February after leading Frontier to an undefeated season against ECIC Division I opposition. 
What makes the Falcons' lineup even better is the return of Lea Philarom to scholastic competition. Philarom, who is training for Level 10 in USA Gymnastics, took the 2019 season off in order to compete in the competitions sanctioned by the national governing body.
"I got a lot out of it," she said. "It definitely helped me improve most of my skills, but its a lot of fun to be back."
Only a freshman, Philarom would be a candidate for WNY Gymnastics' Comeback of the Year if there were such an award.
Her moment of glory for Frontier came two seasons ago, when she was the heroine of Section VI's sectional team championship at the state meet on Long Island.
She was the first seventh-grader from Section VI to win the state all-around title. She was also in the top six in each of the four individual apparatus competitions, placing second on the balance beam and floor exercise, third on bars and sixth in the vault. That season, she broke all of the Frontier gymnastics records and her 38.125 total at the state meet was second highest in Section VI history.
The record of 38.225 is held by Madison Penetrante of Williamsville North. Penetrante was unable to compete in the 2018 state meet because of injury, opening a place in the all-around rotation for Philarom.
Philarom was able to maintain her friendships with the athletes on the Frontier team, even though she wasn't competing with them. She considers Gleason, Blair and Czarcinski among her best friends.
"I practiced a lot with them," Philarom said. 
The NYSPHSAA held its 2019-20 championship meet before the Covid-19 restrictions curtailed high school sports competition last March, with Frontier ending its season on a high note, thanks to two top-five finishes in the all-around at the state meet.
Blair, the defending sectional all-around champion, was second in the all-around in the state meet. She placed second in floor exercise and balance beam and third on bars.
Gleason, who is in her fifth season on the Frontier varsity, was fifth all-around at the state meet after finishing third in the sectionals. At the state meet, she finished in the top 10 in vault, bars and floor exercise.
Czarcinski was second on beam and 10th on bars in the state meet. She was third on bars in the sectionals.
"The last meet for most of these kids was the high school state meet," said Frontier coach Jill Wierzma, who in addition to coaching the Frontier team runs a private gymnastics facility in Hamburg. "We got back from the state meet on Long Island and the next week New York shut down. The club season never happened."
Because of Covid-19 restrictions, no spectators, even parents, have been allowed at the team's meets this season.
Frontier won its first two ECIC meets over Hamburg and over Clarence and Williamsville North. The Falcons host Orchard Park on Friday before a meet next week at Kenmore West against Maryvale, Orchard Park and the combined Kenmore team. 
"They can watch us live on YouTube and Instagram, though," Philarom said.
Philarom, an honor student, has not begun to consider where she would go, but definitely has college gymnastics in her plans.
"Not really," she said when asked if she is getting the attention of college recruiters. "I did go to some camps over the summer at different colleges," including Ohio State, Penn State and North Carolina.
Historically, some young women became champions in gymnastics in their early teens. Nadia Comaneci, Mary Lou Retton, Simone Biles and Olga Korbut became famous worldwide as teenagers with their Olympics performances.
Philarom first qualified for the NYSPHSAA championships as a 12-year-old in the sixth grade in 2017. Normal physical growth sometimes betrays the ability of such young athletes to continue competing at a top level in the sport.
Philarom went through a growth spurt since she last competed scholastically.
Only 14, Philarom said she has grown 5 inches since she competed for Frontier two years ago.
"I probably did grow a lot," she said. "I don't remember what I weighed two years ago, but I've definitely grown stronger."
She started gymnastics as a 5-year-old with a club in Orchard Park.
"She's adapted to that and is doing very well," Wierzma said of Philarom's growth.
Philarom scored a 35, which she was pleased with in all-around in the first meet against Hamburg. She competed only in the vault and uneven bars in the second meet against Maryvale and Williamsville North.
Frontier seeks to defends its sectional title Nov. 7 at the Stumpf's Gymnastics Center in Williamsville.
Along with Philarom, Blair, Gleason and Czarcinski, other team members are two co-captains, senior Riley Imiola and sophomore Allie Zglinicki, and sophomores Lily Miller, Morgan Pereira, Caelyn Gay, Gracie Wieczynski and eight-grader Riley Kowalski.
The state championships, if they are held, will be at Kenmore West on Feb. 26-27.
Wierzma views Clarence, with sophomore Elaina Lorenz, "as probably our toughest competition this year." Clarence hosts Hamburg, Maryvale and Williamsville East on Saturday, and then closes the regular season at Kenmore on Tuesday in a meet that includes Hamburg. 
Wierzma coached at Williamsville North (1989-2006) before coming to Frontier in 2007. Last season ended a long quest for that elusive ECIC title, trying to catch Hamburg, Clarence and Lancaster.
"We'd been close, we'd been second, we'd been third ...," Wierzba said.
Now, the Falcons are on top and look like they will stay for a while.