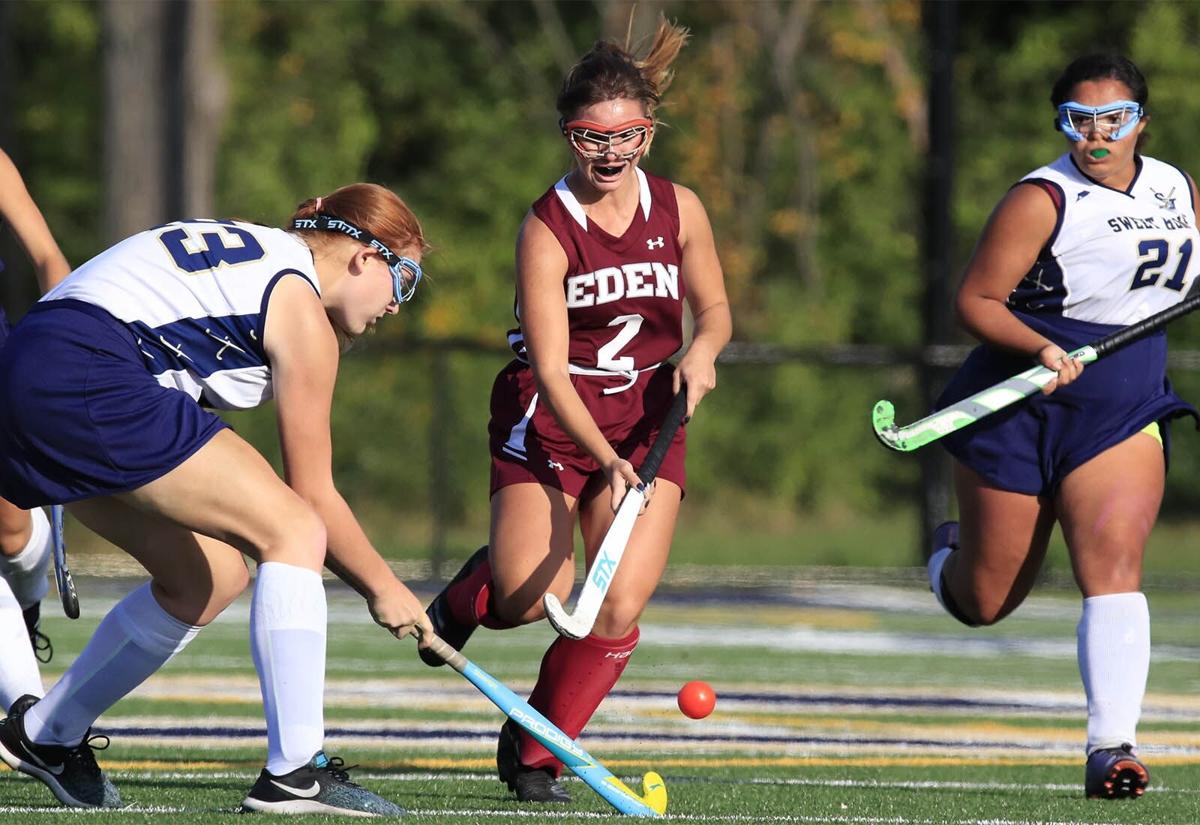 One hundred and ninety-two days.
That's how long its been since the last organized high school team activity took place in Western New York.
That changes Monday when athletes are allowed to work out with their respective teams during the first official day of the fall season for low-risk sports, according to state guidelines in response to the Covid-19 pandemic.
"Monday is going to be like Christmas morning when you knew what you were going to get under the tree but excited nonetheless," Frontier boys soccer coach Rich Kozak said.
It won't feel like Christmas for everyone.
The high-risk sports athletes who play football, volleyball or competitive cheerleading won't be part of the festivities, unless they're trying out a different sport. Neither will Sweet Home, Clarence nor the Buffalo Public Schools.
They are among the schools whose return to athletics will be delayed, or in the case of the city schools won't happen in the fall. BPS announced last week that it wasn't going to play any sports during the fall.
The start dates for Clarence and Sweet Home will be delayed, with Sweet Home planning to discuss a potential start during a School Board meeting Monday night. Clarence is expected to begin Tuesday, School Board president Michael Fuchs said.
Sweet Home's timetable, at the moment, is uncertain.
"Nobody is starting to practice as of yet until after board discussions," district spokesman Donald Feldmann said.
A social media account has been created by a Sweet Home sports advocate called Save Our Sports. Video montages of Panthers' athletes explaining why they should be allowed to play sports along with messages of support to athletes have been posted.
"At this time, the board isn't saying no (to fall sports)," Sweet Home Athletic Director Marisa Dauria said. "They're having a session about the plan we're offering."
Soccer, field hockey, girls swimming, girls gymnastics, cross country, boys golf and girls golf are considered low-risk sports by the state. Sweet Home is proposing its own modified phased-in-return plan. It starts with cross country, golf and single-matches competition for girls' tennis, Dauria said. The other low-risk sports are expected to follow a week later.
Why hasn't there been a determination about sports in Sweet Home?
"The board hasn't made a decision," Feldmann said.
In addition to just giving the OK, districts need to make sure they are equipped to handle the enhanced safety guidelines adopted by the New York State Public High School Athletic Association.
The instructions detail among other things:
• How facilities must be sanitized before and after games and practices.
• Protocols for spacing out benches, along with responsibilities for home and visiting teams, players, coaches, officials and spectators in order for competition to take place.
• Participants must clean and sanitize their hands before, during and after competitions. They must bring and use their own water bottles for hydration.
• Some schools are requiring athletes to dress at home, showing up to practice ready to go.
• No one is allowed to share uniforms.
• No high-fives, handshakes or fist bumps are allowed.
• Schools must have masks and sanitizer available for participants. They also must clean and disinfect frequently touched surfaces and equipment.
• Players are allowed to bring their own masks/face coverings. Competitors must wear a mask while on the field competing in soccer, field hockey and cross country unless they have a medical reason for not wearing one. Student-athletes and coaches also have to wear face coverings on the bench, while substitutes must sanitize their hands before entering the game.
Clarence is starting Tuesday because, it still has to appoint coaches for the fall season, which Fuchs said will happen during its board meeting Monday night.
Kozak said just getting to Monday was a team effort by everyone.
"We had the due diligence and the community wherewithal to knock the Covid numbers down to manageable numbers where the kids can have this opportunity," he said.