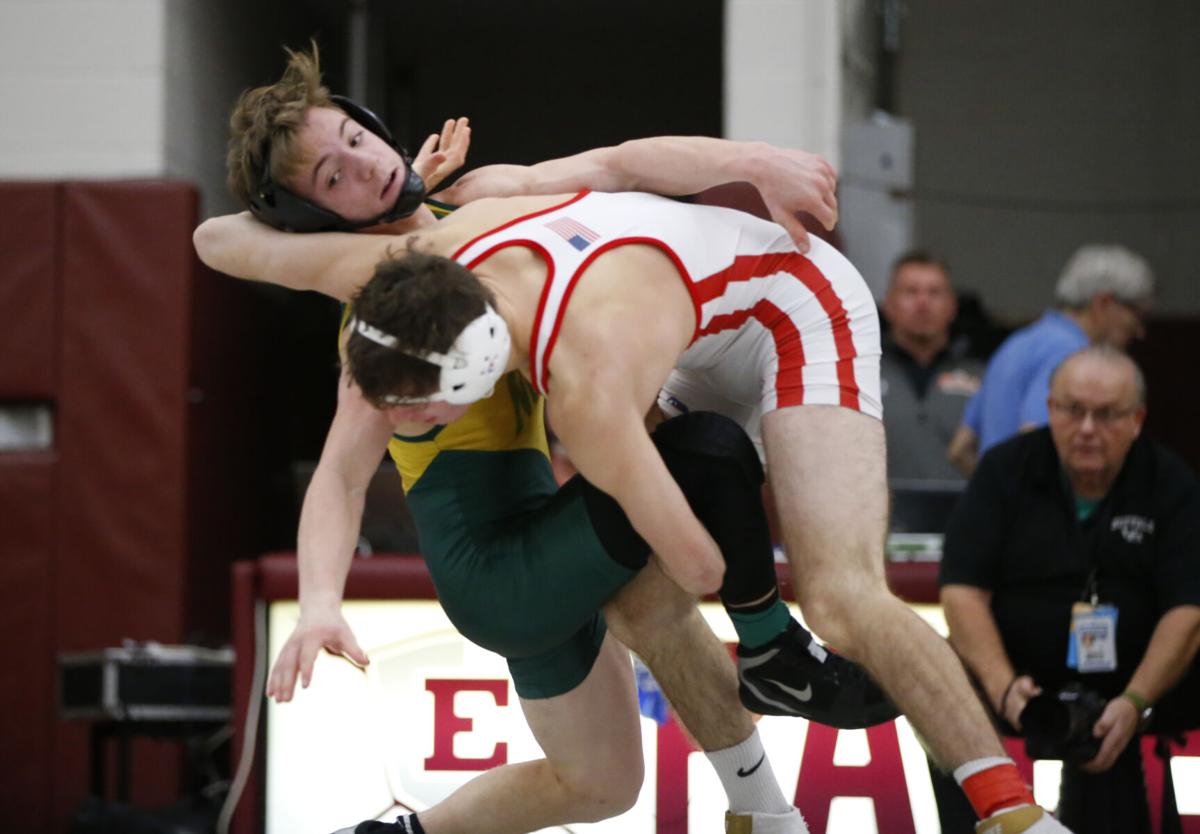 Section VI will hold wrestling competition this spring, but not for athletes from Erie County schools.
The Section VI Executive Committee voted Wednesday to support wrestling activities beginning May 3 for member schools in Allegany, Cattaraugus, Chautauqua and Niagara counties, but said Erie County schools will not be able to participate based on the recommendation of the Erie County Department of Health.
According to the county, Section VI is an independent entity and does not need permission from health departments to proceed. However, school districts were put in an untenable position should they go against the recommendations. 
"The expectations are clear from our school leaders. Our school leaders cannot take on the liability associated with splitting off from the ECDOH's recommendations," Section VI president Brett Banker said in a news release.
In making the announcement, Section VI said, "We will support the Erie County schools to begin wrestling immediately, if the recommendation from Erie County changes."
What frustrates wrestlers, their coaches and families is that  they don't understand how their sport could be considered more risky than football, basketball and ice hockey.
Lancaster coach Brandon Becker was among many in the wrestling community who were not happy with the decision.
"I'm disappointed, as you might expect," he said. "The only course of action is to get the Erie County Department of Health and (Health Commissioner) Gale Burstein to change her mind. Her recommendation from January doesn't have any precedence anymore."
The state had initially given counties the authority to allow higher-risk sports to proceed. Erie County gave its approval in January for high-risk sports basketball, football and ice hockey. However, on Jan. 28, the Allegany, Cattaraugus, Chautauqua, Erie and Niagara county health departments advised against holding a wrestling season at that point. Section VI responded by moving wrestling to the spring.
When Section VI sought recommendations from the county health departments last week, Erie County cited "high levels of community transmission and the inability of competing wrestlers to wear a mask." 
Dennis Bauer, the Amherst coach and ECIC chairman, said most of New York state has already wrestled with fewer pauses than many other sports. He said Sections II (Albany area), III (Syracuse area), IV (Binghamton area) and V (Rochester area) all had zero teams paused. He said Section VIII (Nassau County) had six pauses among 50 teams and Section XI (Suffolk County) had eight teams paused among 72.
Wednesday, Bauer started a change.org petition to allow Erie County schools to participate in the wrestling season.
Pete Kennedy, the Monsignor Martin Athletic Association wrestling chairman and longtime St. Joe's coach, drew this comparison to other sports the state had deemed high risk but then had given the green light: 
"With a shortened spring season that lasts approximately a month, local wrestlers will come in direct contact with approximately a dozen other athletes total," he wrote on Twitter. "FYI: There are currently 22 athletes on the field during football and lacrosse games. ...
"Pods and limited contact already naturally exist in wrestling. At first glance, wrestling may seem more problematic than other sports. However, wrestling is actually easier to control than team sports. Wrestlers practice only with other athletes their same size and ability."
Not being able to compete deprives three of Becker's Lancaster wrestlers of an opportunity to achieve personal goals.
"We have a section champion, Michael Schaefer at 113 pounds, who wants to defend his title," he said. "It's not fair if some kid from some school wins that title and he is not able to defend it."
Two Lancaster wrestlers, Bryce Bolognese and Josh Jelonek, were on their way to achieving 100 career wins if the season were of normal length. Jelonek had 88 and Bolognese had 82.
"They will not have the opportunity to see their names go on the prestigious wall at our school with the names of those who had 100 wins," Becker said.
Erie County's decision could affect the Monsignor Martin association's five teams that compete in the sport: Canisius, St. Francis, St. Joe's, St. Mary's and Gow.
Monsignor Martin Executive Director Pete Schneider said the association has followed the guidelines of public health officials all season.
"This information is in the hands of our administrators and I anticipate that we will follow the recommendations of the ECDOH," Schneider said. 
The Monsignor Martin schools' counterparts in the Catholic leagues in New York City and Long Island began their seasons last week. 
The recommendation makes Erie County an outlier in the state and significant parts of the country. Three New England states, Vermont, Maine and Massachusetts, canceled the high school wrestling seasons, though Massachusetts got a reprieve last week when the state's Executive Office of Energy and Environmental Affairs moved the sport to a lower risk level. Plans are ongoing for a season, though final approval is pending. Maine recently canceled wrestling and spring football, instead looking ahead to next season both sports.
One of the arguments Erie County health officials used in not approving of wrestling activity is that the athletes can't wear face masks while participating.
Kennedy argues, "Wrestling bouts last anywhere from 10 seconds to six minutes for a regulation match. During that time, the wrestlers on the mat are the only unmasked individuals in a gymnasium."
A number of other states have used modified headgear that includes a mask. 
Coincidentally, some athletes from Erie County were competing Wednesday and Thursday for Jamestown Community College and Niagara County Community College in the NJCAA wrestling nationals in Council Bluffs, Iowa.