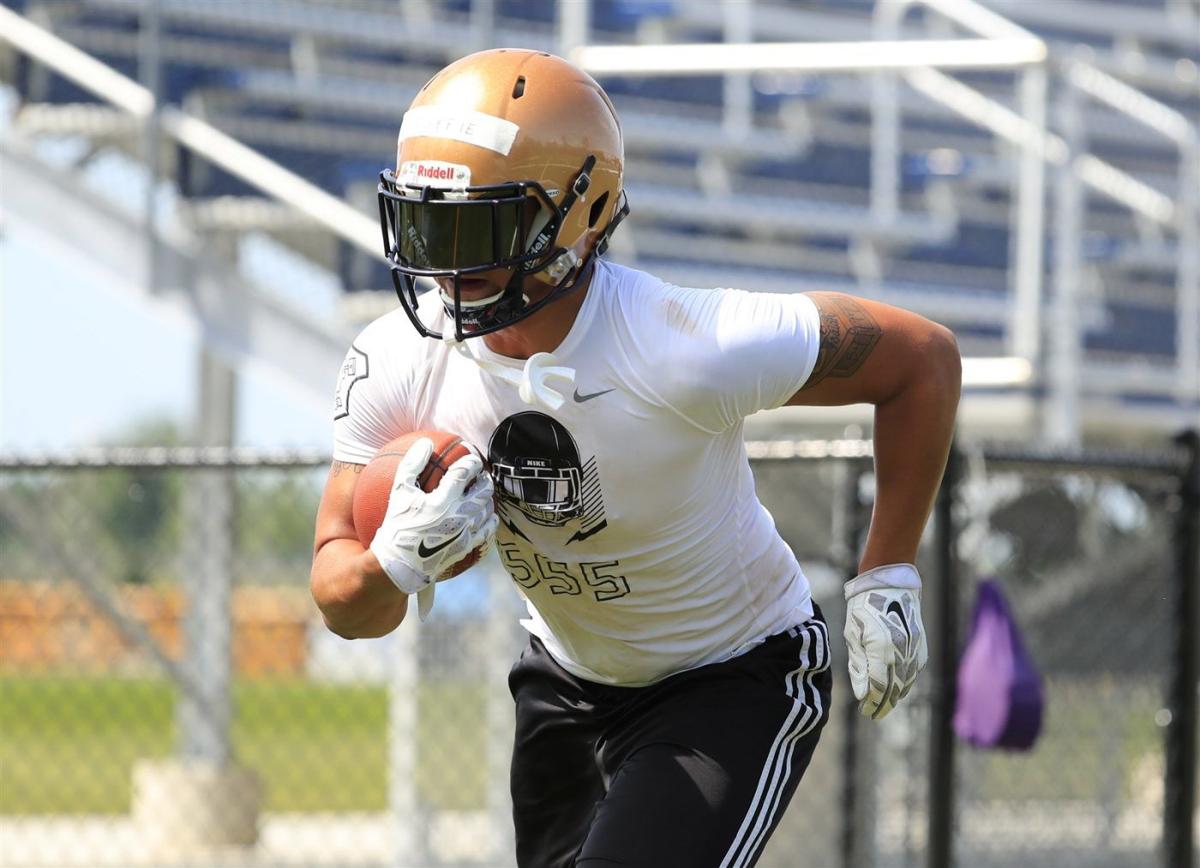 Six teams were in action on Saturday morning at Lockport's Lederer Field, some showcasing old faces in new places and others returning key starters from injury. Sweet Home, Williamsville East, Niagara Wheatfield, Grand Island, Lockport and St. Francis scrimmaged amongst each other on two separate fields from 9-11 a.m.
Among the notable tidbits were Lockport quarterback Javon Ford returning from an ACL tear that sidelined him all last year, Will East debuting first-year head coach Mike Torrillo and standout tailback Dylan McDuffie returning to Sweet Home after a year at St. Francis.
Ford is back after missing 2016 season
Ford wore a bulky brace around his right knee on Saturday, but the left-hander is fully healthy after suffering a gruesome ACL tear during a camp in Ohio that sidelined him for the entirety of Lockport's lackluster 2016.
"He's been looking good all camp and he's done a really nice job all offseason," Lockport head coach Matt Vermette said. "First time we see a live rush with this capacity, it's just gonna be a good tune-up. I'm real happy with his progress. He's a great duel-threat kid. That really kind of opens up the quarterback run game for us and that's one of the things that we really wanted to do last year and couldn't."
Vermette called last year's quarterback play "very, very inadequate" and said Ford "hated it" watching from the sideline knowing the Lions would be far better off with him under center. "He's kind of had that chip on his shoulder since," Vermette said.
Watch Ford discuss how the injury happened, what it was like sitting out, his expectations for this year and more.
Torrillo heads Will East while his son quarterbacks Sweet Home
Torrillo, the Flames' first-year head coach, is in a new position after 14 years on Sweet Home's staff under former Panthers' head coach John Faller.
His son, Joseph, is still at Sweet Home. Not only that, he's the starting quarterback for Panthers' first-year head coach Rich Lowe.
At first the elder Torrillo was reluctant to discuss the separation, asking "Do we have to go there?" but later said it's an adjustment his family is taking in stride.
"It's a challenge. As a parent you want to go watch your kids," Torrillo said. "I have all the confidence in the world he's gonna work hard and he's gonna do what he needs to do to take care of his business ... He knew it was a good situation for me at the time to take (the Will East job) and I'm gonna do the best I can to get to as many games as I can ... It is what it is. We'll deal with it."
East is hoping to reach .500 this year after going winless in 2014, winning three games in 2015 and going 4-5 last year.
McDuffie back at his old school after standout 2016
McDuffie was a Connolly Cup finalist last season and a second-team All-WNY selection at running back. He helped St. Francis reach the Monsignor Martin final, rushing for 1,255 yards and 14 touchdowns on the year. He also hauled in 290 yards and three scores through the air on 25 receptions.
After one season with the Red Raiders following his sophomore season with Sweet Home, McDuffie is back with the Panthers, a team that failed to make the playoffs last season.
"Not football at all," McDuffie said of the reason behind his return. "The main reason for the switch is my life is more than football, honestly. Being around my friends everyday in school and just being back in a great building with great people is obviously something you can't turn down."
McDuffie was one of the most prominent players on either field all morning, as the senior looks primed for a first-team All-WNY campaign. In the final scrimmage session of the day, he faced his old team - they don't play in the regular season - and had some fun with it.
"It wasn't strange," McDuffie said with a smirk. "It's obviously some tension there but it's fun because I got some of my friends over there. It's all competition. That's what it comes down to at the end of the day ... It's friendly tension, between the whistle, nothing after that. After the scrimmage, everyone came, we all slapped each other up, hugged each other, said what's up."
Get in the game with our Prep Sports Newsletter
Sent weekly directly to your inbox!