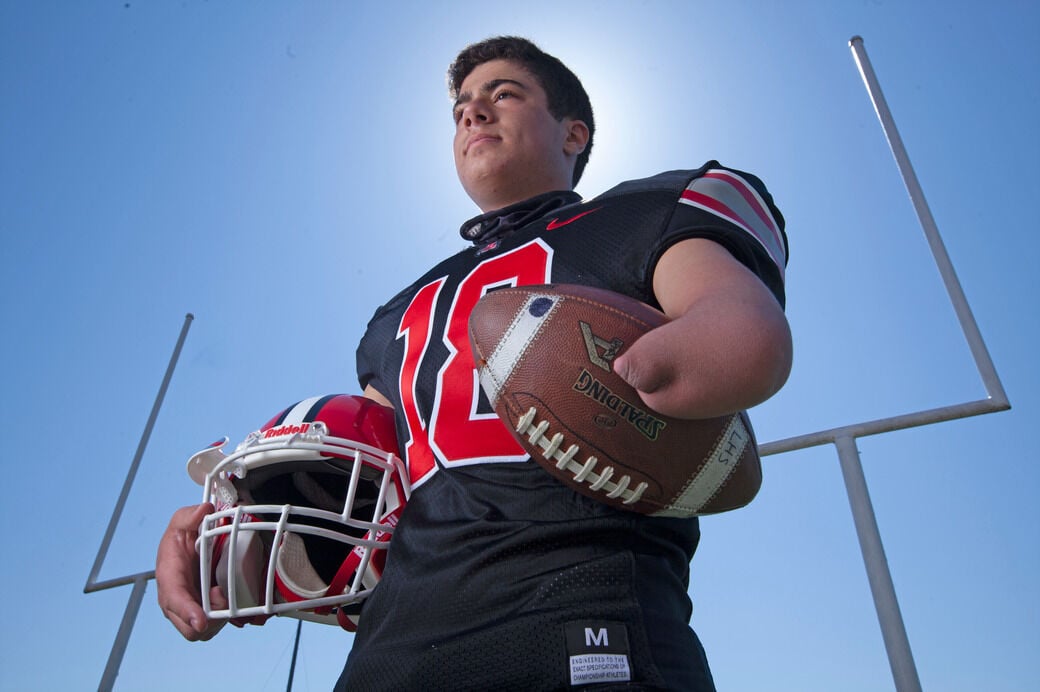 Mike and Jennifer DePasquale always will be concerned about the safety of their son, Michael.
They're parents. That's their responsibility. That never changes.
But their worries regarding whether the Lancaster football team's senior place-kicker would ever be able to ... fill in the blank ... dissipated a long time ago.
That's because Michael DePasquale, 18, has figured out how to do daily and not-so-everyday tasks some might take for granted, even though he was born without a left forearm and hand. Doctors think a blood clot might have impeded the development of the hand and forearm, his father said, but there was no indication on the sonogram of an issue. 
Michael owns and drives the jeep that he bought with money he earned from part-time jobs. He currently works in the pharmacy department at Tops. He plays video games so well with his right hand that his father, who used to win their gaming contests, won't engage in any friendly competition on Xbox.
Then there's sports. He plays youth soccer for the town rec league. He's participated in pickup baseball games in the neighborhood while growing up. He's served as goalie for street hockey games. He enjoys sailing and can even ride a water scooter.
"It's quite the feat, two hands or not," he said. "You're hanging on for dear life with two hands."
As much fun as he has riding a personal watercraft, that didn't compare to the feeling of competing in his first high school scholastic competition – a 34-8 Legends victory over Bennett on April 2. DePasquale, who kicks with his left foot, drilled 4 of 5 point-after-attempt kicks. The miss hit the upright.
"I went out for that first extra-point kick and I was like, 'I don't know how I got here,'" he said. "I was kind of thinking, 'You know, am I really qualified for this?' Then I kicked that first one through and the nerves went away.
"I'm happy with this. ... Football is a one-of-a-kind thing."
DePasquale made all four PAT kicks he attempted Friday in his home debut, a 36-7 win over Niagara Falls.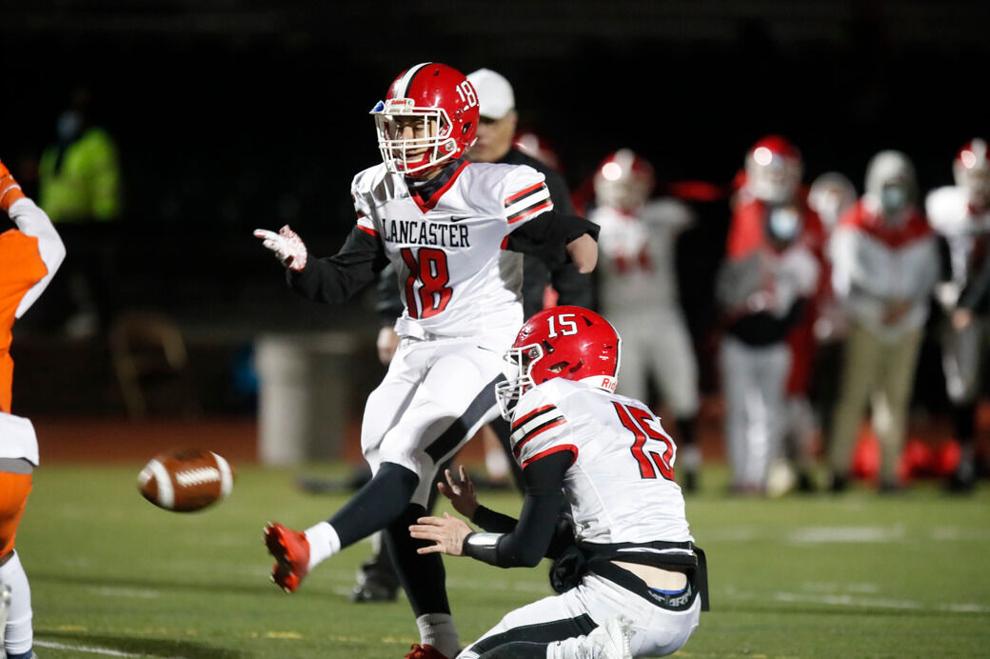 DePasquale had tried out for soccer at Lancaster in the past. In fact, he tried out three times and failed to make the roster. He didn't try out last fall because he wasn't 100% healthy.
The dream to be a student-athlete lived on, though, because DePasquale never allowed his dream to play football to die.
DePasquale always wanted to play organized football, but his parents refused. Mike and Jennifer were concerned about Michael potentially suffering a head injury. It's the reason their younger son doesn't play football, either.
They also worried about the obvious: What if Michael breaks his good arm?
What changed their mind to let Michael give football a try? His persistence.
"He really wanted to do it really badly and I couldn't say no," Mike said. "Our major concern wasn't one arm. It was head injury. That's why neither of our sons played. But when they had an opening for kicker, we we're like, 'OK.'"
DePasquale asked his friend Jeff Burgess, who is on the team, how he'd be able to join. Burgess put him in contact with Legends coach Eric Rupp.
Rupp guaranteed just one thing – a fair shot to make the team, as the Legends sought to replace All-Western New York kicker Clark Whiteside.
DePasquale showed up at voluntary organized team activities daily beginning in fall. He learned proper kick technique, started mastering his craft and he beat out all comers on the day of the tryouts.
"He was definitely the best option," Rupp said. 
Senior quarterback Jason Mansell, who holds on extra points and field goals, said it's been fun getting to know DePasquale. He is proud of what DePasquale has been able to achieve thus far as Lancaster moved to 2-0 with a 36-7 victory Friday against Niagara Falls. Lancaster visits Williamsville North on Thursday. 
"It's a cool story," Mansell said. "It's nice for him to get that spotlight. It's great for him to get this moment in his high school career. … For him to come out his senior year is pretty special."
Mansell said DePasquale is an example of the Legends' motto.
"We say relentless effort. He never gave up," he said. "We say when you continue to work good things happen."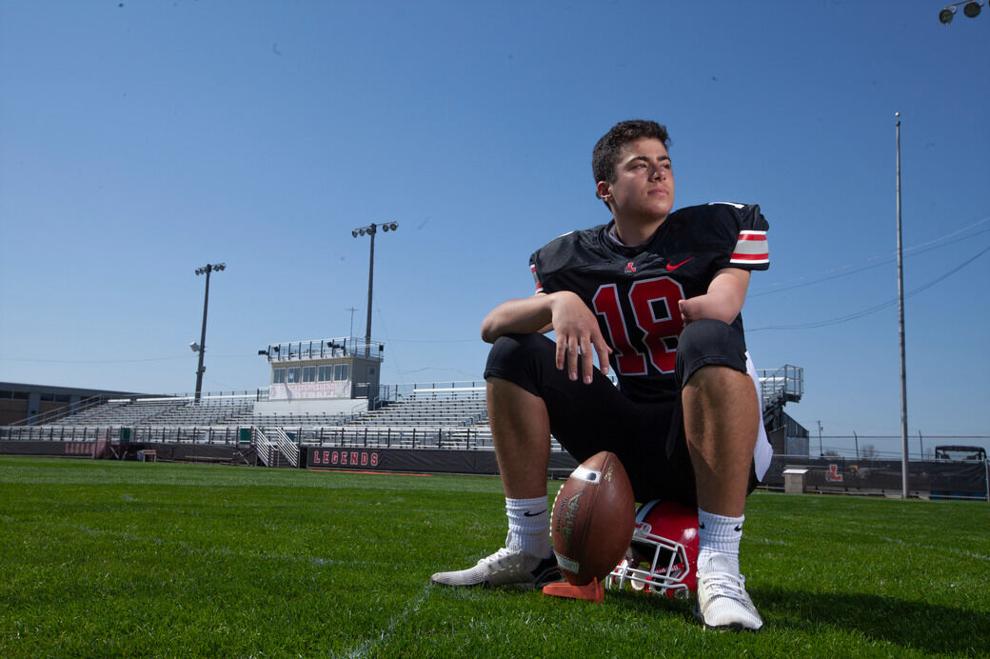 Let it be known, playing time is earned in this program. The Legends expect a lot from their kicker, considering they are one of the top Class AA teams in the state. If DePasquale wasn't good enough, he wouldn't be on the team.
"I think it's great," Rupp said. "He fits in with all the other guys on the team. They embrace him. They treat him as family.
"It takes a lot of guts (to play football), and Mike's going to go out and do his best and put his shoulder into somebody if it comes that on kickoff. He doesn't have any fear."
He has a jersey, No. 18. He has a helmet. He has earned a lot of respect.
"It takes a lot of guts and courage," Mike DePasquale said. "I'm very impressed he wanted to do it. Everything in his life … He's done everything I've worried about him not doing with one arm."