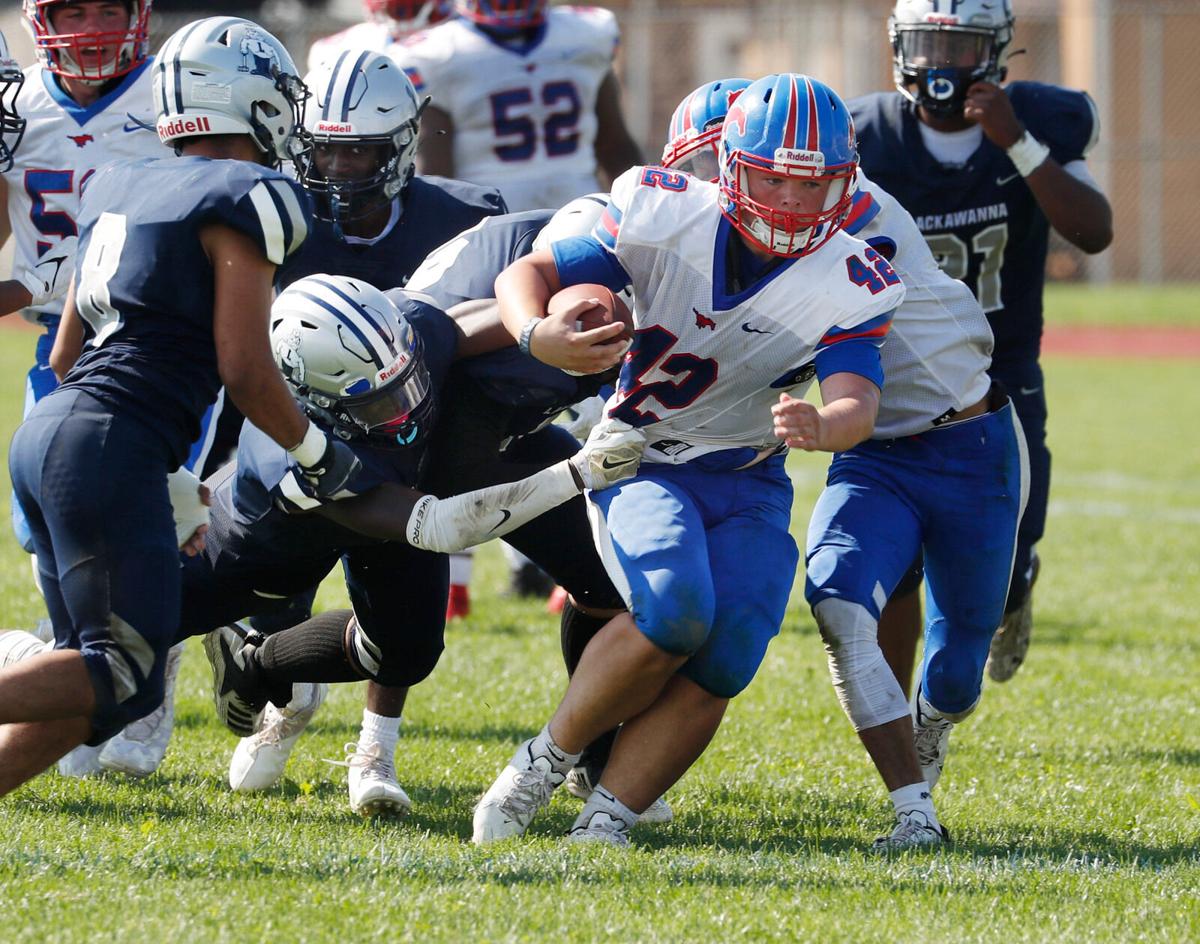 Eric Valley called it the kiss of death.
Of course, he would. He's the coach of the Medina team that's been deemed as the top team in the state in Class C in the very first New York State Sportwriters Association poll of the young season.
Had the Mustangs earned No. 1 after a championship victory at the Carrier Dome in December, Valley would be a bit happier. But right now, it just places a target on a Mustangs team that's good but still trying to find its way during a long season that is just three games old.
Medina took a nice step forward on a hot, muggy Saturday afternoon by fending off host Lackawanna, 34-16, in a nonleague game between teams that could run into each other in the playoffs.
The teams played fast and physical with Medina unfortunately losing a guard, likely for the season, with a broken leg. Its main running back, Joe Cecchini, was hobbled but finished the game.
But the unbeaten Mustangs (3-0) persevered with their physical highlight coming during a tough 45-yard touchdown run by Noah Skinner midway through the fourth quarter. Skinner was seemingly caught but shrugged off and dragged several would-be Steelers tacklers across the goal line for a touchdown that gave the Mustangs a little more cushion. While every team is different every season, this victory showed the defending Section VI Class C champions still can deliver the finishing kick with a game hanging in the balance.
"We knew they were going to be a very physical and athletic team. That's by far the most physical game we had to play," said Valley.
Medina scored the game's first 20 points as Xander Payne passed for touchdowns of 11 and 50 yards and rushed for a 9-yard score. The Mustangs left some points on the field as a drive stalled in the red zone before Lackawanna's offense started delivering aerial haymakers to get back in the game.
Quarterback William Gechell and receiver Shyheim Smalls hooked up for a 20-yard touchdown with 7:25 left. Gechell and Mohamed Alshawai connected on a 35-yard strike 5 minutes later. Factor in a tough 2-point conversion run by Gechell for the team's second 2-point conversion of the day and what once seemed mountainous was just a 4-point deficit. Lackawanna (1-2) then earned a chance to drive for a go-ahead score during the final 59 seconds of the half after Ashlin Alexander-Hall's interception at the Steelers 5 and 30-yard return.
But with momentum seemingly on Lackawanna's side, Medina's pass rush delivered sacks on back-to-back plays with Robert Arnold and Dominic Larabee and Larabee and Chris Johnson combining on the stops that stemmed the tide. Johnson finished with two sacks.
The Mustangs forced a three-and-out to open the third quarter and continued the Lackawanna deflation process by marching down the field and increasing the lead on Jarin Rhim's second TD catch of the day – this one from 8 yards out.
"It felt amazing because the people that blocked for me were just executing and running down the field," Skinner said. "I guess adrenaline got to me."
That run highlighted a day in which Skinner finished with 13 carries for 133 yards, five tackles, 1.5 sacks and recovered an early fumble that led to a Medina touchdown.
"Noah Skinner really stepped up and had a huge game," Valley said.
But after winning its first two games by a combined score of 96-6, Saturday's test was a nice reminder that when pushed, Medina has the horses to push back.
"We just have to continue to be good every down every distance and continue to work," Valley said.
ANOTHER RECORD FOR WILLOUGHBY
Another week, another program record by South Park sophomore quarterback Noah Willoughby, who appears to have found his rhythm.
He broke his own single-game record for passing yards by throwing for 451 in a wild 64-35 win over Williamsville East. He passed for 299 during a first half in which each team scored on its five possessions. The Sparks led 38-35.
Willoughby completed 23 of 29 passes for five touchdowns against the Flames. Last week, he passed for 384 yards to break Tyree Brown's record of 368 set in 2015.
Willoughby threw for 251 yards in a season-opening loss to West Seneca West, his first varsity start.
"I think the first game was a little overwhelming, but he found his groove," Sparks coach Tim Delaney said.
Helping Willoughby get more comfortable has been the return of Amar Paulk, who has caught 11 passes for 252 yards and three touchdowns the past two weeks. South Park has eight receivers who have caught passes thus far. Jeremy Yancey has 12 catches for 232 yards and four TDs and Antonio Halton has caught 14 passes for 255 yards and three scores.
After playing two of the top Class AA programs in the area to open the season, two-time defending Class B champion Western New York Maritime/Health Sciences trounced Burgard, 54-0, in its league opener. Ahmadi Foster led the way with four total touchdowns. He had 120 yards receiving and two TDs, 60 yards rushing and a touchdown and a pick-six.
"It always feels good to get that first win after those two tough losses but those type of games get us ready for league play," Falcons coach Tyree Parker said. "I want to play the best teams no matter what. Our guys are trying to get recruited so those are the type of games we want to play win lose or draw."
• Tyler Baker set two school records during Canisius' 35-14 triumph over previously unbeaten McKeesport (Pa.). Baker was 22 of 31 for 406 yards, three touchdowns and rushed seven times for 98 yards and a TD. He set the mark for passing yards and total offensive yards in a single game with 504. Travis Eman held the previous passing-yards record of 371 and total yards of 437, both set in 2010 against Walsh Jesuit. Canisius (2-0) hosts rival St. Joe's (0-3) on Saturday.
• Randolph's trip to Erie County was a success as the Class D school defeated host Depew, 44-28. The Cardinals turned a two-point lead into a 32-14 halftime edge scoring twice during the final three minutes of the second quarter. Xander Hind rushed 33 times for 229 yards and two scores.
• Perennial Class C contender Southwestern avoided a 0-3 start by drubbing Olean 48-14 as Aidan Kennedy threw for 244 yards and a TD and rushed for 85 yards and three TDs.