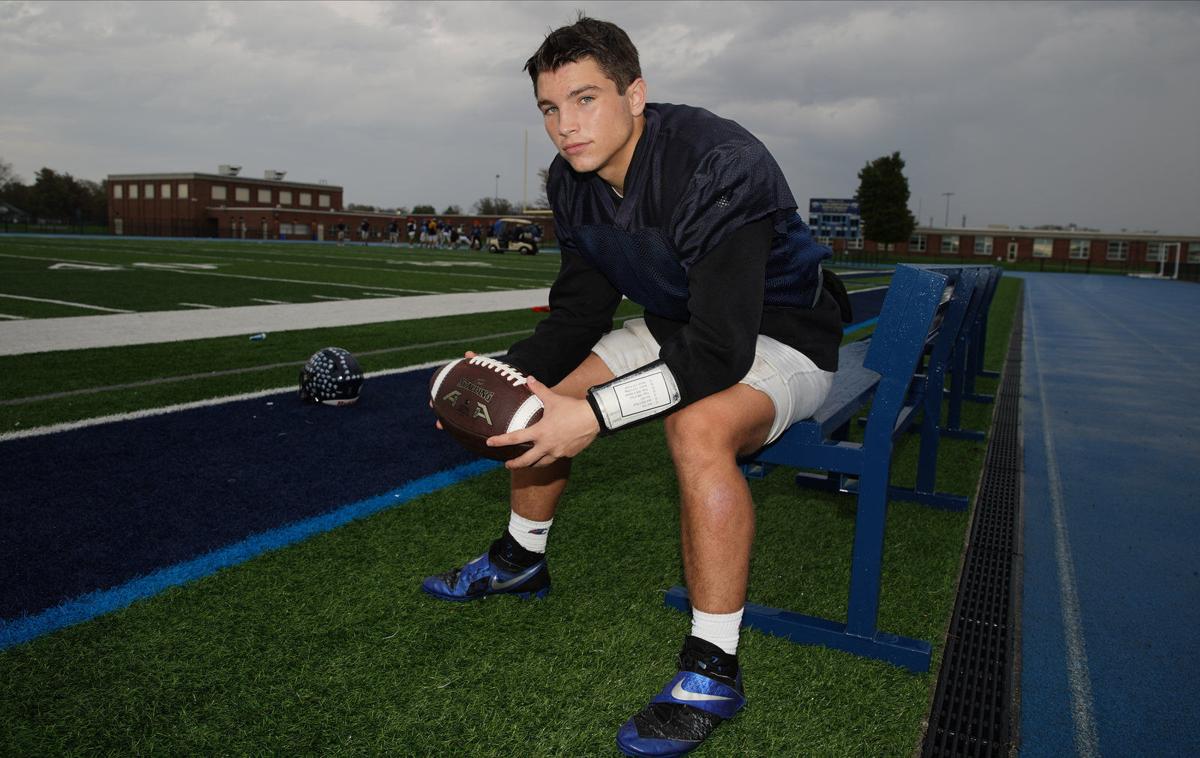 Team captain vote? Check.
Two teams with winning records? Check and check.
Permission to hold a gathering of at least 4,000 fans attending the return of one of the oldest rivalry games in the country? How about a very big check.
After a one-season hiatus due to the Covid-19 pandemic, the Depew-Lancaster football rivalry is back as the teams located in the same town get set to battle at 7 p.m. Friday at Foyle/Kling Field at Lancaster.
On paper, it should be a dandy with both teams entering the clash with identical 6-1 records. Both teams have qualified for the Section VI Tournament in their respective classifications.
"We wish we could've played it last year," Wildcats coach Mark Dirienzo said. "This year, it adds a little bit more to the season to play the rivalry game. Now it's 102 years old. You're going to have 4,000 people watching that game at Lancaster. That alone makes it meaningful."
The last time the teams met in 2019, the Legends (6-1) extended their winning streak in the series to five straight games by earning a 42-3 triumph. Lancaster holds the all-time lead 53-32-6.
The last time Depew (6-1) beat Lancaster was a 13-6 verdict in 2014. That coincidentally also was the last time the Wildcats won a division title until this season. That also was before Lancaster made the leap from contender to Section VI Class AA power.
"The opportunity to play in this game is huge," said Depew senior running back Carson Alberti. "Playing it at least once on the varsity level is special. … Just show them what we're made of … just go in there as the hunters. … Obviously, they're the favorites going into this game, but we've proved ourselves this season. We're not afraid to prove ourselves again. We're going to go in there and give them everything we've got and play Depew football."
For the first time since 2014 that's playoff football, although if the fates were kind this team would be back-to-back-postseason qualifiers. The core comes into Friday's game having lost just twice in its last 12 games.
Depew went 4-1 last year in the Class B2 division, but its lone loss during the Covid-abbreviated Fall II season in the spring to Olean kept it from qualifying for the compacted postseason tournament. This year, in Class C Central, Depew ran the table against league foes. Its lone loss came against Class D unbeaten Randolph.
Last year's campaign that did not result in a playoff berth served as a huge motivator during the offseason.
To recap, Iroquois won Class B1 but the second-place finisher that was also supposed to qualify for the postseason, Pioneer, got placed on Covid pause just before the seeding meeting. Same thing happened to the third-place team, Cheektowaga. West Seneca East agreed to be the division's representative in the postseason with a 3-3 record. However, hours before its scheduled semifinal against Western New York Maritime/Health Sciences, the Trojans got placed on Covid-19 pause.
"That was devastating for us going 4-1 and not making the playoffs," Alberti said. "We thought we deserved a playoff shot. … Now it's just sparked an anger for us to come back and get a division championship for those who graduated."
"It's just the way it shook out," Dirienzo said. "Our goal was to definitely get there this year for the fall 2021. Our team was motivated to do that. We had two of our offensive linemen hit 1,000 pounds in the weight room. They brought the younger kids in, we did a good job of motivating to get to the playoffs."
Colin Nichol and Richard Sharpe are the linemen to hit the 1,000-pounds club (bench, squat, clean).
They've done a fine job anchoring a line that's paved the way for Alberti to post a record-setting season. The 5-foot-8, 159-pound senior has more than taken over from where the graduated Christian Pagano left off.
Alberti has set school records for rushing yards in a game (287), rushing touchdowns in a game (five) and rushing touchdowns for the season (21). He's also the fastest Wildcat to surpass 1,000 yards in a season as he currently has 1,195 in seven games. Alberti ranks second in Section VI in rushing touchdowns and fifth in yards.
Alberti, a two-time Section VI wrestling champion, did not participate in wrestling last spring because Depew did not have enough players to form a team.
Alberti spent that time in the weight room bulking up, preparing for the increased workload after carrying just 17 times last season (he did average 7.4 yards per carry).
"Carson's having a special season," Sharpe said. "It's really cool to see. It's really cool to block for, especially knowing even if I whiff on a block he'll probably still take it (to the house). He's special. He really is. He' probably the best football player on this team. He's humble. Thanks his line every week. We love blocking for him."
"Nothing's possible without them," Alberti said of his blockers.
Technically, one could argue there's a more important game on the docket than Friday's – the playoff game against a to-be-determined foe next week. The Wildcats view each game as being of importance.
"We're fortunate enough to play in one of the longest rivalry games in the country," Dirienzo said. "Now we're fortunate enough to have a division playoff game. We have two great opportunities, let's make the most of them."
Depew-Lancaster is just one of the rivalry games on the docket for the final week of the regular season.
A biggie takes place in West Seneca as non-playoff-bound West visits playoff-bound West Seneca East. West played in rugged Class A South while East is in Class B South. A win by WSE secures longtime coach Jim Maurino his 100th victory.
Staying in the Southtowns, playoff-bound Hamburg hosts playoff-bound Frontier in the latest installment of the Hamburg Town rivalry. Both are division rivals this season after being in different classifications last season.
The teams did not meet last year due to the pandemic.
Frontier currently is projected to be a No. 2 seed out of Class A South but a Hamburg win could foil that. Should Williamsville South beat rival Williamsville East, then the final three playoff qualifiers from A South would all have identical league records which means tiebreakers will settle the seeding equation. A second straight win in the series by Frontier over the Bulldogs means it hosts a playoff game next week.
Albion visits unbeaten Medina with nothing but pride on the line for both playoff qualifiers. Albion is in Class B, while the Mustangs are the reigning Class C champions.
Unbeaten Fredonia visits rival Dunkirk, which has won just once this season. Fredonia is the Class C South Division champion while Dunkirk is in Class B South.
Cheektowaga visits Maryvale at noon Saturday in a matchup of playoff qualifiers out of Class B North. The winner earns the No. 3 seed, while the loser gets the fourth seed and a date with Iroquois.
Kenmore East visits Kenmore West at 2 p.m. Saturday at Crosby Field searching for its first win of the season. West has already clinched a playoff berth.
• The winner of the Friday's Falconer/Cassadaga Valley at Southwestern game will be the No. 7 seed in Class C.
• A Sweet Home win at Grand Island creates Class A North tiebreaker chaos as three teams who didn't all play each other could potentially finish with 5-1 division marks – pending Ken West's outcome versus Ken East. A Grand Island win means the Vikings win the division and earn the second No. 1 seed in the Class. Class A South champion Jamestown already has clinched a No. 1 seed.
• The last game on the docket: Canisius at St. Francis at 7 p.m. Saturday at Polian Family Field in Athol Springs. The winner earns the top seed and bye into the Monsignor Martin High School Athletic Association A Division (large school) playoff final.
• Olean and Pioneer both have qualified for the postseason. But the Huskies could secure the No. 3 seed and two-hour bus ride to Albion for a quarterfinal with the win. A loss to host Pioneer means Olean is the fourth seed and takes a 90-minute ride to face two-time defending Class B champion Western New York Maritime/Health Sciences at Johnnie B. Wiley.