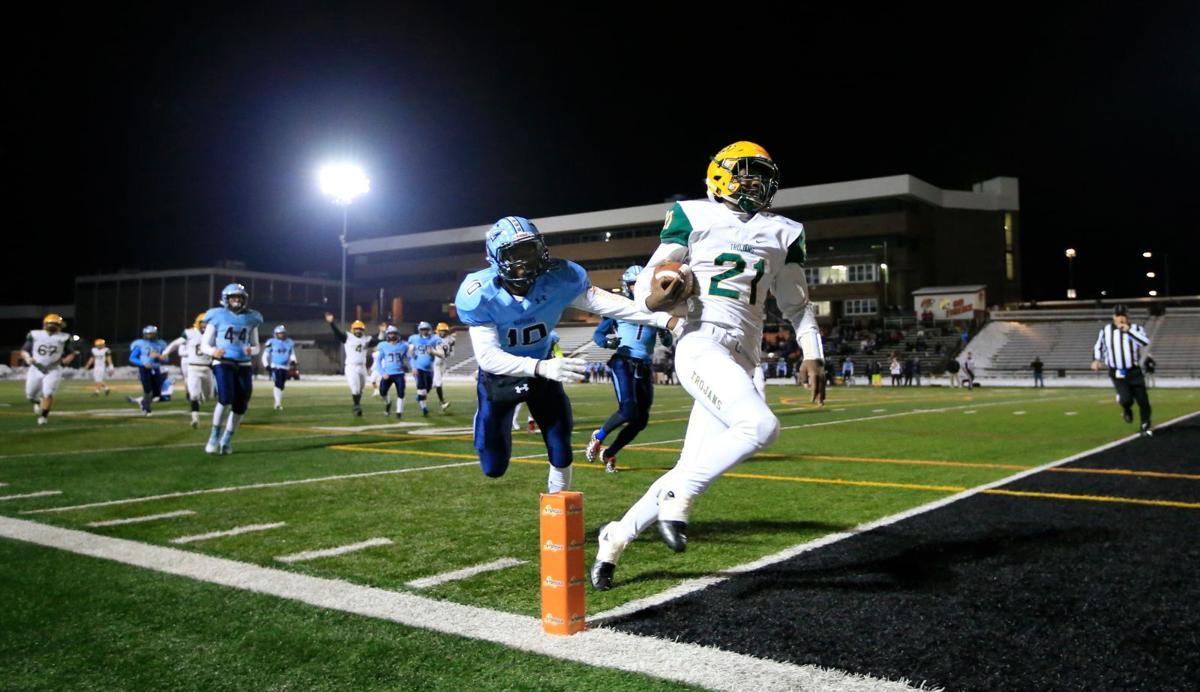 High school spring football season during a pandemic is completely uncharted waters for Western New York. Though it should not be surprising, it has been a bonkers campaign for several teams, including West Seneca East.
After winning Friday's Senior Night game to wrap up a 2-3 record, longtime Trojans coach Jim Maurino started collecting equipment from his players, getting a jump start on the scholastic version of locker room cleanout day. He planned to resume the process Monday.
Section VI unveiled the postseason schedule Sunday as teams in five classes will meet in semifinal games Friday and Saturday with championship games set for next week.
In a season in which East endured opponent changes on one-day and two-days notice, its schedule has changed, again. Instead of packing, Maurino plans to hand equipment back to his players – along with a game plan – because the team has a playoff game in its future.
West Seneca East will face defending Section VI Class B champion and bracket top seed Western New York Maritime/Health Sciences (4-1, 4-0 in league). Game date and location will be determined Monday, according to Falcons coach Tyree Parker.
Section VI unveiled the playoff bracket for Classes AA, A, B, C and D on Sunday afternoon. Four teams in each classification earned spots in the tournament due to the shortened season. Normally, the top eight in each class make the playoffs.
In a Class A-2 division game in which the winner secured a playoff berth, South Park's line dominated both sides of the line of scrimmage during a 54-0 victory over the Panthers on Saturday night at All High Stadium.
The high seed will serve as host for each playoff game, including championship finals next week. All but two of the semifinal games will be Friday night. Two are slated for Saturday, including a heavyweight Clash of Champions matchup between last year's Section VI Class C champion Southwestern and two-time defending state Class D champion Clymer/Sherman/Panama.
The door to the postseason opened for the Trojans because original playoff qualifier Pioneer went on Covid-19 pause Saturday before its regular-season finale against A-1 Division champion Iroquois. The team in front of East in the B-1 standings, Cheektowaga, also went on pause.
Next up: West Seneca East.
Maurino found out the news while taking a walk, when he received a phone call from section football chairman Ken Stoldt.
"Completely unexpected," said Maurino, who guided East to the state final in Class A in 2018. "I started collecting equipment Friday night. I was ready to go in Monday morning and clean up. Now we have some bonus football against a really good Maritime/Health Sciences team."
Aidan Dempsey is one of many Western New York seniors thrilled to have a football season thi…
Backing into the playoffs during a shortened season never felt so good. Of course, this is perhaps the first time it has ever happened this way.
"It's completely bonkers to me," said Maurino, who is in his 18th season at the helm. "I've never seen anything like it. I'm glad we're playing football."
Maurino admits to being old school as a coach, so this season has totally thrown off the routine.
"To me, normally the kids earn the season by going through the winter workouts, the spring camps, two-a-days in August and then get a game," he said. "To go just 10 days practice before handing out the jersey (for games) was obviously the situation we were thrown into" by the pandemic. …
"What goes out the window there are fundamentals. … We haven't had the time we'd normally have to evaluate and develop the kids. … I'll be happy when things are back to normal."
PANAMA – John Swabik planned to spend part of his birthday attending a Youth Group meeting a…
For now, Maurino and Co. find comfort in preparing for a Falcons team whose lone loss came against Monsignor Martin power St. Francis, a nonleague game those teams agreed to play on short notice in Week 3.
With 16 underclassmen on the team, a playoff game will give them invaluable experience to draw on for next season. Remember, two-a-day practices start in roughly 15 weeks.
"This will definitely help our development," Maurino said. "I feel good about the whole thing."
On the challenge the Falcons present: "All the years I've played in Class A and had to go against Timmy Delaney, I would compare (the Falcons) to South Park," Maurino said. "They're big and fast, all the intangibles. It's going to be a battle."
"They have a good program," Parker said. "We know they're going to be coming hungry, and we have to match their intensity."
With both Williamsville South and Sweet Home football teams coming off Covid-19 pause at the…
Class AA's top two seeds, four-time defending champion Lancaster and No. 2 Orchard Park, were set after both won Friday. Strength of schedule wound up being the tiebreaker used to determine the Nos. 3 and 4 seeds in the class since neither Clarence (3-2) nor Bennett (3-2) faced each other. Clarence played the tougher schedule by virtue of facing two-win Niagara Falls and got the No. 3 seed, coach Paul Burgio said. The Red Devils visit Orchard Park in a rematch of the teams' Week Two clash won by O.P. 21-0.
Bennett and Lancaster also is a rematch, as the Legends opened the season with a triumph over the Tigers at All High Stadium.
Another eye-popping matchup is in Class C as unbeaten Southwestern and unbeaten CSP will battle each other for the right to not just reach the final, but to extend championship reigns. The Trojans reached the state Class C semifinals last year, while CSP won its second straight Class D state title.
Being a merged outfit and successful comes with a price. It is the reason CSP got bumped into Class C South for this season.
It wasn't viewed as a trap game, but the end result wound up being the same.
The Mansells are now Nos. 1 and 2 in the Lancaster record book. Jason passed his older brother Ryan for career passing yards during Friday's win over Frontier. Jason now has 4,171 to Ryan's 4,065. Jason holds the career passing TDs record with 58. Ryan is next with 44.
St. Francis secured a spot in Saturday's Monsignor Martin championship game by beating visiting St. Joe's 49-6 late Saturday night at Polian Family Field. Steve Otremba Jr. passed for four touchdowns and rushed for one as the Red Raiders scored the game's first six touchdowns to secure a spot in final against defending champion Canisius at the Stransky Complex.
The matchup marks the sixth straight season that these teams will battle for the crown, with the Red Raiders winning in 2015 and 2018. This is the ninth straight season the Crusaders will play for the playoff title. Canisius is 6-2 in the final under coach Rich Robbins.
Here are the Trench Trophy nominees from Week Four.
Erik Furlet (Gowanda/Pine Valley), Darnell Gray (WNY Maritime/Health Sciences), Deonte Henry (Burgard), Dylan James (Cheektowaga), Ashlar Kearns (Lockport), Chris Kinney (North Tonawanda), Josh LaCourse (Cleveland Hill), Benjamin Mahar (Wilson), Gabe Metzger (Silver Creek/Forestville), Tyree Orange (Amherst), Eric Wagner (JFK), Mike Witt (West Seneca West) and Marcell Wittman (Tonawanda).