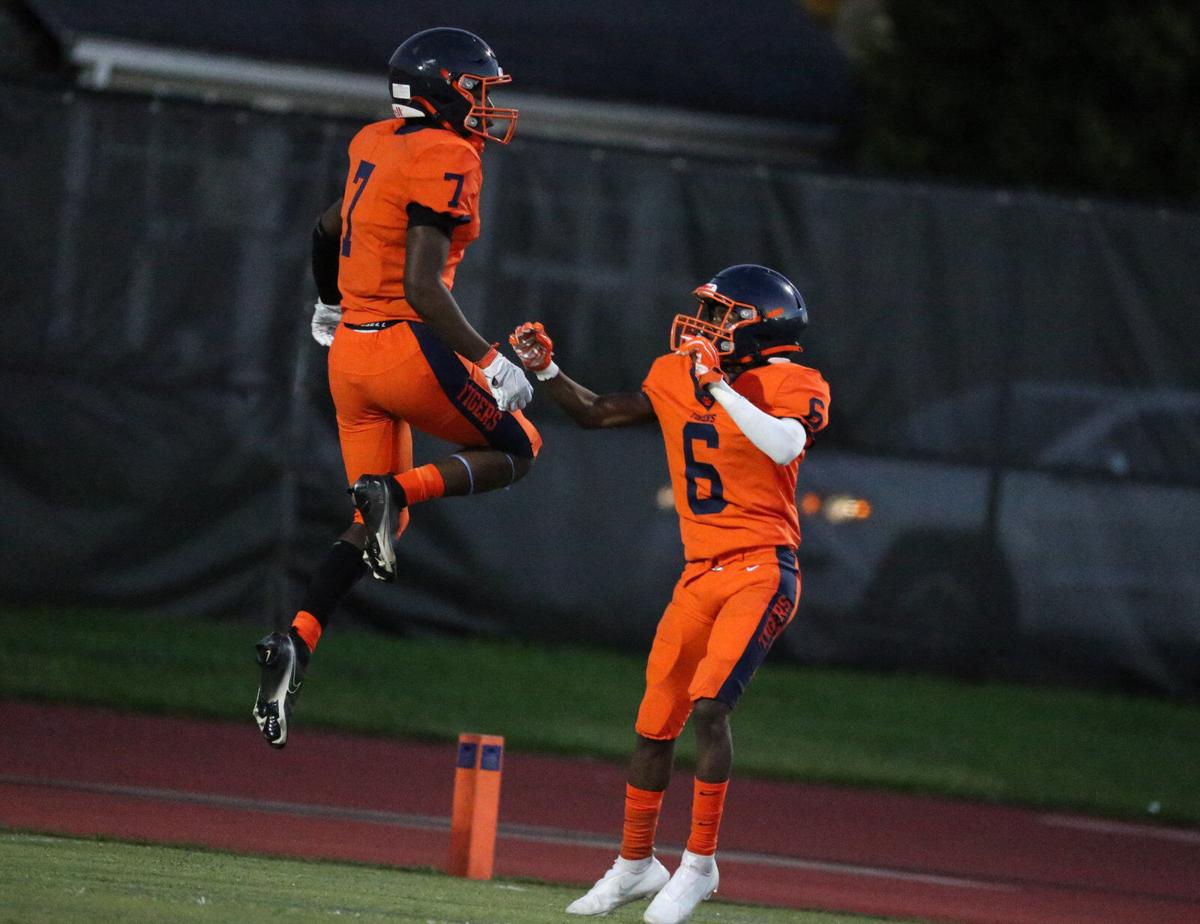 It's a crazy stat when one really thinks about it.
Bennett junior Jayden Lewis has more interceptions (11) than he does touchdown receptions (five). Even crazier than that, the speedy linebacker/wide receiver has returned more interceptions for TDs (seven) than he's caught on offense.
"I just read the ball," Lewis said. "I get to the ball quicker because they always come to my side. I end up having a pick with a wide-open field in front of me."
Lewis makes something hard sound so simple. Ah, a talented, football mind.
Lewis leads the state in total interceptions. The 11 picks are tied for fourth in the country, according to stats at MaxPreps.com.
Lewis' latest pick-six in Tuesday's 26-14 win over McQuaid helped the Tigers secure a spot into Saturday's New York State Public High School Athletic Association Class AA semifinal against Section III champion and host school Cicero-North Syracuse in the Syracuse suburb of Cicero.
Bennett is one of three Section VI champions who are one win away from reaching a state final. Jamestown (12-0) in Class A kicks off the weekend at 6 p.m. Friday at C-NS as it faces private school and Section III champion Syracuse CBA (8-3). Three-time Section VI Class B champion Western New York Maritime/Health Sciences (10-2) faces state No. 1 Maine-Endwell (10-1) of Section IV at 3 p.m. Saturday in another state semifinal.
This weekend's winners return to action in NYSPHSAA championship games Dec. 3-4 at the Carrier Dome in Syracuse.
While the public schools continue to inch closer to crowning glory, the Catholic schools will determine a champion Saturday. St. Francis (7-3) heads to New Rochelle to face Class AA state No. 1 and New York Catholic High School League champion Iona Prep (10-1) at noon in the New York State Catholic High School Athletic Association final.
Winning state championships isn't supposed to be easy. It's hard. It's a reason why it's impressive that at least one Western New York team has won a state title each season there has been a tournament since 2011.
While Jamestown, WNY Maritime/Health Sciences and St. Francis have reached this level of the postseason in the past, this is unchartered territory for the Bennett Tigers.
The Tigers will be playing in their first state semifinal on short rest since the NYSPHSAA moved the Far West Regional against McQuaid to Tuesday after the Knights received a temporary restraining order against Erie County. The county Health Department attempted to place extra Covid-19 restrictions on the team, which reportedly had 11 positive cases in the week leading up to the state quarterfinal.
Bennett could only sit and wait, prep and prep some more.
When the teams took the field, Lewis had a day.
He caught a 53-yard touchdown late in the first quarter to break a scoreless tie. He alertly scooped up a backward pass for a fumble recovery early in the second quarter that led to teammate Dominac Allen's 75-yard touchdown run.
The pick-six folks were anticipating came early in the third quarter with the Knights desperately trying to trim a 20-0 deficit. Instead of McQuaid marching to a score, Lewis jumped a pass route near the hash marks closest to the McQuaid sideline and had a wide-open lane to the end zone for a 65-yard return.
Lewis finished with two interceptions Tuesday.
Coach Steve McDuffie's decision to move Lewis from defensive end to a hybrid outside linebacker in a 4-2-5 defense during the offseason has paid dividends for the Tigers.
"He has flexibility," McDuffie said. "He can play press man. He can play off and he can play on the hash. He can be in on the box. Great coverage skills. His athleticism, his skills allow us to play him at linebacker."
Lewis played defensive end as a freshman and sophomore. Lewis' athleticism caught McDuffie's eye in practice and was hard to ignore.
"It was crazy," McDuffie said. "Some of the things I saw him do at practice. One of the fastest kids on the team, he could cover anybody. I said, 'Hey this kid has way too much athleticism to play defensive end,' so we moved him to linebacker. This kid he's a player. He's been a player."
He's another player the opponent must account for in addition to junior defensive lineman Rashard Perry, whose 20.0 sacks are tops in the state.
Bennett may be at a competitive disadvantage since it will be playing C-NS on four-days rest, while the Northstars are on normal rest after beating Union-Endicott in the Central Regional on Saturday, it doesn't plan to roll over.
McDuffie and the Bennett coaching staff have played on a short week once this season – following up a Saturday afternoon loss at Orchard Park with a Thursday night win over Lancaster. The Tigers are only concerned with controlling what they can control leading into the game. Their preparation. Their performance.
"I feel like if we stick together as a team, do what we're supposed to do, we'll come out with the victory," Lewis said.