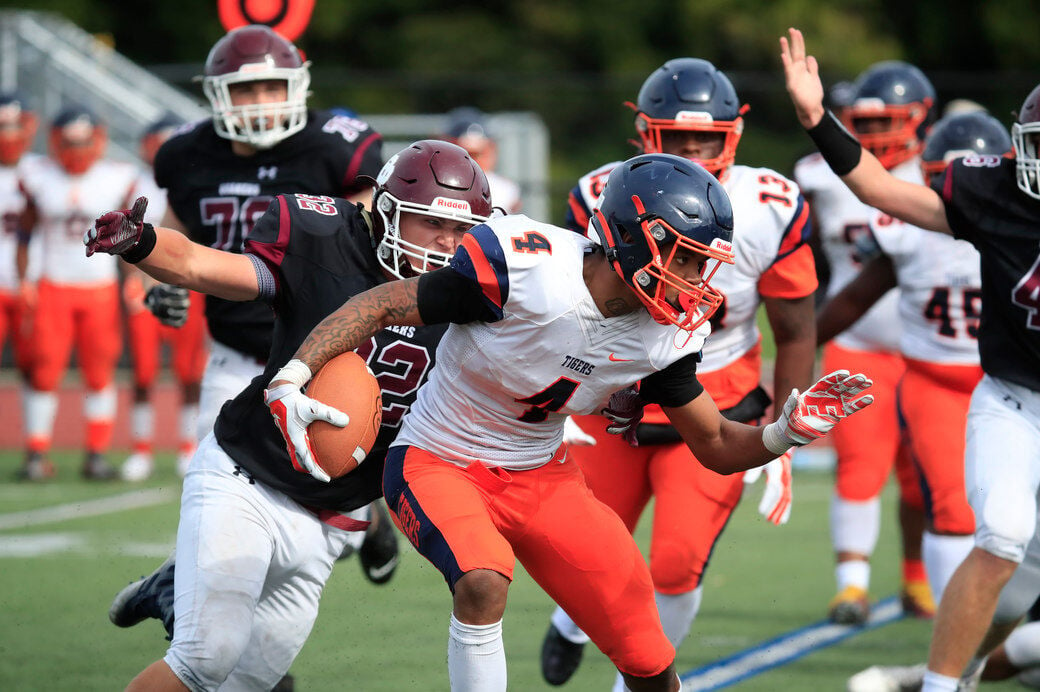 It's hard to believe, but there still are tightly contested, low scoring high school football playoff games being played in Western New York.
They're just so few of them that they've been easily overshadowed by teams putting up big numbers.
The two best and closest games of Section VI semifinal weekend featured Franklinville/Ellicottville beating Clymer/Sherman/Panama, 6-3, in a clash of programs that have won the past three Section VI Class D championships; and Fredonia's 28-21 win over Southwestern – ending the Trojans' bid of reaching a sixth straight final.
Nail-biting finishes always make for great athletic theater, but how often does a team scored 70 points in a game?
That happened this weekend as Bennett defeated Orchard Park, 70-20, on Friday night at All High Stadium in Class AA. The Tigers did all their scoring in three quarters against a program that's won 14 Section VI championships.
Bennett did not punt at all while amassing 547 yards in offense. Talk about execution.
"The kids are working hard," Bennett coach Steve McDuffie said. "The kids were really determined to show how they want to be great as a team. That's one of the goals they put for themselves going into playoffs."
They have another chance to achieve that status Saturday night in the final game of Section VI championship weekend at Highmark Stadium. Bennett faces five-time defending champion Lancaster, which is trying to tie the record of consecutive Section VI titles won – a mark held by Sweet Home. Kickoff is set for 6:30 p.m.
The Legends tied the mark for Class AA teams winning their fifth straight last season during the abbreviated Fall II campaign in the spring.
Lancaster has proven to be the standard during Eric Rupp's tenure as head coach and will be the ultimate test for the Tigers.
It should be a fun game, with two 9-1 teams. History is on the line.
Sure, Bennett beat the Legends during the regular season 48-24, but that was a game in which Lancaster rallied from a 24-0 deficit to tie and trailed by just one touchdown before yielding 14 points in the final minute after being stopped shy of the goal line on a fourth-down play deep in Tigers territory.
The teams met in the 2018 final with the Legends winning, 17-6.
Lancaster advanced by blanking Clarence, 27-0, scoring its points during the first half. Impressive but still half of Bennett's total through 24 minutes against OP.
While one could easily assume the Tigers ran up the score, that's not the case, according to McDuffie and a member of the media who covered the game.
The scoring happened in the natural flow with Dominac Allen rushing for five touchdowns – including the first three of the game. His fourth TD came seconds after an Orchard Park touchdown in the second quarter. Bennett also returned an interception for a touchdown and a kickoff for a score.
The Tigers rushed for 491 yards, averaging 13 yards per carry. Allen had 243 yards on 13 carries. Most of the damage inflicted came by Bennett running up the middle.
The teams combined for 90 points, which bettered the total of 87 they compiled when OP defeated the Tigers, 51-36, during the regular season.
There's nothing wrong with high-scoring games, so long as they're competitive and as far as this corner is concerned fun to watch.
Here's hoping for some dandies Friday and Saturday.
Here are the matchups for the title games at the home of the Buffalo Bills. The weekend begins with a doubleheader at 5 p.m. Friday with unbeaten Randolph (9-0) facing defending champion Franklinville/Ellicottville (7-2) in the Class D final.
It's Randolph's first final since winning the state title in 2014. The Cardinals reached the title game routing Portville, 46-0.
Trailing 3-0, F/E scored the game's only touchdown early in the third quarter when Blake Frank caught a 49-yard pass down the right sideline from Lucas Marsh. CSP (7-3) appeared to have a drive-extending first down on a fourth-down play with under three minutes left but a nice open field tackle by Frank followed by a measurement after the spot left the Wolfpack a chain link short.
• Class A: Jamestown (10-0) vs. Frontier (8-2). Former Class AA teams in Class A. Jamestown is in the A final for the second straight season as it lost in overtime last season on its home field to South Park. Jaylen Butera scored four touchdowns and rushed for 173 yard for the Red Raiders in Friday's win over Williamsville South. Frontier appears in its first final since 2013 when it lost to Jamestown. The Falcons punched their ticket by beating rival Hamburg, 37-14, as Gavin Borrello's second kick return touchdown of the game gave Frontier the lead for good.
• Class B: Iroquois (10-0) vs. WNY Maritime/Health Sciences (8-2). Last season it came down to the goal line play in overtime. The Falcons prevented Iroquois from scoring on four tries inside the 3, while scoring the title-clinching touchdown on a fourth-down play from the 1. Both cruised past semifinal foes this weekend with the Falcons beating West Seneca East 30-0. DJ Littleton rushed for 273 yards on 18 carries and three touchdowns. Addison Copeland III also rushed for a 20-yard TD.
Iroquois beat Albion 35-20 with Trey Kleitz passing for three touchdowns. He's one shy of 37, which would match the Western New York single-season record for TD passes set in 2018 by Cole Snyder.
• Class C: Medina (10-0) vs. Fredonia (10-0). The only matchup featuring unbeaten teams this weekend and it's a dandy that kicks off Saturday's tripleheader at noon. The defending champion Mustangs head into the clash ranked first in the state. Medina has outscored its opponents 238-19 – including a 32-0 semifinal win over Lackawanna. Iverson Poole scored twice for Medina, including a pick six.
Fredonia, appearing in its first final since 2013 and ranked sixth in the state, broke a 21-21 tie with under 7 minutes left on Nick Whitfield's 28-yard TD pass to Davon McCall.
• Monsignor Martin: The Section VI teams aren't the only ones who will crown champions this weekend. News No. 1 St. Francis hosts defending champion Canisius in the Monsignor Martin Division A (large schools) playoff final at 6 p.m. Saturday at Polian Field. The teams have combined to win the last 10 playoff titles with Canisius claiming six – including the past two at St. Francis' expense.
The Red Raiders won the regular season meeting in overtime, 22-15, to earn home field for the final.
The Crusaders advanced to the final by blanking rival St. Joe's 35-0 on Saturday. Nick Ciriello returned a fumble 58 yards to start the scoring for the Crusaders (6-3). Lamar Thomas and Rod Miller also rushed for touchdowns, while Zaire Leonard scored off a 30-yard shovel pass. Mike Doctor caught an 80-yard touchdown pass.
The Monsignor Martin Division B (small schools) playoff final pits defending champion St. Mary's against Bishop Timon-St. Jude at 3 p.m. Friday at St. Joe's.