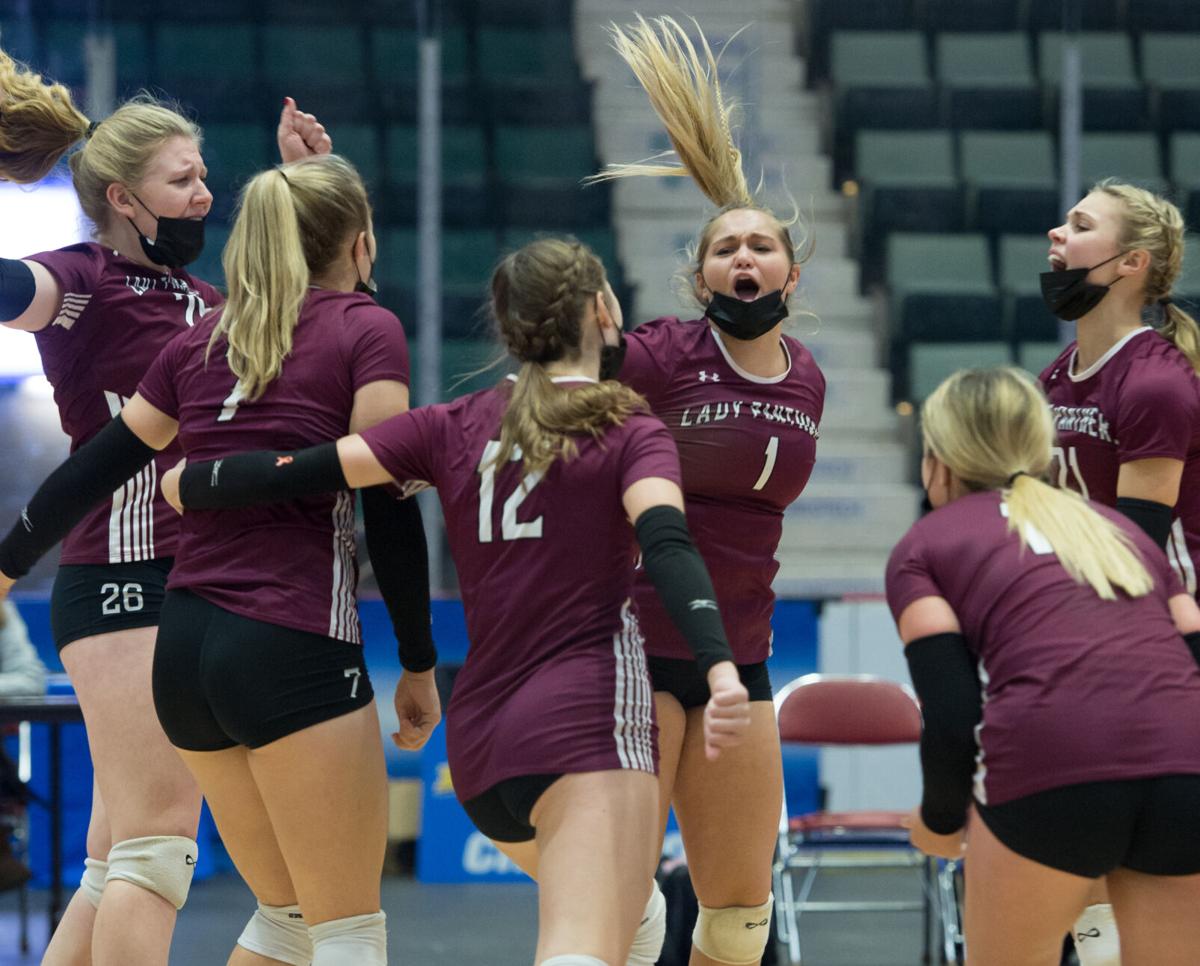 GLENS FALLS – Portville's 2019 loss in the Class C championship of the State Girls Volleyball Tournament may not have felt good to the Panthers, but it likely did some good.
It reinforced that for all the success – Portville had won state titles in 2014, '15, '17 and '18 – nothing is given. So when Millbrook tied Portville at one game apiece in Sunday's Class C state final, it sparked something in the Panthers.
They turned that into their fifth state title, topping Millbrook 3-1 (25-18, 21-25, 25-21, 25-17) at Cool Insuring Arena.
"We had it coming," Portville senior setter Kylie Blessing said of 2019, "and we're, like, we can't do that again. We have to get it done. We came in strong and we ended strong."
Portville started its first game with the familiar connection of Blessing to sophomore outside hitter Olivia Cook, as the duo combined for three of the team's first four points. The Panthers always kept a two- to four-point lead until stretching it to seven near the end. Millbrook, though, gave Portville its share of points, with two into-the-net violations and four serves that went out of bounds.
In the second game, the Blazers cleaned up those errors and started to get outside hitter Julia Stoliker on track. She finished the game with five kills and two blocks for points.
"Honestly, it's weird, but they grew as an offensive group as the game went on," Millbrook coach Shawn Stoliker said. "Some of the things I've been trying to get them to understand – like make the adjustments on the fly – we never really faced competition that allows us to try to make those adjustments. They did that today. I was very proud of them."
Conversely, Portville made more unforced errors than usual in the second game.
"We get into slumps every once in a while, and they do such a good job of rising to the challenges, fighting through it and taking care of business," Portville coach Kelly Unverdorben said.
Coming out for the third game, the Panthers' postures were more upright and their eyes were all focused. Unverdorben said it was a combination of respect for the Blazers and eagerness to complete their quest.
"We knew coming in today it would be no easy task," she said. "We know they're a great team and their outside hitters were phenomenal. We knew we couldn't take them lightly even if we took both sets yesterday."
Portville led the third game until a riding-net ace put Millbrook ahead for the first time, 20-19, but Blessing tied it on a second hit that found the area where the Blazers weren't – something she did effectively multiple times Sunday. Millbrook went ahead again, but two consecutive Lillian Bentley kills off Blessing assists gave Portville a 23-21 lead en route to the win.
"It's like a light of the fire and we get it going," Blessing said of the Panthers' third-game win.
The fourth game could be told in body posture. Portville's players seemed to know they were on their way, and Millbrook's overall posture said it knew it had lost the crucial third game.
Portville won the state title with just two seniors: Lizzie Chapman and Blessing. It mixed in four juniors, four sophomores, three freshmen and three eighth graders. Unverdorben said her daughter Tori, Blessing and Cook have helped to provide experience.
"They've been around the block," coach Unverdorben said of the trio. "They're great leaders to the underclassmen, and I think it works, it meshes well."
"We've always been an older team and I've always been one of the youngest, and now I'm the oldest one here and it's crazy," Blessing said. "These younger girls played so hard, and they deserve this as much as anyone else."