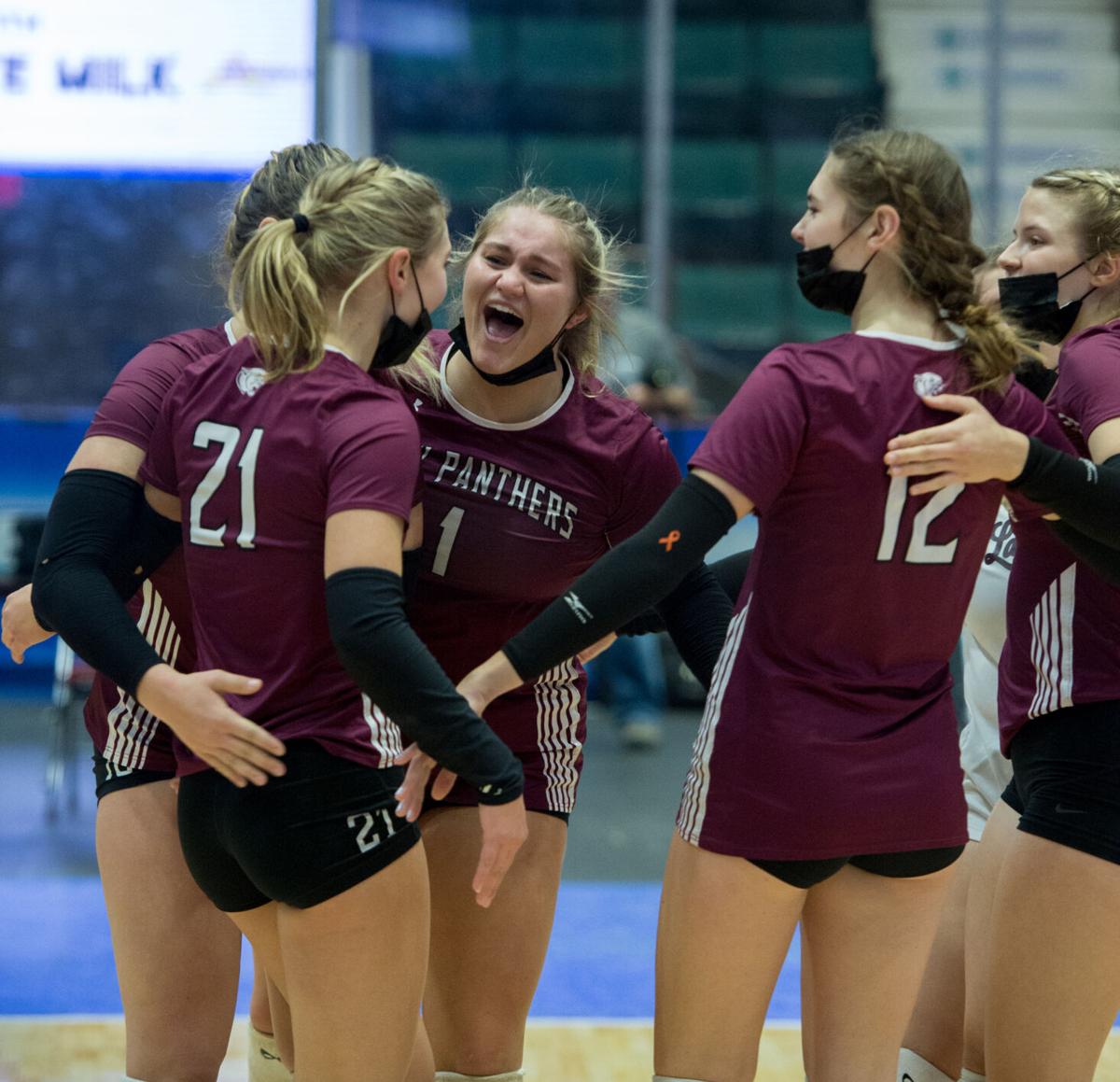 GLENS FALLS – When it comes time for state tournaments, teams need a little something extra.
For Portville, it was killer instinct that propelled the Panthers to a 6-0 record in pool play Saturday and a spot in Sunday's Class C final at the New York State Public High School Athletic Association girls volleyball championship at Cool Insuring Arena.
Unfortunately for Niagara-Wheatfield, the something extra wasn't to be found, as the Falcons finished 2-4 and failed to reach the Class A final.
Portville will play Millbrook – which it beat Saturday, 25-23, 25-18 – in the final at 2 p.m. Sunday. The Panthers are trying for their first state title since capturing the C crown in 2018 and their fifth in the past seven years there has been a tournament (the 2020 event was canceled due to the pandemic).
Against all three of its opponents, Portville repeatedly exploited other teams' weaknesses at serve return. It started in its first match against Millbrook, when sophomore Olivia Cook turned a 7-3 deficit into a 10-7 lead by serving consistently to Millbrook's back-line middle defender. The Blazers managed to later tie it at 11 and 13, but could never take the lead. In the second game, Tori Unverdorben went on a serving run to help Portville stretch a 9-8 lead into a 14-9 lead.
"We did some research and then tried to do our job," Portville coach Kelly Unverdorben said of the serving success. "Then you've got to hope they execute it."
The Panthers did, continuing the pattern in their second match against Fonda-Fultonville, with Jillian Stebbins, Sam Steadman and Kylie Blessing all finding certain weak returners and just placing the ball to them until there wasn't reason to.
Portville topped the Braves, 25-17, 25-15.
The Panthers then swept Mattituck, 25-10, 25-15.
Not that it's surprising, but another highlight of Portville's day was the play of Blessing, its gifted senior setter. Even at the state tournament, some setters are more comfortable with some sets more than others, but Blessing, a five-year starter and the school recordholder for assists, fed the ball all over the court. Notably, she had great success at cross-court passes to Cook and Bentley. They were so quick that opponents rarely had time to set up defense for the kills.
"We spotted it a little bit in film and then spotted it here today," Kelly Unverdorben said of the cross-court assists. 
Portville has three starters from the 2019 team that lost in the C final: Blessing, Cook and Tori Unverdorben. They'll help to make sure the rest of the team knows what a chance lies before them.
"They're eager, ready, excited to be here," coach Unverdorben said of her team.
For Niagara-Wheatfield, coach Brandi Cochran knows her team had its chances. But it ended with the Falcons players rooting for Burnt Hills to sweep Walter Panas in the final Class A match so that there would be a three-way tie for second among Wantagh, Panas and N-W. But when Panas won its first game against Burnt Hills, giving it no worse than a 3-3 record, heads bowed down into hands.
"In my mind, we had to try to have three wins, if not more," Cochran said.
In N-W's first match against Panas, the Falcons tied Panas three times – the last time at 21 – but could never win that crucial next point.
In the second match, however, N-W mixed its serve locations, testing all of Panas' defenders, en route to an impressive 25-19 victory.
But then the unenviable stretch came for N-W. It had to face Burnt Hills and the 2020-21 Gatorade New York Volleyball Player of the Year, senior Carlie Rzeszotarski. Predictably, the Spartans swept those games, 25-11 and 25-8, but N-W was shaken up in that eighth-grade setter Lindsay Tylec was called for multiple lifts during the match.
Tylec, however, switched to quicker, shorter passes in N-W's first game against Wantagh, which led to a 25-19 Falcons win.
"The referee, me giving her coaching tips, people in the stands yelling at her, she was getting it from all ways," Cochran said of Tylec. "But she is quite the athlete and her head always stays in the game."
But in N-W's second game against Wantagh, a crucial stretch of violations and errors turned a 14-10 lead into a 17-13 deficit, and Wantagh went on to win 25-20.
Elanna Lysiak, Krissa Bissell and Kelsey Tylec all had good days and a fair number of kills, but as Cochran said, not enough chances to do more.
"Normally, Elanna is our power hitter, but we didn't give her enough chances because our other areas weren't where they needed to be," Cochran said. "In the end, if you have to wait on another team, you haven't played well enough to be in a championship."