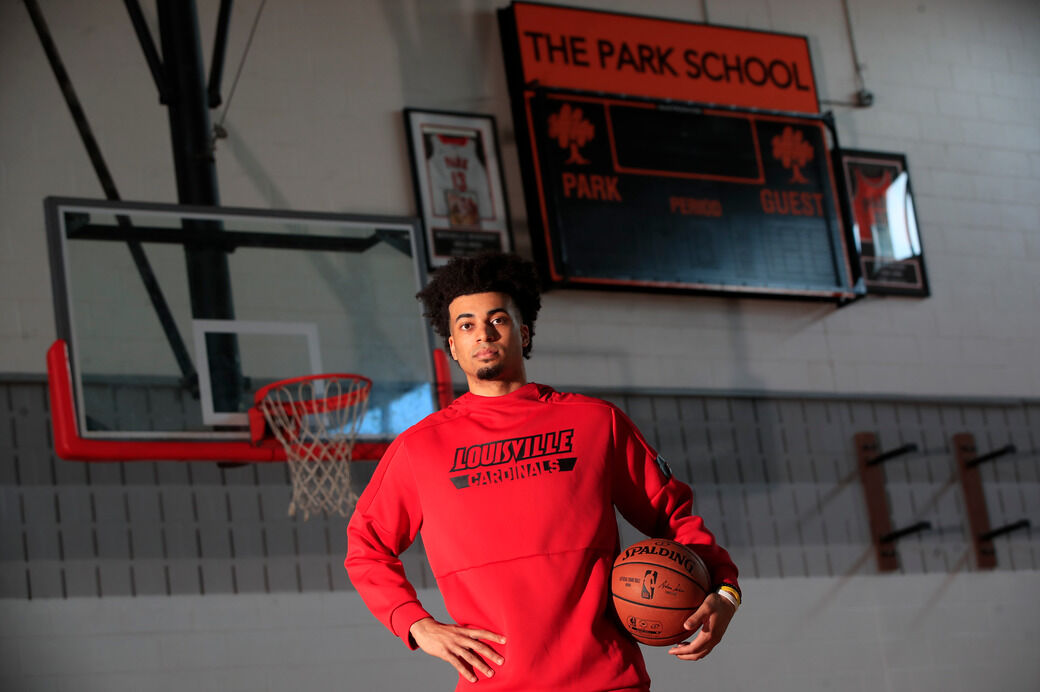 Jordan Nwora can't recall when he started playing basketball, but the son of a coach remembers the first time he drained a 3-pointer.
It was at a basketball camp at Daemen College, the school for which his father, Alex, the longtime Erie Community College coach, starred during his playing career. Jordan said he was maybe 6 or 7 years old when he spotted up and let it fly from downtown, finding nothing but net.
"Ever since then, I just kept shooting," the 6-foot-8, 225-pound Nwora said.
The former Park School and University of Louisville star has done that and so much more. Nwora is not just a one-trick player. He can handle the ball. He can drive to the basket. He can defend. He thinks the game well.
The two-time first-team All-Western New York selection and third-team All-American has put in the work to develop into a world-class player. He is a talent who more than likely will hear his name called Wednesday night during the NBA draft.
Jordan Nwora will enter the NBA draft. Nwora, a Park School graduate, announced Monday that he will forgo his final season with the Louisville basketball team and will re-enter the NBA draft this year. "I've been thinking a lot about how the season ended," Nwora wrote in a post on Twitter. "It was heartbreaking and awful – we wanted
The association's selection meeting begins at 7 p.m. and takes places at ESPN's headquarters in Bristol, Conn. It is a virtual event, much like the NFL draft was in the spring.
Nwora is looking to become the first Buffalo/Western New York-area talent to be drafted by an NBA team since 2010, when Washington selected former Traditional and Marquette star Lazar Hayward late in the first round at No. 30 overall. Nwora has been projected to go anywhere from late first round to the second round.
"In high school, I never thought I'd be in this position," Nwora said. "A lot of people didn't think I'd have the career I'd have at Louisville. … I'm extremely happy the hard work has paid off, but the job isn't done yet."
Nwora is coming off a phenomenal junior season at Louisville, where he earned first-team All-Atlantic Coast Conference honors and was runner-up in ACC Player of the Year voting. He was the only player in the conference to rank in the top 10 in scoring (18.0 ppg, second in the ACC), rebounding (7.7, eighth), free-throw percentage (.813, fourth), field goal percentage (.440, eighth) and three-pointers made per game (2.45, second).
For his college career, Nwora shot .445 from the floor, including .394 from beyond the arc.
"I think he's one of the best shooters in the draft, but he's more than just a shooter," said Jonathan Givony of ESPN. "He's a high energy guy who brings competitiveness. He knows how to play basketball. He was a very productive player in the ACC. He has international experience (with the Nigerian national team). He's bouncy. He plays with unlimited confidence, he's a good passer when he wants to be. … I think he's an all-around good player."
Nwora, a 6-foot-8, 225 pound forward, averaged 18 points, 7.7 rebounds and 1.3 assists in 31 games for the
Being able to shoot the three with his length makes him attractive, Givony said.
Nwora became proficient at shooting the 3-pointer because, as a youngster, he used to play against taller kids, who made it tough for him to score close to the basket. They swatted away his shots with ease.
That's not the case anymore, as Nwora can drive the lane and throw it down. Still, he's lethal from beyond the arc. He shot 42 percent from 3-point range as a junior at Park, leading the Pioneers to the New York State Federation Class B championship in 2015. During his prep school year at Vermont Academy from 2016-17, he caught the eye of several Division I programs by sinking 39.2 percent of his 3-pointers against other top recruits in the country.
Nwora planned to enter the NBA draft last year after earning most improved player honors from the ACC, but a calf injury prevented him from working out at the NBA combine and before NBA team executives. He opted to return to Louisville instead, where in addition to building on his game, he earned academic All-American laurels and completed his degree in exercise science.
The Cardinals' hopes of making a run at the NCAA championship ended due to the Covid-19 pandemic, which led to the cancellation of the tournament and other sports events.
That included delaying the conclusion of the NBA season. That pushed the draft from June until Wednesday. The pre-draft process has been different compared to last year, Nwora said.
"Last year, I went through it, and it was in-person stuff and travel," Nwora said. "Now, they come to you to see what you have to offer. There's a lot of limitations. You just have to put in the work, dedicate your time. It's a quick turnaround. You just got to be ready for the season."
Jordan Nwora, a standout during his two years at Park School and now a 6-foot-8, 225-pound forward on the Louisville men's basketball team, is on the verge of the
But the pandemic has enabled Nwora to perhaps get in the best shape of his life. He's worked out twice a day, six days per week. He trained with former professional and Allen Wilson Buffalo News Player of the Year Darren Fenn. The 6-9 Fenn, who played 14 seasons overseas and made 42 percent of his 3-pointers, owns a basketball academy. Nwora has also worked out with former University at Buffalo player Rod Middleton.
Nwora worked on his conditioning, agility, foot speed and lateral movement for about two hours a day with Middleton. Later on in the day, Nwora trained with Fenn, the former Nichols coach. Nwora, who has been known for practicing until he drains between 300-500 shots daily, worked on shooting, ball handling, off-the-ball reads and attacking quicker off ball screens. Nwora is also working on his already fast shot release.
Fenn said Nwora worked out for NBA teams three weeks ago during a virtual combine at the Cleveland Cavaliers' practice facility. Nwora did what he does best during the workout – shoot well – as he drained a workout-best 82 percent of his spot-up 3-pointers. He also led the recruits during a 5-minute 3-point shooting drill by sinking 78 percent of his shots.
Fenn said there's a lot for NBA teams to like about Nwora's game.
"Every team in the NBA needs shooting, and he's the best shooter in the draft," Fenn said. "With his size and mobility, he's an intriguing player for every team. The game is built around length and speed and he has that. I think he can make an immediate impact."
Fenn isn't the only one who believes that, especially considering the season is supposed to start Dec. 22. Teams are going to value someone who can contribute right away.
"It's a short turnaround from draft to start of NBA season," Givony said. "You want guys who are ready to play and he's ready to play. You don't have to put 20 pounds on him or work on his jump shot. He's a lot more ready to contribute than other guys in this draft. Guys like him are going to benefit from that.
"I would be shocked if he isn't drafted. I think he has a chance to be a first-round pick, and if he's not a first-round pick, I expect him to be a popular guy in the second round."
"It would be big for me and my family but also the whole city of Buffalo," Nwora said.