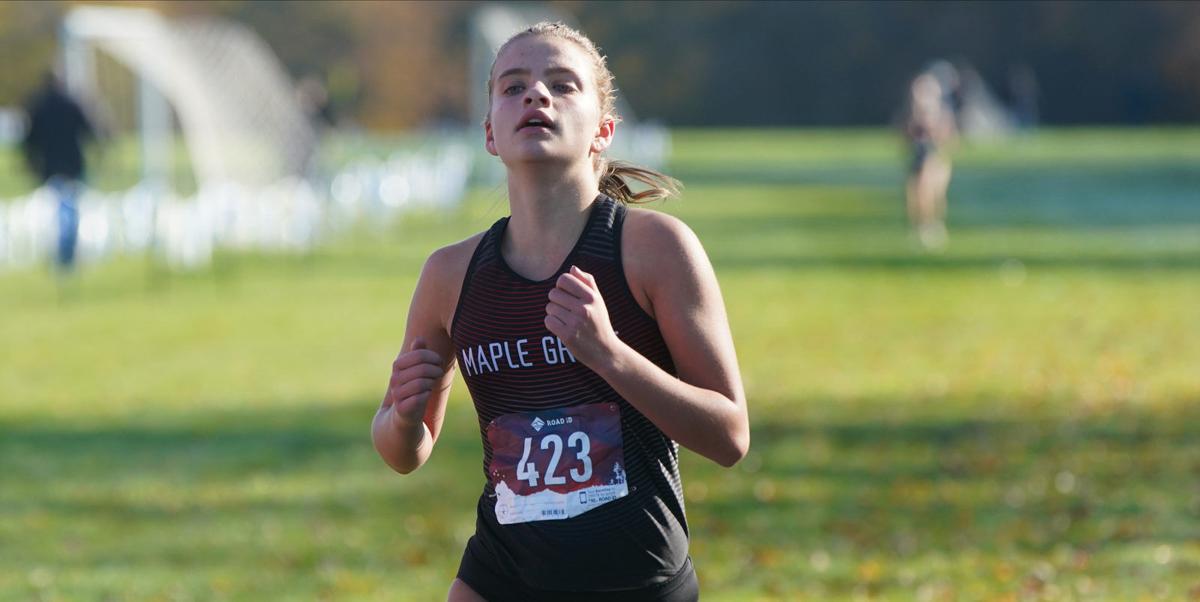 Celebrating her birthday by winning her second consecutive Section VI cross-country championship, Orchard Park's Noel Barlette was just as excited for the runner-up.
Barlette won the Class A race as a freshman last year in bittersweet fashion on a bitter weather day at Bemus Point after Frontier's Lillie Bogdan collapsed from exhaustion 50 yards before the finish line. Barlette sent Bogdan a sympathy card following the meet and the competitors soon became running mates.
"I didn't know that someone could be that nice," said Bogdan, now a freshman at Frontier. "That was a really rough race for me. But a great friendship came out of it, and I'm happy about that."
Barlette repeated as champion on a bright and brisk Friday at Knox Farm State Park, falling to her knees upon finishing the 3.1-mile course in a personal-record 18 minutes, 28.31 seconds. After catching her breath, she rolled over and hugged Bogdan, who plopped in the mud beside her after crossing the line in 18:44:10.
"I told Lillie how proud of her I was and how great of a job she did," said Barlette, who gave one of two flower bouquets her parents brought to Bogdan. "She's still a freshman and she's only going to get better."
Wearing coordinated red and yellow the Flash socks that Bogdan bought for Barlette, the front-runners in the field of 74 rooted for each other while pulling away from the pack.
"You got this," Bogdan said when Barlette passed her on the hill in the woods midway through the race.
"We can do this," Barlette responded.
"It's nice to get that push from someone the same speed as you," Bogdan said afterward. "It's mentally tough to be racing by yourself."
Bogdan was the top large-school finisher at the ECIC championships and had been running faster than Barlette in most races this season.
"I was honestly doubting myself because Lillie had been doing amazing this entire season," Barlette said. "I thought, it's OK if she wins. I just want to get second."
ECIC champion Emilia O'Leary was rerouted on her title quest at sectionals but came away with a blue patch. The East Aurora freshman won the Class B race in 19:10.62, in front of Starpoint eighth grader Shannon Zugelder by 18 seconds. But O'Leary ran an unnecessary 50 yards when an official pointed her off course as she approached the final 800.
"The race went pretty well before the little incident that happened," said O'Leary, who shed tears at the finish.
"It's unsettling as an athlete to have to come back," East Aurora coach Walt McLaughlin said. "Mentally, it takes you out of your plan for the race. But she handled it well and it didn't slow her down too much."
O'Leary was comforted when she realized the missteps were not her fault – and that she was comfortably ahead of everybody else in the 88-runner race.
"I'm proud of my performance," O'Leary said. "It was just a little mistake. When I heard everyone loudly yelling my name to come back, I knew I had to work strong to the finish and it would be OK."
Setting the pace for the 107 competitors in Class C, Allegany-Limestone junior Angelina Napoleon glided to her second section title in 18:31.73, a personal-best time almost 28 seconds faster than Hannah Goetz from Springville-Griffith Institute.
"I felt good to be back," said Napoleon, a repeat CCAA champion who was slowed by anemia earlier this season. "It was not looking good in the beginning of the year, but I'm feeling refreshed now. It was nice having a lot of good girls to compete against again."
Maple Grove senior Abby Brunanavas (20:25.21) and sophomore teammate Allison Bohall (20:45.50) were the top finishers in the Class D field of 45.
"My time finally came," said Brunanavas, the CCAA runner-up who placed in the top five at sectionals the past two years. "It feels awesome. I've always wanted to do it. It feels great to see your hard work pay off."
In the team scoring, East Aurora won Class B for the 21st straight year by placing five in the top 14 on the course where the Blue Devils host their annual invite.
"Even though this isn't our main course, being here helped us a lot," O'Leary said. "We know this course better than anyone and we know how to run it."
ECIC champion Clarence repeated in Class A with five runners placing fifth through 16th, ahead of an Orchard Park team that had three of the top four finishers.
"We knew it was going to be a razor-thin victory," Clarence coach Justin Weldon said. "Our depth was fantastic. Everybody did what they needed to do and stepped up in a big way."
Newfane was paced by sophomore Kylie Bowman (19:07.54) and won Class C with three runners in the top seven and five in the top 12.
Maple Grove had five of the top 15 in winning its 13th straight Class D crown narrowly over CCAA rival Clymer/Sherman/Panama, which had five in the top 12, led by freshman Solki Martin-Lacayo (21:05.98).
The section champion teams will be joined by the top five finishers from other schools in each class next Saturday at Chenango Valley State Park for the NYSPHSAA Championships.