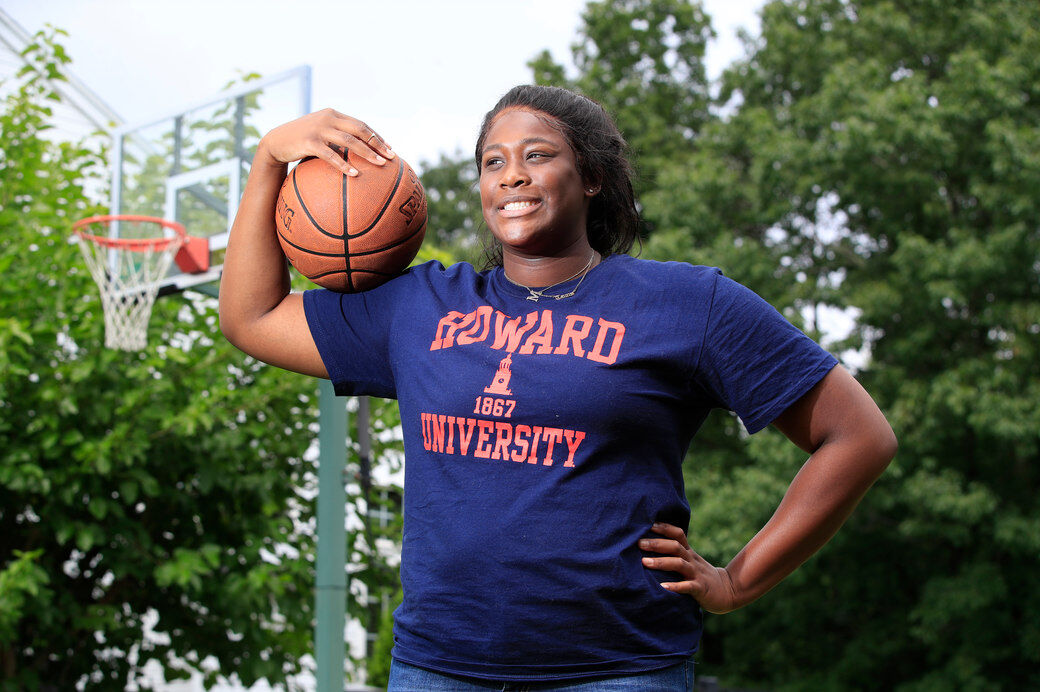 The obvious purpose of going to college is to get an education so one can embark on a path that potentially leads to a successful career, but Orchard Park senior Madison Stevenson said she had additional motivation for selecting prestigious Howard University.
Stevenson has made a verbal commitment to accept a basketball scholarship from Howard over an offer from College of the Holy Cross and interest from her father's alma mater, Temple. The 6-foot-4 Stevenson helped the Quakers win the Section VI Class AA championship in 2020 and has been on varsity since eighth grade.
Howard is one of 101 historically Black colleges and universities in the country, and Stevenson said she wants to learn more about her heritage. She believes a good way to do that will be going to a school where Black students comprise more than 70% of the student body. Stevenson has received a fine education growing up in Orchard Park and has plenty of friends, but there aren't too many other Black students in the school district.
College will be a different world.
"Just being able to be around Black excellence, being around people who want to succeed … it's a unique experience," said Stevenson, who maintains a 94 average.
"I just thought that I wanted to go to a school where I can make the biggest change. Howard is going to be completely different than how it is at Orchard Park … being around more people who look like me and not being a minority compared to how it is in Orchard Park."
For an institution of higher education to earn the HBCU designation, it must have been established before the Civil Rights Act of 1964 with the intention of primarily serving the African American community.
Stevenson's parents, Bert and Deana, went from being initially surprised to all-in with the support once they learned of her college decision. In addition to wanting to learn more about her culture, Madison also wants to be someone who convinces other Division I talents that they don't have to necessarily go to a cash-rich athletic program in a power conference or high-end mid-major league to get the most out of the college experience.
"Howard isn't known for sports, and I want to be able to change that narrative," Madison Stevenson said.
Stevenson averaged 11.2 points and 8.4 rebounds per game as a junior. As a sophomore she finished the season averaging double figures in both categories.
"She wants to be kind of a trendsetter for the HBCUs because, no offense against other schools, but they already have notoriety," Bert Stevenson said. "She wants to start a women's movement for HBCUs. … There were several Division I schools recruiting her. One of them was my school, Temple. … But she wanted to make a name for herself and promote HBCU.
"I think through the Black Lives Matter she saw how underfunded and how little recognition they receive from some of the other schools she visited. She started seeing schools like Howard, Hampton and Norfolk not getting any recognition, especially in women sports, and thought, why not go there and change the narrative?"
Along the way, she hopes to learn lessons that will prove beneficial throughout her life.
Stevenson's family is small, as Deana was an only child, as was Bert. Madison has an older brother and three grandparents. Most of Madison's interaction with other Black teens comes during the summer when she's playing AAU basketball for the New York-based Gauchos.
Orchard Park coach Gary Janis said he isn't surprised by Stevenson's decision. Janis teaches an advanced U.S. history class – a college-level course, and for the first time taught Madison as a student and was not only her basketball coach.
He learned that as good as her work ethic is on the basketball court, it's even better in the classroom. She contributed a different point of view when the class discussed the civil rights movement and slavery, he said. 
"Her desire to learn and to push herself, and I can't say enough about her mom and dad, who have been phenomenal in raising her and making her who she is," said Janis, who got his minor in African American studies. "She taught me a lot, giving me her perspective and answers (on Black history issues). … She wants to develop herself as not just a strong, bright woman but a strong, Black woman as well."
Stevenson is focusing on bettering herself as a captain and teammate to be ready for her senior season and has been training hard in a Hamburg facility.
She got bogged down by an MCL sprain and missed the final 2½ weeks of the Covid-shortened season last winter. Orchard Park just missed securing a spot in the eight-team playoffs.
She believes had she been healthy, she would have made a difference and helped the team make the postseason.
One thing Stevenson doesn't have to wonder about is her future.
"It makes me feel more relaxed, less stressed," Stevenson said. "It makes me have a higher focus because I know what school I'm going to so it puts more drive into my senior season."