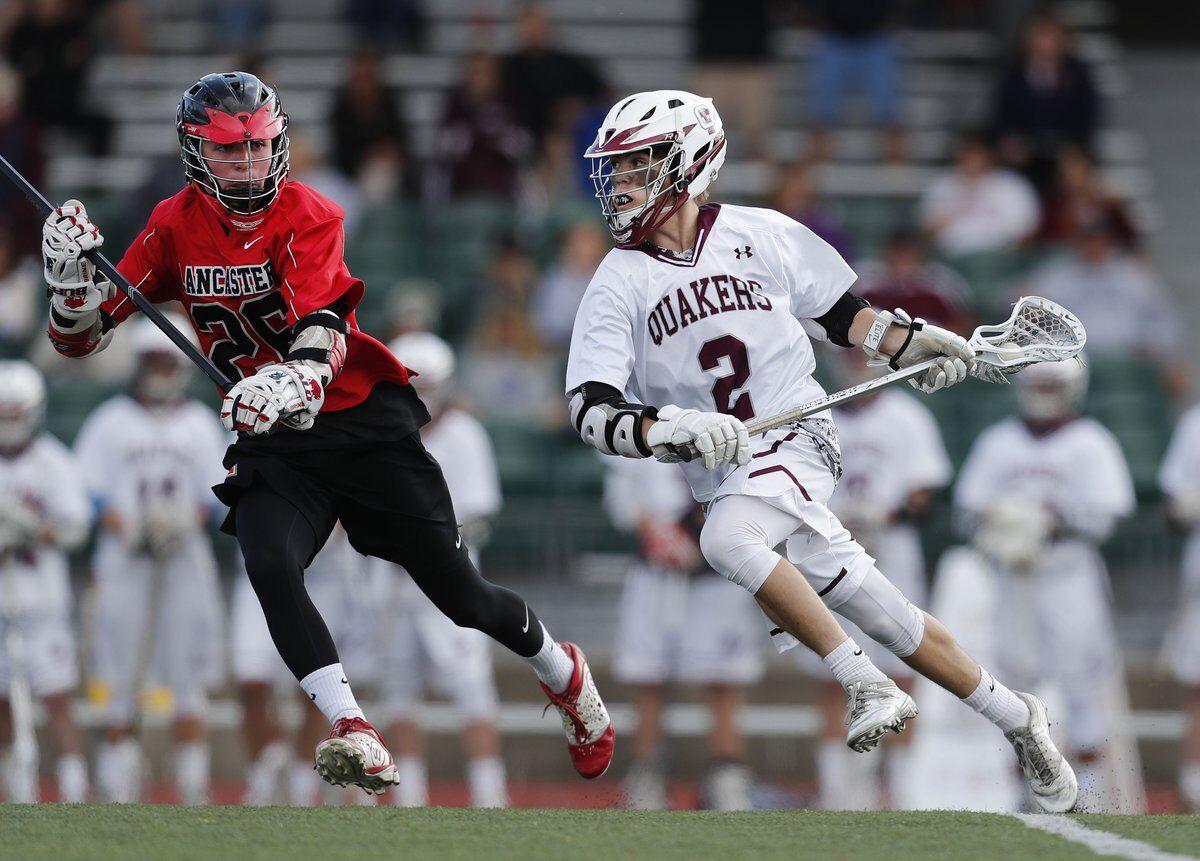 The boys lacrosse dynasties at Orchard Park and Hamburg continue to reign supreme.
The top-seeded Quakers of Orchard Park captured their 25th Section VI championship in 27 years by seizing control early and hanging on for a 15-13 triumph over No. 2 Lancaster in the Class A final Thursday night at All High Stadium.
Junior Coleman Jacobs (five goals) and sophomore Cayden Collins combined for nine goals as Orchard Park once again heads to the Far West Regional round of the postseason, where it will face Section V champion Pittsford at 10 a.m. Saturday at St. John Fisher College in Rochester. The winner of that game advances to the state final four.
"It's surreal," Collins said. "This is my first one I've been a part of. It's something we're used to. It's a tradition. It's nice to be a part of it."
Hamburg capped the championship-game doubleheader at All High Stadium by taking an 18-5 decision from Niagara Wheatfield. Jared Milley scored six goals to lead the Bulldogs, who outscored their foe 12-0 in the second half to earn their sixth straight title and 10th in 11 years.
"I have to give a lot of credit to our coaching staff … they told us what to do and we just executed," Milley said. "Coach (Jerry Severino) says it every day, 'we play for the ones who came before us and the ones that are coming after us.' Hamburg lacrosse is a dynasty and we'd like to keep that way for as long as possible and that's what we're doing winning another sectional title."
An estimated 2,000 attended the contests, both rematches of last year's finals.
The same teams won again with Orchard Park winning its fifth straight crown.
While there were times the Quakers (14-4) threatened to run away from their foe much like they did in last season's 15-4 title-game win, Lancaster pushed back often.
In fact, the Legends outscored OP 12-11 over the final three quarters – including 5-2 in the fourth. They pulled within 15-13 with 2 minutes, 31 seconds left after Alex Reimer and Brett Beetow scored 30 seconds apart.
That's as close as the Legends got to joining Sweet Home (1994) and Clarence (2011) as the only teams to deny Orchard Park during its championship run.
"With all the years, you can see the holes" on the championship banner hanging in the school gym, Collins said. "You don't want to be part of that section."
"We don't tell them you have to win but we ask them how do you want to be remembered," said Orchard Park coach Larry Catalano.
Lancaster (16-2) carried a 15-game winning streak into the final, but the Quakers used a quick start to seize control of this heavyweight showdown. OP held a 9-1 edge in shots and 4-1 advantage on the scoreboard through one quarter.
Collins got OP off to a great start when he drove from behind the cage and found a spot directly in front of the net to unleash a shot just 64 seconds into the game. He scored again to make 2-0 with 5:51 left in the first quarter.
Jacobs, the grandson of former Buffalo Bills linebacker and Greater Buffalo Sports Hall of Fame member Harry Jacobs, made it 3-0 on OP's eighth shot of the game. Beetow scored on Lancaster's first shot shortly after that but Dan Valtin replied with a goal for the Quakers with 1:43 left in the first.
The Legends did pull within 4-3 just four minutes into the second quarter on two goals by Ben Napieralski. OP steadied itself as Patrick Sullivan scored the first of back-to-back goals with 6:57 left in the quarter. That sparked a 5-2 blitz that enabled the Quakers to head into the intermission with a 9-5 lead.
John Owens and Collins increased OP's lead to six 4:21 into the third quarter, but Lancaster prevented the Quakers from completely running away with things.
"They're still kings of the hill," Legends coach David Mazur said. "We'll get them one of these days. …They have a good team. They took advantage of a couple matchups."
In the Class B final, Hamburg (13-5) and NW (11-7) played a see-saw game for 24 minutes with the Falcons at one point holding a 4-3 lead after Dawit Martin's goal with 7:38 left in the first half. Brock Schneider's goal with 13.5 seconds left in the half gave Hamburg the lead for good.
But one could be forgiven if he/she didn't think that would end up being the game-winning goal considering the offense both teams put on display in the opening half.
Hamburg pulled away for good scoring four times in the first five minutes of the third quarter with Milley sparking the blitz with a goal just 1:32 into the period.
"A 6-5 lead at halftime is nothing," Severino said. "Lacrosse is a game of spurts. We got a good run in the third quarter. … I think we were in tremendous condition. The guys on the field just ran, ran, ran.
"I've been blessed to have good athletes and great coaches and a supportive school district. Hamburg youth lacrosse does everything for us. I couldn't be more proud."
Hamburg faces Victor, last year's state champion in Class A, in Saturday's Class B regional at St. John Fisher.