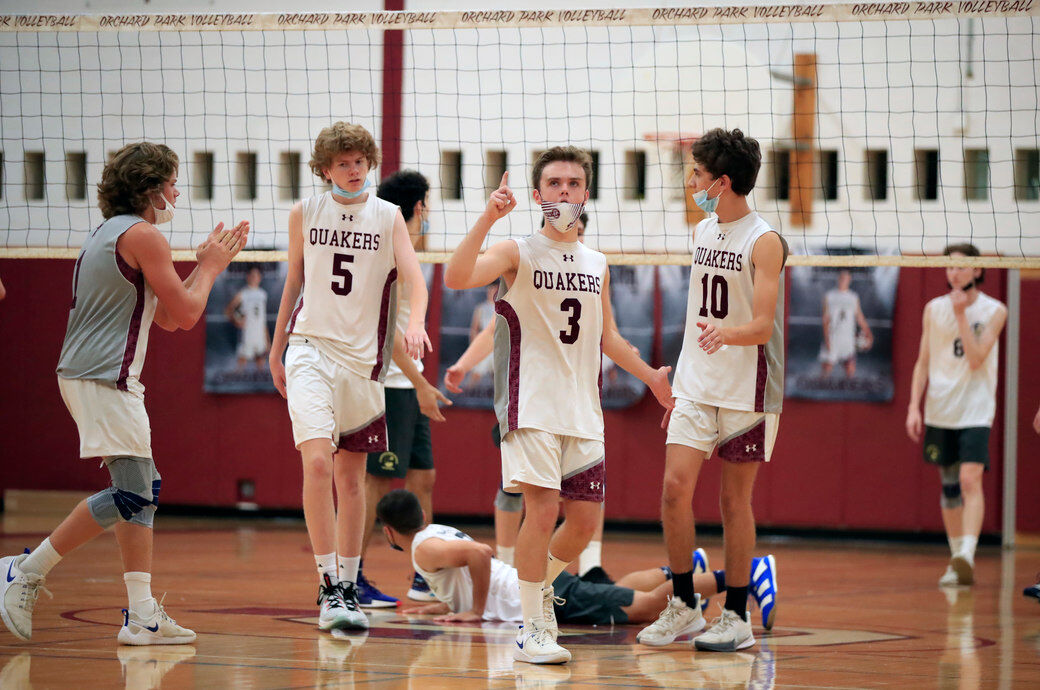 Orchard Park is ranked No. 1 in the latest Western New York Coaches' poll. Canisius, which had been unbeaten in regulation matches, was No. 1 two weeks ago. The two scholastic boys volleyball powers settled the issue for the time being on Monday night on the Quakers' home court.
After winning the first two sets, host Orchard Park (6-0) had to come from behind in the fifth to defeat the Monsignor Martin Athletic Association powerhouse 25-23, 25-17, 21-25, 19-25 and 15-13.
Senior outside hitter Kyle Zelasko led Orchard Park with 36 kills. As important as Zelasko was in the Quakers' triumph, sophomore Evan Hernandez made major contributions down the stretch.
"We took an early lead by three or four points, but Canisius roared back," Orchard Park coach Ricky Albano said. "They got it to 12-8."
That's when a run of strong serves by Hernandez got the match to 13-13 before OP closed it out.
"The final was pretty intense and it was a good atmosphere," Albano said. "This might have been the game of the year."
Senior outside hitter Tommy Lynch led Canisius (2-1) with 24 kills, and senior outside hitter Jimmy Roberts had 15 kills. Junior setter Matt Marusza had 38 assists.
Although both teams lost plenty of talent from their championship teams of last season, there is not expected to be much of a dropoff for either. And that showed Monday night.
In the first poll of the season three weeks ago, Canisius was on top, garnering all 10 first-place votes. A week later, the Crusaders dropped to No. 2 and OP was on top, even though Canisius had not lost a dual match and defeated Orchard Park in two sets in the championship of the Clarence Invitational, usually the first major competition of the boys season.
Orchard Park got even, defeating the Crusaders in the quarterfinal of the Eden Can-Am Tournament at the Buffalo Niagara Court Center in West Seneca. The Quakers beat McQuaid Jesuit in the semifinals, but fell to another Section V power, Penfield, in the championship bracket final.
In their first season under new head coach Trevor Gooch, Canisius dropped to third in this week's poll, a half point behind Frontier. The Falcons' triumphs over Section V Fairport in the semifinals and over St. Joe's in the championship match of the East Aurora Invitational on Saturday impressed voters enough to move them ahead of Canisius.
Besides highly successful head coach Tom Weislo stepping down as Canisius head coach, the Crusaders lost the Weislo twins, Ethan and Noah, who are at Springfield College in Massachusetts. Ethan was WNY Player of the Year last season. Connor Booth was a third Canisius senior to make All-WNY.
Orchard Park lost two first-team All-WNY stars in Hudson Harris and Joe Nicometo, who have moved on to college volleyball. It's meant a much larger offensive role for Zelasko.
"We've asked him to carry the load of three guys and so far he's been up to the challenge," Albano said. "And the players around him have complemented him well."
"Canisius looks a lot different than last year, just like we do," Albano added. "We're both playing a more defensive serve-pass dominated game, not generating as much offensive. We are a lot smaller. We lost 6-foot-9, 6-5, 6-5 and our middle was 6-3. We graduated pretty much all of our height."
Orchard Park will play at St. Francis on Tuesday, then Lancaster in an ECIC I match at home.
"Then we'll chill and do some R&R for Homecoming and get ready for the second-half push, starting with Frontier on Tuesday next week. Frontier is getting exponentially better each match. ECIC I is flooded with top teams. We are not getting any nights off in our league by any stretch."