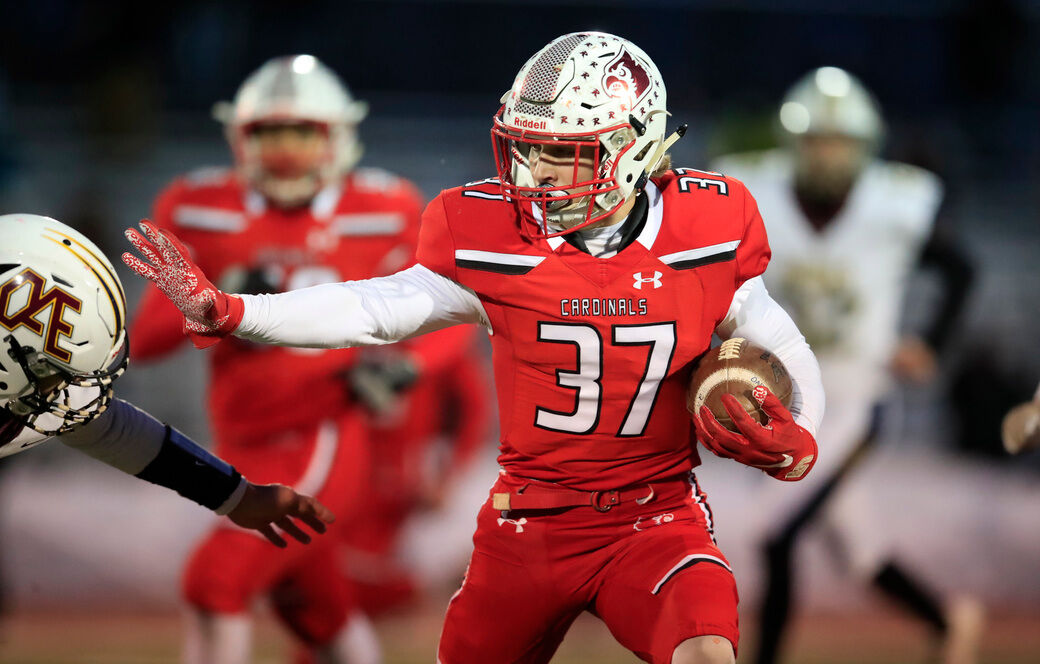 JAMESTOWN – On the shoulders and feet of running back Luke Pagett, the Randolph football team was making its chase to the end zone, in hopes of tying the game in the Class D Far West Regional.
But Pagett got wrapped up by a defender and lost control of the ball as he tried to continue forward. The fumble, on the ninth play of Randolph's second series of the third quarter, ended any scoring hopes in the Cardinals' most substantial drive in the second half of a 28-22 loss to Oakfield-Alabama/Elba on Friday at Strider Field. 
Despite having one more drive after stopping the Aggies on fourth-and-six from the 44 when the Cardinals broke up a pass by Oakfield-Alabama/Elba quarterback Bodie Hyde, Randolph (10-1) moved the ball only three plays on its final drive of the game, which came with less than eight minutes left in the fourth quarter.
"That was tough," Randolph coach Brent Brown said. "Finish that one off and, obviously, momentum switches and now the pressure's on them."
Instead, the momentum stayed in favor of Oakfield-Alabama/Elba (12-0), which allowed the Cardinals only two yards of offense in the fourth quarter.
"We had to take advantage of that," said Hyde, the Aggies' quarterback. "Huge credit to our defense, to our coordinator, Corey Winter. He had us prepared all week for adjustments we had to make, to what they're going to do, and we came to play and we out-physicaled them. We out-manhandled them and we did pretty good."
Oakfield-Alabama/Elba will face either Dolgeville of Section III or Tioga of Section IV in a New York State Public High School Athletic Association Class D semifinal Nov. 26 at Cicero-North Syracuse. 
Kameron Cusmano's 44-yard touchdown on fourth-and-7 gave Oakfield-Alabama/Elba a 7-0 lead at 3:25 of the first quarter, but Randolph's Xander Hind answered fifteen seconds later, first on an 85-yard kickoff return for a touchdown, then on a a 2-point conversion run that gave Randolph an 8-7 lead.
On the next drive, though, set up by Gaige Armbrewster's 76-yard run on the first play from scrimmage, Noah Currier answered for Oakfield-Alabama/Elba with an 8-yard touchdown run two plays later, and on the ensuing drive, the Aggies stopped Randolph on fourth-and-3 from the 12-yard line, stuffing Hind for a loss of a yard just before the end of the first quarter.
"Going in, we knew they had some good backs, and that they were hard to tackle, and they proved it," Brown said. "They were tough to tackle. And when they needed it, that quarterback took over. He was slippery and he was tough to tackle." 
Currier's second touchdown – a 71-yard pass from Hyde – gave Oakfield-Alabama/Elba a 21-8 lead midway through the second quarter, but Randolph cut the Aggies' lead to 21-14 on Pagett's 10-yard touchdown run with 1:57 left in the half.
Then, Jodey Frame's fumble recovery at midfield for Randolph with less than 90 seconds left in the half set up a drive that ended with Carson Conley's 15-yard touchdown pass to Jaiden Huntington with 39.5 seconds left in the half, and Hind's 2-point conversion run gave Randolph a 22-21 lead at halftime.
"We didn't think it was going to be like that, at first, that we came out and scored first, and then they came right back with the kick return, and it was a shootout, at first," Hyde said. "They're a slow and steady offense, we've got a lot of fire power and in the end, we got a few plays that went to our side, and we took advantage of it."
The Aggies opened the second half by recovering an onside kick that put them at the Cardinals 44, and six plays later, Kaden Cusmano's 25-yard touchdown catch gave the Aggies a 28-22 lead. 
With less than a minute left in the third quarter, Oakfield-Alabama/Elba's Connor Scott recovered Pagett's fumble on third-and-6 from the Aggies 17.
"I've always said it, that if you're going to make it to the Dome and win, you've got to stay healthy and you've got to have the ball bounce your way a couple times," Brown said. "Any time we've made it, that's what happened, and tonight, the ball bounced their way. You can't take anything away from them. They were terrific, they were tremendous, and they got us."