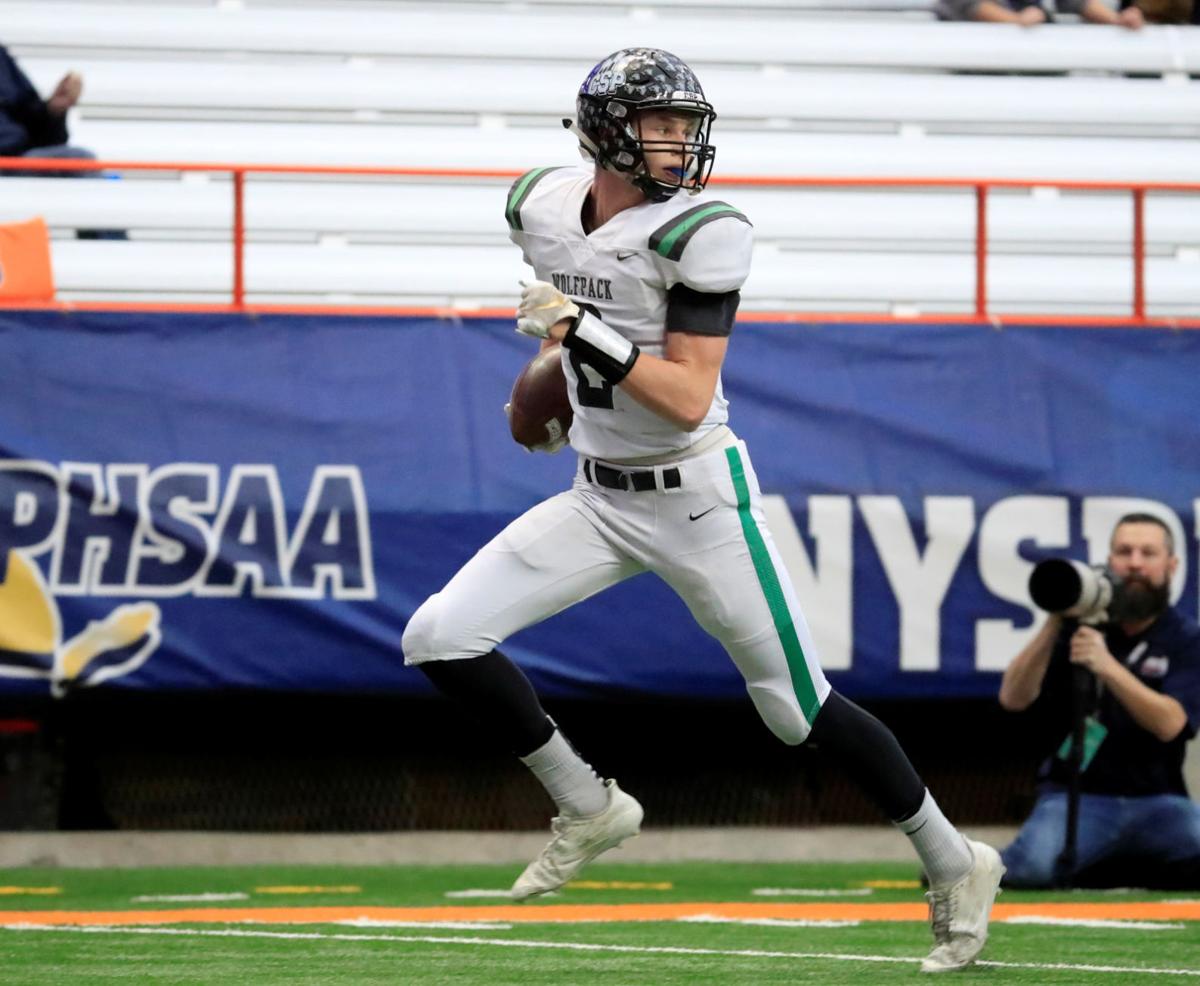 The New York State Public High School Athletic Association will move three fall sports to the spring, including football.
The NYSPHSAA announced Wednesday night that the football, volleyball and cheerleading seasons will be postponed from the fall to March 1, 2021, to address membership concerns associated with high-risk fall sports during the Covid-19 pandemic.
Dr. Robert Zayas, the NYSPHSAA executive director, said on a video conference Wednesday that the decision to postpone football, volleyball and cheerleading came five days after the NYSPHSAA released its Return to Interscholastic Athletics plan, a 41-page document that outlined return-to-play guidelines for low-risk sports. The decision also came after the NYSPHSAA spent Tuesday and Wednesday on video conference meetings with section administrators and athletic directors from across the state.
"What we found (in those meetings) is that students are being subjected to having to make decisions," Zayas said. "There's an awful lot of concerns regarding high-risk sports. With that being said, we had to make the decision to go ahead and move the football and volleyball seasons to March, in an effort to listen to the concerns expressed by our member schools.
"There wasn't consideration for modifying the type of season. The decision we made today was based upon the expressed concerns of our athletic administrators and member schools. There hasn't been any desire to modify the game of football by going to 7-on-7 or going to outdoor volleyball courts. It's our goal, that we'll be able to provide a quality participation experience for those student-athletes in the midst of the crisis that we continue to deal with."
Timm Slade, the executive director of Section VI, said the lack of guidance for football, volleyball and cheerleading -- all considered high-risk sports by state government officials – likely prompted the NYSPHSAA's ruling
"We're not sure when we were going to receive any guidance on the high-risk sports (from state government officials), and I think that's why the officers of the NYSPHSAA rendered that decision," Slade told the News on Wednesday.
Glen Graham, the football coach at Cleveland Hill, agreed with the NYSPHSAA's decision to delay football season and high-risk sports.
 "I think that's a good move, Graham said. "It gives us a chance to open school properly and get the kids organized. … Hopefully, we'll get news on (when we'll be able to do offseason work). But for all things and safety this is a smart move.
"We can actually create a plan for everything we need to look at because I'm sure there are some things we'd miss if we'd rush."
Monsignor Martin Athletic Association executive director Pete Schneider told the News Wednesday night that a decision on high-risk fall sports will be made by the conference members "within the next 48 hours."
Zayas said some of the concerns from section and high school administrators that the NYSPHSAA considered in its decision to move the three sports to the spring included:
*what will athletes be able to do at the beginning of a season, on Sept. 21?
*will football and volleyball players be asked to practice for 4-5 weeks without participating in a game in that span of time?
*more students participating in multiple sports right now
*social distancing during practices
"It became very evident that there were serious concerns about the hosting of high-risk sports this fall," Zayas said. "We used that as justification and rationale that we had to listen to our member schools, and we had to provide them with some solutions to the problems they were bringing to us, as their high school athletic association."
If football and volleyball teams decide to hold voluntary offseason activities during the fall, Zayas said those sports need to conduct workouts that adhere to guidance from the state's department of health.
"That guidance states that individual or distanced group training in an organized no- or low-contact group training must exist," Zayas said. "When you look at, what are the parameters that a high-risk sport can conduct practices in an offseason, that has to be in accordance with the department of health guidance."
Zayas, however, noted one thing: The NYSPHSAA has not been given clarification as to why cheerleading and volleyball have been designated as high-risk sports.
"We haven't given that justification," Zayas said. "When you look at risk-assessment, it could be based on a number of different parameters."
As a result of fall high-risk sports being moved to March, the start date for the spring sports season has been adjusted, and the first official practice for spring sports will be April 19, 2021. The original start date was March 15.
The NYSPHSAA said low- and moderate-risk fall sports — cross country, field hockey, soccer, swimming, and girls tennis — are still scheduled to begin practices Sept. 21, for schools and sections who have determined it feasible to host interscholastic sports at this time.
In regards to winter sports, Zayas said basketball, wrestling and hockey are considered high-risk sports by the state department of health.
"As we start getting closer to the beginning of the winter season, which, right now, is scheduled to start on Nov. 30, we'll continue to provide guidance as to what our member schools are allowed to do as that season begins, in additional authorization has yet to be provided."
Miguel Rodriguez contributed to this report.
Get in the game with our Prep Sports Newsletter
Sent weekly directly to your inbox!