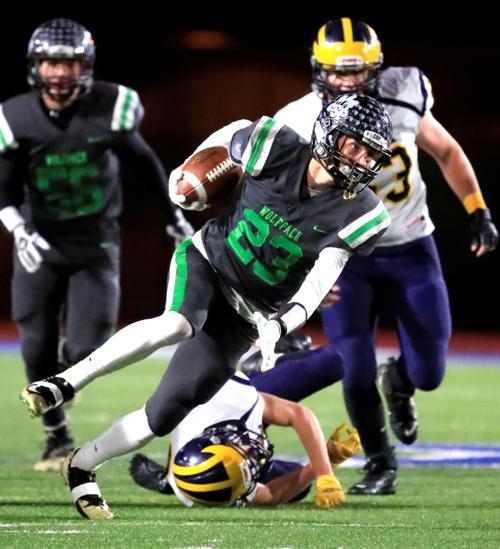 If not for the Covid-19 pandemic, Western New York football teams would be getting prepared for either potential Week 0 opening games or scrimmages this weekend.
It'd be a time to rejoice, especially since this is the first time in a while that New York State Public High School Athletic Association members can play at least eight regular season games after years of being limited to seven due to past state budget constraints.
Instead, Friday will be the day football and other high-risk fall sports (volleyball, girls gymnastics and competitive cheerleading) receive some guidance as to how they can proceed with their seasons when all fall sports teams are allowed to begin practicing Sept. 21.
The high-risk sports will receive guidelines on how to conduct practices and perhaps will receive a timetable as to when they'll be allowed to play games. The state association's Covid-19 Task Force is preparing to release a comprehensive document Friday that will guide member schools as they prepare for the return of athletics.
However, NYSPHSAA Executive Director Dr. Robert Zayas may have given folks a taste of what to expect a little sooner.
Zayas told The News via spokesman Chris Watson on Wednesday that if a section decides to move football or volleyball to the spring, then "there could be offseason workouts with those teams in the fall and winter, as long as they abide by the offseason practices rules." No offseason work for fall sports, however, can start before Sept. 21.
Longtime Cleveland Hill coach Glen Graham said he will work with his team whenever he receives the OK, but added that the longer he goes without a game plan leading into Sept. 21, the more he wouldn't mind just moving the sport to early spring (March-May). Section VIII (Nassau County) opted to do just that last week.
"I, personally for myself, I'd rather see us flip it to the spring at this point," he said. "That would give us more time to get prepared because nobody got any teamwork in during the summer. Having fall practice and then being able to play in the spring would be a much better option for us at this time.
"Also, we can structure practices differently. No need to go 5-6 days a week. For me it's going to be hectic enough with everyone starting school and then the uncertainty of football. Obviously, I'll coach whenever they tell me, but I think kids missing out on the summer work will affect how teams line up."
Last week, Gov. Andrew Cuomo gave the OK for fall sports to start practicing Sept. 21, but he did it with a phased approach. Low-risk sports including soccer, golf, cross country, field hockey, girls swimming and tennis can practice and then play games, although they're not allowed to leave the section for competition until Oct. 19. The high-risk sports can practice only until further notice. They are limited to individual or group, work with no- to low-contact training. Three days after the initial announcement, Cuomo said his start date was a suggested one and added that school districts ultimately have the final call on oh whether they will restart sports at that date or at some other date down the road.
The NYSPHSAA has since followed with statements of its own. Last Thursday, the NYSPHSAA said it would respect whatever districts decide to do, since their superintendents know what's best for their school community and certainly have the authority and autonomy to administer their district's athletic programs as they deem appropriate.
On Monday, the NYSPHSAA announced an increase to the number of practices fall sports teams must have before playing games (12 for football, 10 for others), just to aid with player conditioning. It also pushed back the start of the winter season to make room for the conclusion of fall sports.
Zayas also held a video briefing Monday night with reporters where he answered several questions. One of the important things he said is that the NYSPHSAA doesn't have the power to override decisions by state officials.
That means the high-risk sports will continue to need guidance from officials outside the NYSPHSAA.
"On the 21st you can practice but we can't be padded or do any team competitive drills," South Park coach Tim Delaney said. "You can't even do 7-on-7s. … When can you do that stuff and when will we know when we're playing games? … Somebody has to answer the question because nobody just wants to run around in shorts and a T-shirt and never play a game."
Delaney isn't the only coach who shares that belief.
Ty Harper, whose merged program Clymer/Sherman/Panama is within a short drive of Pennsylvania, where games are going to start this weekend, asked how coaches are supposed to tell student-athletes we're going to practice three-to-four weeks for an opportunity that might not even present itself.
That includes several players, he said, who opted to stay at CSP. Clymer is roughly 2 miles away from the state line, while Sherman and Panama – the other members of the merged outfit – are each about 10 miles away from the Quaker State.
"There were several who talked about transferring, … but they decided not to because they wanted to at least" (try to) win another sectional title after winning back to back state titles, Harper said.
Harper, like several area coaches, watched high school football on ESPN last weekend, games that took place in Alabama, Utah and North Dakota. It was frustrating because each of those states have higher Covid-19 positivity rates than New York.
Also, Zayas made it more clear as to why state officials consider volleyball high-risk, a different classification than that of NFHS, which deemed it low- to moderate-risk. He said it's because of the potential to spread Covid-19 through shared equipment, because as many as 12 different players can touch the ball while playing for a point.