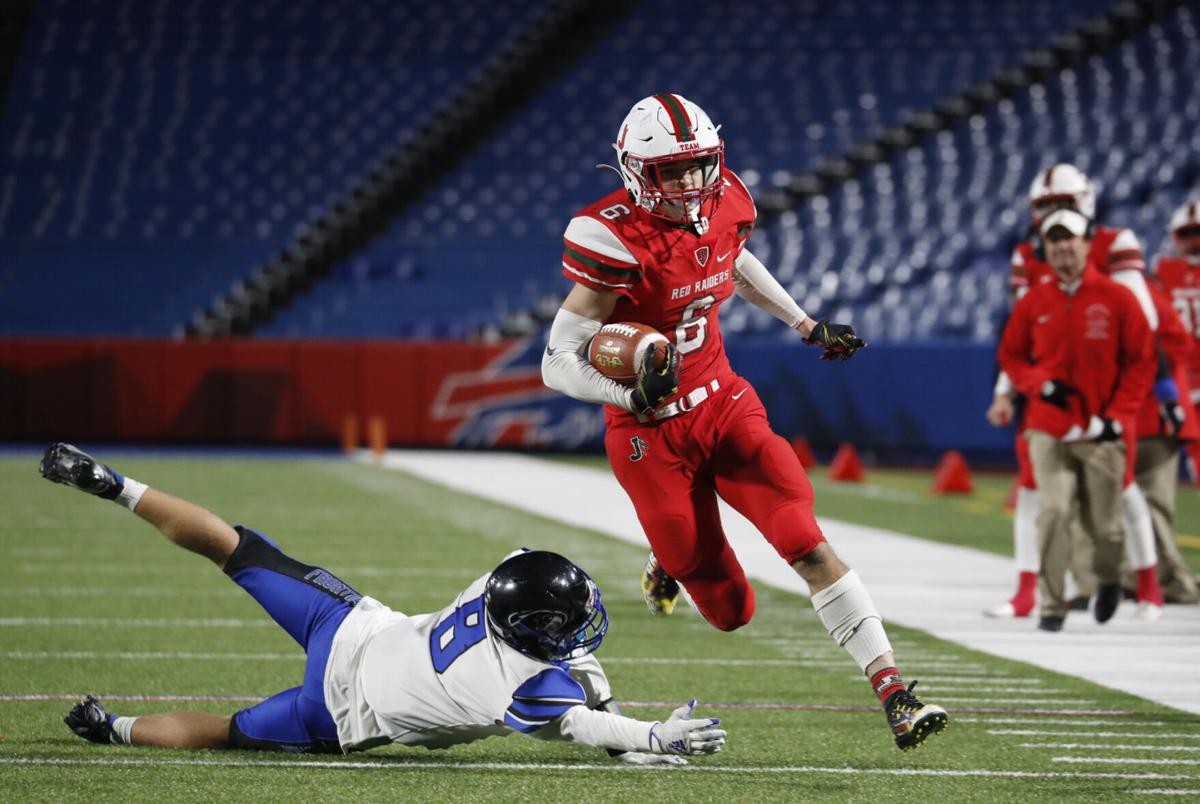 Who: VI-Jamestown Red Raiders (12-0) vs. III-Syracuse CBA Brothers (8-3)
Where: Cicero-North Syracuse High School, Cicero.
State semifinal history: Jamestown is 5-0 in this round, defeating III-Henninger, 28-12, in 2014 en route to winning the Class AA state title. Syracuse CBA is 2-6. The Brothers last won in this round when they defeated Webster Thomas, 44-14, in 2004 en route to the Class AA state title.
Coaches: Jamestown, Tom Langworthy, 14th season (92-43). Casey Brown, Syracuse CBA, seventh season, (36-25).
Rankings: Jamestown is ranked No. 2 in The Buffalo News' large schools poll and second in the state Sportswriters' Class A poll. CBA is ranked 12th in the state Class A poll.
Jamestown key players and statistics: RB Jaylen Butera (244-2,142-35 TDs; 19 catches-402-7; 43 total TDs), Jr. QB Trey Drake (75-112-1,257-13 TDs), Sr. LB/ RB Ben Anderson (147 tackles, 31 TFL, 9 sacks; 68-623-5 TDs), Jr. DE Sean O'Brien (118 tackles, 10 TFL, 5 sacks), Jr. DE Jarel Farmer (61 tackles, 10 sacks).
Syracuse CBA key players: So. QB Jordan Rae, Fr. WR/DB Syair Torrence, Sr. WR Dan Anderson, So. RB/LB Tristan Korfonta.
How they got here: Jamestown defeated Section V champion Canandaigua, 35-14, in the Far West Regional last Friday at Strider Field. CBA defeated Union-Endicott of Section IV, 42-0.
Presnap read: Throw the records away. The champions that reach the Final Four are all good. This should be Jamestown's toughest test, yet.
Private school CBA comes into the game on a five-game winning streak and is coming off a game in which it made eight interceptions, including four in the second quarter as it went into halftime 28-0. The Brothers are fast and athletic and have the ability to make plays via run or pass with a slew of young, talented underclassmen.
They have size in the trenches, like Jamestown. The Red Raiders look to make plays via run or pass. They'd prefer to ground and pound with Butera, but Drake can take to the air if the Brothers stack the box to stop the run.
Playing fundamental football and ball protection will be key for both teams.
Next: The winner advances to the New York State Public High School Athletic Association Class A championship game at 3 p.m. Dec. 3 a the Carrier Dome in Syracuse against the East Region semifinal winner.