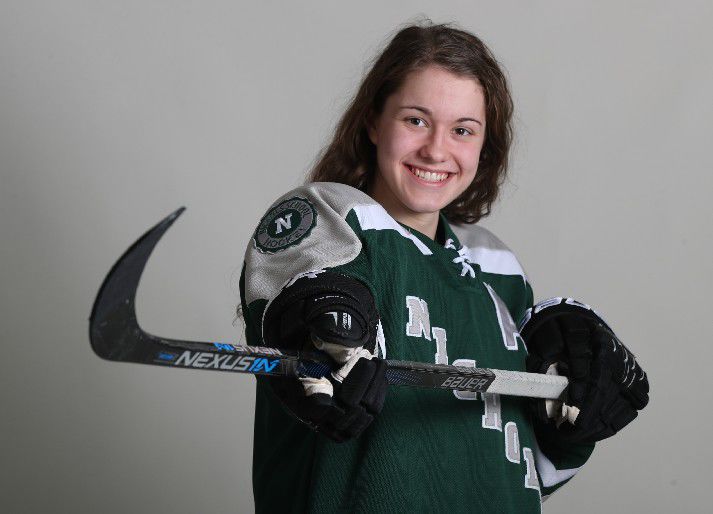 Katy Knoll didn't think she had much of a chance being named to the United States Under-18 Women's National Hockey Team.
The junior Nichols High School forward didn't advance from a June camp of 66 girls to an August camp at Lake Placid from which the roster is usually pulled.
"I kind of thought I was almost out of the picture," she said.
But she had a good fall with her travel team, the Toronto Junior Aeros of the Provincial Women's Hockey League, and USA Hockey was watching. The call came last week that Knoll will be among the 23 players headed to Russia next month for the 2018 IIHF Under-18 Women's World Championship. The national team will be looking for its fourth consecutive gold medal.
"It kind of was just a lucky bounce, I guess," said the 16-year-old Knoll of Amherst. "I started off playing really good for my season and I guess I caught their eye. They started looking at me harder. It was a little nerve-wracking but then when I finally got the call, it was a big sigh of relief for sure."
Knoll is believed to be just the third Western New York hockey player to make the U.S. Under-18 national team. Maureen Murphy, who made the team last season, and current U.S. National Team defenseman Emily Pfalzer are the others who have made the Under-18 roster.
Knoll led the Nichols Vikings last season to winning records in both of their leagues in the regular season. The Prep Talk Player of the Year in girls hockey had 23 goals and nine assists in 32 games for Nichols.
"It's very well deserved," said Shelley Looney, who is entering her second year as girls hockey coach at Nichols. "She's been an outstanding player since I started to watch her a couple years ago. Being able to help her grow as a player and as a young lady last year at Nichols was exciting because I knew she had a bright future."
Knoll has committed to playing college hockey at Looney's alma mater, Northeastern, in fall 2019.
For now, Knoll will juggle her Canadian travel team and Nichols, along with her new national team duties. That will include a Team USA pre-camp after Christmas before departing on Jan. 2 for Russia.
Nichols lost their season opener last week, but rebounded with a victory Saturday.
"I'm looking forward to her leading the team on and off the ice when she's around," said Looney. "The team's really excited for her being named to the national team. That just reflects on her as a person and us as a school."
Team USA will be competing in Group A alongside Canada, Russia and Sweden, and will open the competition on Jan. 6 against Sweden.
"It's a busy winter, for sure," Knoll said.
But Looney, who won an Olympic gold medal with the United States women's hockey team in 1998, feels that Knoll is ready for the challenge.
"Young athletes these days are asked a lot," she said. "A small amount of people can actually manage it all. She's one of those kids. She understands school is important but she also has her big dreams of playing the highest level of competitive hockey that she can."