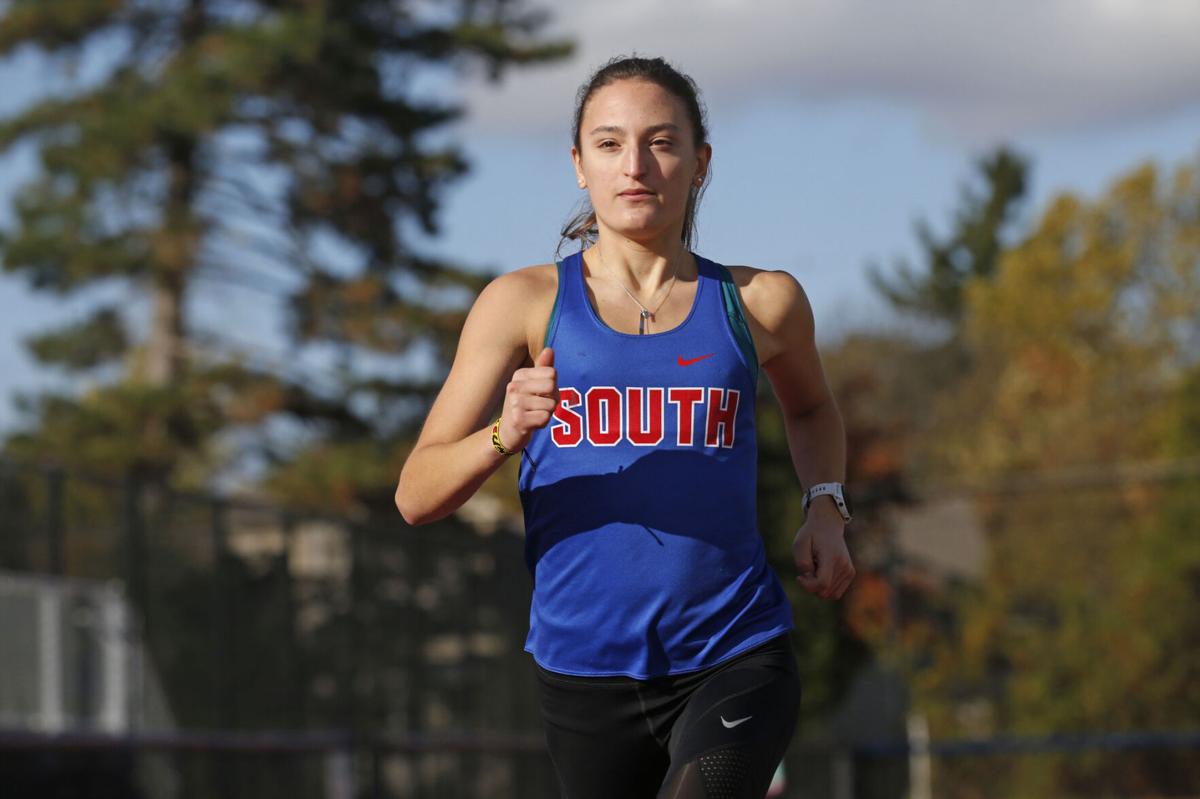 Kayla Schmidt, Williamsville South, 12: Saved her career best for last, turning in a personal-best 18:40.48 at Bemus Point to win the sectional Class B-1 championship after finishing second in Division II in the ECIC meet. A fourth-place finisher in the Class B sectional the season before, she left no doubt in her championship run, winning by more than a minute. "My favorite performance by far ... " said Schmidt, who will run at Siena College. Climbed from All-WNY second team as a sophomore to first team as a junior to runner of the year as a senior. Named first-team all-state in Class B.
Acacia Barber, Frewsburg, 12. Started running for the Bears as a seventh grader in 2015 and worked her way up to becoming a sectional champion, capturing the Class D run in 20:08.14 after a fourth-place finish in 2019. Said she's most proud of her ability to "get fast times, even though I was running on my own in most races this season." After running in virtual races all season, she was happy to finally compete in the Chautauqua All-County meet "where I actually got to race the fast people in CCAA." Named first-team all-state in Class D. 
Noel Barlette, Orchard Park, 9: Her hobby is rock climbing but she handles relatively level ground well, too. After leading the Quakers to the sectional team title as an eighth grader in 2019, she captured the Section VI Class A individual championship this season, winning in 20:00.2 in the extreme weather at Bemus Point. She was fifth in the same race last year. Honorable mention Class A all-state selection.
Mallory Grubb, Amherst, 11: Repeat All-WNY New York first-team selection went undefeated in ECIC league dual meets, then won ECIC Division II individual race, outdueling Schmidt. "My last dual meet was my favorite meet. I felt strong and had a really good time running in the rain, and the team won the meet." Finished second to Schmidt in Class B-1 sectional race. Named second-team all-state in Class B.
Kailyn Houghton, East Aurora, 7: Other than finishing third behind two Blue Devils teammates in the Class B-2 run, Houghton says, "I also loved sectionals because it was the first time I went on a bus ride with my teammates because all our other meets were home. It was so much fun and we won!" Lots of bus rides and perhaps championships ahead, who was named second-team all-state in Class B. 
Megan McLaughlin, East Aurora, 11: The sectional Class B champion as a freshman and sophomore and defending All-WNY Runner of the Year, she overcame injuries to come back for a second-place finish in the B-2 race this season. Won the ECIC Division III run and led her team to division championship as well as the sectional meet team championship. Three-time first-team selection and named to first-team all-state in Class B.
Angelina Napoleon, Allegany-Limestone, 10. The Section VI Class C-2 champion, running a personal-record 18:52.35, she was undefeated season in the CCAA and named the league's runner of the year. She was a fifth-place finisher in the sectional Class C run in 2019. Most proud of helping A-L to sectional team championship.
Emilia O'Leary, East Aurora, 8: Asked if she has any interesting hobbies and her reply was: "Who has time for hobbies? All I do is RUN." And run well. Crossed ahead of EA teammates in a 1-2-3 finish to win sectional B-2 run and break 19 minutes (18:52.35). She said setting the pace in place of injured teammate Megan McLaughlin and leading her team to victory in tri-meet against Amherst and Alden is something she is most proud of. Named New York State Runner of the Year for seventh/eighth graders by MileSplit NY and first-team all-state in Class B.
Walt McLaughlin, East Aurora. Gained a sweep of sectional titles the Class B-2 competitions for boys and girls. The Blue Devils have won a girls sectional title every year since 2001. Cancellation of the state meets deprived the girls program a shot at repeating as Class B champions.
Class A: Clarence won the sectional title, led by a fourth-place finish by Charlotte Costich.
Class B-1: Grubb's second place and a third by seventh grader Abigail Lamb and ninth by freshman Talia Christopher helped Amherst to a sweep of both the boys and girls team championships in their class.
Class B-2: East Aurora had a 1-2-3 finish from All-WNYers O'Leary, Megan McLaughlin and Houghton to dominate team scoring in sectionals.
Class C-1: Newfane won its fourth consecutive sectional, paced by individual champion Kylie Bowman, runner-up Leah Siegmann and fifth-place finisher Catalena Ersing.
Class C-2: Mikaela LeBaron, Marie Lemay and Tabitha Clark crossed the line within eight seconds of each other in third, fourth and fifth place to lead Falconer to the sectional title. 
Class D: Maple Grove posted a perfect 15 points in sectional meet, taking places 1 through 5 with Christina Peppy, Ava Crist, Abby Brunanavas, Tori Pavlock and Allison Bohall.
Monsignor Martin: Nichols won the regular season title, but Sacred Heart topped the scoring in the All-Catholic meet. MK Hartigan of Nardin was the individual winner.