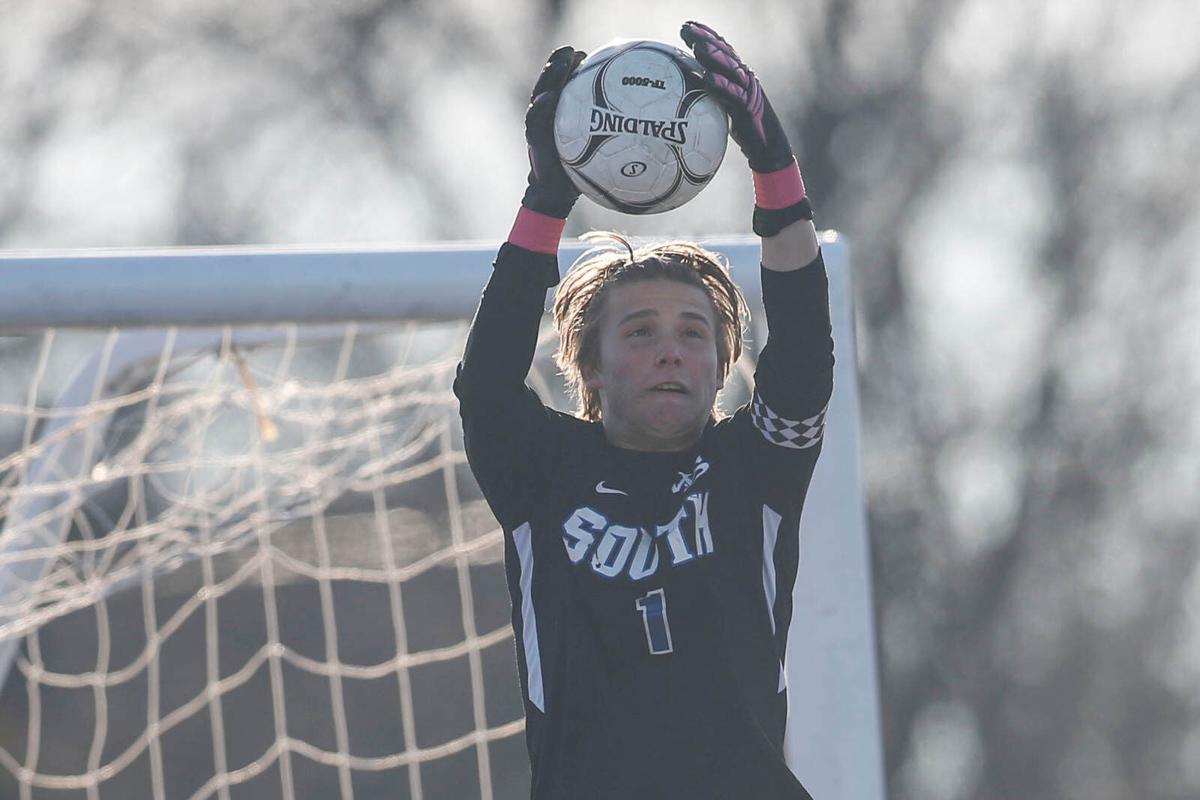 (As selected by area coaches)
Jack Petrie, Williamsville South, 12, GK: Capped his two seasons as starter by leading the Billies to a 14-1-1 record and their second straight Section VI Class A-2 championship. Petrie finished with 11 shutouts and yielded just seven goals in 16 games. He finished his career with 25 shutouts. On sectional-title win over Lewiston-Porter, Petrie said: "I'm glad that the last game I will ever play at Williamsville South ended with a win."
Solomon Konesky, Amherst, 12, D: Four-year starter showed the ability to defend, create and score, often at full speed. Robert DiNunzio said Konesky, who had seven goals and three assists, is one of the best players he's ever coached during his 30-plus seasons on the sidelines. Konesky will play at Medaille College.
Rehn Pielechowski, Canisius, 12, D: Crusaders' captain capped three-year career helping team reach Monsignor Martin final. Though his job was to prevent goals, he chipped in on offense with three goals and two assists, including the helper in an overtime win over rival St. Joe's in the Monsignor Martin semifinals. Logged 4,428 minutes during his scholastic career.
Jacob Gajewski, Clarence, 12, D: Three-year starter who totes a 99.12 classroom average will play soccer while pursuing a degree in mechanical engineering at Penn State Behrend. He scored a career-best four goals for the Red Devils, netting the game-winner in regular-season win over eventual Class AA champion Williamsville North. Played in 53 career games.
Alex Kompson, Nichols, 11, D: Center back was one of the key pieces for a Vikings crew that captured the Monsignor Martin title. He logged 877 minutes of action in leading a defense that yielded just seven goals in 13 games. Says his most memorable moment was championship game win over Canisius. Kompson also plays ice hockey for the school and enjoys golf.
Luke Meldrum, Williamsville North, 12, D: Captain and three-year starter manned center back area and controlled defense for team that yielded a total of five goals en route to the Class AA title. Only goal of season was a game-winner against Orchard Park. "He's mature, great team leader. He's someone we're going to miss," coach Dave LaMastra said.
Joshua Conklin, Lancaster, 12, M: Legends captain recorded five goals and six assists, with two goals coming in overtime wins over Clarence and Orchard Park. Considers helping Lancaster win the Section VI Class AA title in 2019 as his most memorable accomplishment with the team. Conklin plans to attend Clarkson University.
Josh Hunt, Grand Island, 12, M: After starting on defense as a junior, Hunt moved to midfield and led the Vikings with 13 goals and five assists. Scored in Niagara Frontier League championship game win over Lockport as Grand Island ended the season on a five-game unbeaten streak. One of Hunt's hobbies is photography.
Kevin Sugg, Williamsville North, 11, M: Attacking center midfielder led the Spartans with eight goals and four assists. Nose for the net in key situations, Sugg had three game-winning goals. Like Meldrum, Sugg also is a scholar-athlete. "He's someone I look forward to leading once again next year," LaMastra said.
Jonathan Czajka, Frontier, 12, F: Five-year starter ends his Falcons career as the program's all-time leader in goals (55), breaking the record of 52 that stood for 30 years. Strong, fast player delivered nine goals and had two assists despite receiving extra attention from opposing defenses. Also holds school record for goals in a single game (six).
Robert Woods, Lewiston-Porter, 11, F: Third-year player scored career-high 26 goals to lead all of Western New York. He scored 42% of the Lancers' goals for the season. Woods scored six game-winners, and also scored six game-opening goals. Helped team reach Section VI Class A-2 final for the second time in three years.
Nate Dillenbeck, Medina-Lyndonville,12, F: Three-year starter ranks first in GPA in his senior class at Lyndonville. Two-time Niagara-Orleans League Forward of the Year had 23 goals and five assists in 16 starts to help the Mustangs win a share of the Section VI Class B-1 championship. Holds program record for career goals with 56.
Reilly Boyer, Lockport, 12, F: Canisius College commit just completed his fourth year on varsity, helping the Lions reach the Class AA semifinals. He recorded 22 goals and 11 assists. Finished career with 50 goals. Considers scoring a hat trick in 3-2 win over North Tonawanda with Lions playing shorthanded as most memorable game.
Hunter Hollock, Tonawanda, 12, F: Hollock recorded 17 goals and six assists in helping Tonawanda earn a share of the Class B-1 championship. ECIC IV Player of the Year scored 12 seconds into overtime in win over Alden that secured division title with 10-0 mark. Proud he helped program win its first two division championship in his three seasons.
Troy Jezioro, Williamsville East, 12, F: A team captain led the Class A-1 champion Flames with 13 goals and five assists. Scored game-winner with 2 seconds left in win over St. Francis on Senior Night. Takes pride in fact team completed season without a loss and that he made some of his best friends during his six seasons in the program.
Jack Root, Williamsville East, 11, G: Another team captain, Root posted 14 wins, 12 shutouts and a 0.38 goals-against average in 16 starts. Root made 10 saves in Class A-1 final tie against Grand Island. Considers double overtime win over rival Williamsville South in which Flames scored game-winning goal in 98th minute as his most memorable game of the season.
Kenmore West's Todd Marquardt, who recently announced he's retiring, was selected as Coach of the Year. In 31 seasons as West's coach, Marquardt coached 609 games and 389 players. The Ken West alumnus (Class of 1981) guided his alma mater to victory 242 times. During his tenure, the Blue Devils won Section VI championships in 1994 and 2006. The Devils also lost in the A-1 final to Grand Island three years ago.
It was a most unique season because of the Covid-19 pandemic. State playoffs were canceled, but that decision opened the door for Section VI and the Monsignor Martin High School Athletic Association to squeeze in a decent number of regular-season games and short playoff tournament despite beginning a month later than originally scheduled. The condensed schedule resulted in Section VI brass making the tough decision to limit postseason participation to teams that finished with records of .500 or better.
In the MMHSAA, Nichols completed its personal redemption tour by beating Canisius 2-1 for the championship. Anthony Rambino and Lawton Zacher scored for the Vikings (11-1-1), who finished as the top-ranked small school in the Western New York Coaches poll. The victory quelled any lingering pain left from 2019, when top-seeded Nichols suffered an overtime loss in the final to St. Joe's.
In the Section VI Tournament, Williamsville North (12-2) won the Class AA title for the first time since 2015 by beating defending champion Lancaster in the final, 2-0. Brock Young and Sam Hepworth scored for North, while Mac Ward recorded the shutout.
In the Class A-1 final, Williamsville East completed an undefeated season by sharing the championship with Grand Island as the teams played to a 0-0 tie. Root made 10 saves for the Flames (14-0-2), while Grand Island counterpart Sam Carpenter made 14 stops, as the Vikings (11-3-2) earned a share of the title for the first time since 2017. They won the Niagara Frontier League title as part of a season-ending five-game unbeaten streak.
In Class A-2, Josh Bird's goal with 7 seconds left enabled Williamsville South to beat Lewiston-Porter 1-0 to capture its second straight sectional championship. Billies finish 14-1-1 with the loss and tie coming against rival Williamsville East.
In Class B-1, Medina/Lyndonville and Tonawanda shared the championship after playing to a 2-2 tie in the final. Hunter Hollock's second goal of the game came with 12 seconds left in regulation and enabled Tonawanda (13-1-1) to earn a share of the title with Medina/Lyndonville (10-4-2). Nate Dillenbeck scored twice for the Mustangs, who captured their third sectional title in nine years but first since 2013.
In Class B-2, Fredonia won its first championship since 1985 by defeating Allegany-Limestone 1-0. Jack Carlson's goal in the 10th minute was all second-seeded Fredonia (12-1-3) needed to beat the No. 1 seed. Goalkeeper Trevor Persch made six saves for the shutout.
In Class C, No. 3 Maple Grove (12-1-1) rallied for a 4-1 win over fourth-seeded Chautauqua Lake to repeat as section champion. Alex MacCallum had a goal and an assist, while Cam Crist's first varsity goal proved to be the game-winner. Tristan Spillane and Eli Moore also scored to cap a three-goal second half by the Red Dragons.
Class D did not crown a champion as none of the teams finished with a .500 or better record to qualify for the playoffs.