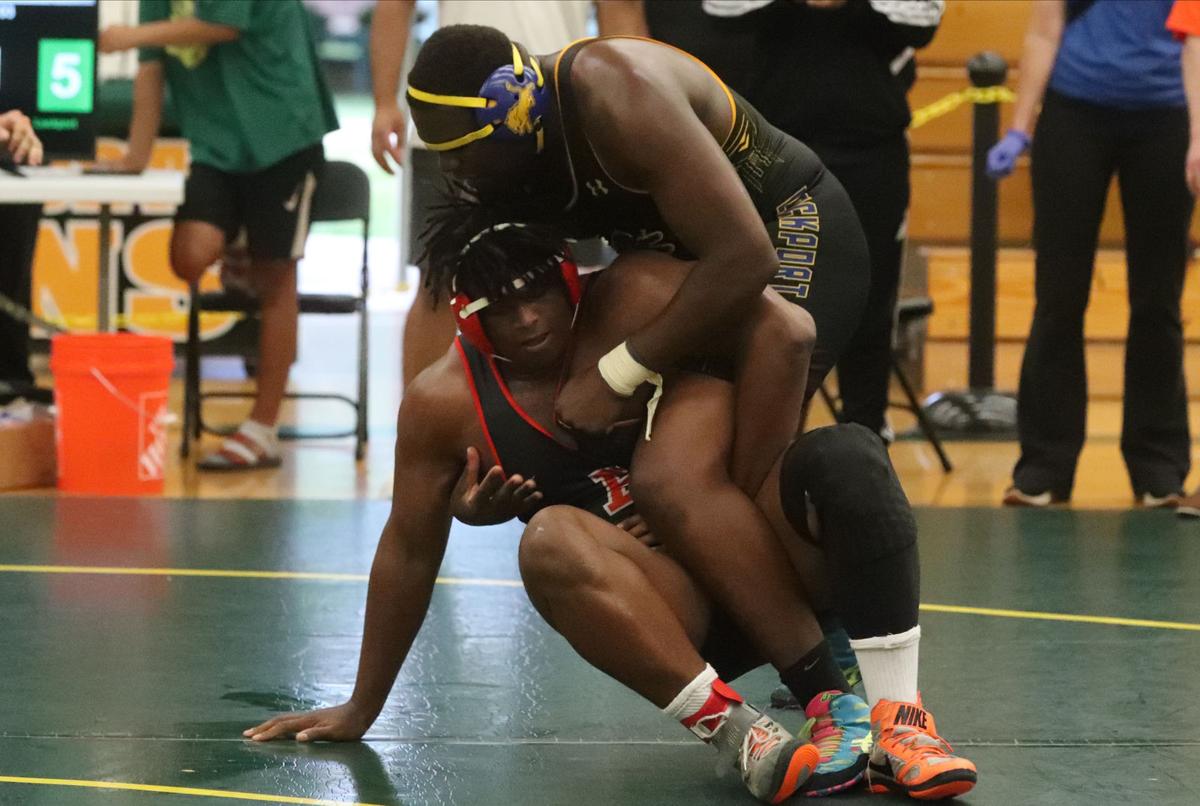 On a day in which Niagara Falls proved its superiority on the wrestling mat, the likable heavyweight from Lockport stole the show.
And Stefaan Fearon did it with big-time flair and plenty of crowd support Saturday at Williamsville North High School.
Fearon, a junior, ended the long day of wrestling at the Section VI Division I tournament by capturing his first championship. He pulled away for a 9-3 victory over Amherst's Tyree Orange.
Fearon displayed lots of swagger in winning as a No. 3 seed. In a physical, entertaining match, he seized control late in the second period and then implored the crowd to cheer before the start of the third period. The crowd did and he fed off that energy during a 7-2 period.
"I'm a king," he said after putting the finishing touches to a 19-0 season. "I knew what I came here for … first place was the only goal."
Miley, the No. 1 seed in the 172-pound bracket of the Section VI Division 2 wrestling tournament held Saturday at Pioneer High School, defeated third-seeded teammate Zack Russell 5-4 in a hard-fought overtime contest.
"We told Stefaan two years ago he had this in him," Lockport coach Bill Morello Jr. said. "He just needed to get his own confidence."
Fearon did, but he wasn't the only one feeling good Saturday.
Niagara Falls reminded folks that there's more to the school's athletics program than just a powerhouse boys basketball team. The Wolverines wrestlers again shined under the bright lights of the section tournament. The Wolverines crowned three champions – Jaden Crumpler (110 pounds), Amarfio Reynolds (118 pounds) and Jesiere Carter (152 pounds) – en route to securing the team title with 113 points. Lancaster scored 108, followed by Starpoint with 104.5.
This tournament usually crowns 13 individual champions and serves as a state qualifier. Due to the Covid-19 pandemic resulting in the season being moved from winter to spring – and the state tournament also being cancelled – officials opted to keep team scores during this meet. The traditional Section VI dual meet team championship tournament was canceled due to the shortness of the season.
"It's awesome," first-year Niagara Falls coach Josh Eagan said. "To be able to say we did it is special because it may never happen again like this – winning a Section VI title at the same tournament as individual sectional championships."
Williamsville North may not have won the team title, but two of its wrestlers pulled off championship three-peats in senior and 138-pounder Michael Catanzaro and 132-pound freshman Cameron Catrabone.
The event was held in split sessions, with bleacher seating on one side of the gym for spectators. The bigger crowd showed up for the second session, which featured wrestlers from 145-pound class and up.
Fearon gave those fans and the remaining wrestlers in the gym plenty of reasons to cheer.
He and Amherst's Orange battled fiercely, with Fearon coming close to scoring early via takedown, which occurred just outside the circle, according to an official. Orange, the No. 1 seed and last year's runner-up, carried a 1-0 lead late into the second period. That's when Fearon finally struck, getting a two-point takedown in bounds to take the lead into the third.
Before the start of the third, Fearon's showmanship was on full display as he waved his arms up to get the crowd shouting and excited before the start of period. They responded, getting behind him and quickly cheering when he added to his lead, first earning an escape point and then points for a takedown.
"We don't like that he did that, but that's Stefaan's personality," Morello said. "Let him live in the moment. … Stefaan is one of the most likable wrestlers I know. Wherever I go, people are asking 'Is Stefaan here?' He's a favorite of officials, coaches and wrestlers."
Fearon came in fourth last year. He said Morello and his father, Bill Sr., helped him become the wrestler he is today. He put in the work necessary to learn the skills to succeed. He just kept reminding himself to do one thing Saturday as worked his way to the top of the podium.
"Wrestle smart and take good shots. I'll be good (at the end)," he said.
Falls was great at the end, but its journey to the team crown began with two of the lighter weights fulfilling their goal of winning championships and gaining measures of revenge.
Crumpler scored a 6-4 overtime win over North's Brendan Dellinger to win at 110 pounds. Dellinger was the top seed, while Crumpler was No. 2. Crumpler scored via takedown with 28 seconds left to secure his first championship.
In doing that, he also helped teammate Reynolds gain a measure of revenge because Reynolds lost in last year's final to Dellinger.
Reynolds followed by earning a 9-8 win over Frontier's Travis Browning at 118 pounds to secure his first title after missing out last year.
"Last year was my first being front of a lot of people," said Reynolds, who also noted that with five-time Section VI champion Willie McDougald now an Oklahoma Sooner, somebody needed to step up.
Falls has had at least one Section VI champion in each of the past five tournaments, Eagan said.
Carter, the son of former standout amateur boxer Terry Carter, cruised to an 11-4 triumph, with his grandmother cheering with glee during the match and afterwards with Carter.
"You have to push everybody on the team," Carter said. "I've got great partners, great coaching and my own personal work outside wrestling. … It feels good."
Catanzaro, who will wrestle at Ohio University in the winter, went from potentially not having a season to winning another championship and going 14-0 to boot. He won two of his three matches via pin Saturday, including the title in 1:02 against Lancaster's Carter Tedusz. Title No. 3 definitely felt the sweetest of them all.
"We had the (tournament) in my home gym, so it's meaningful," Catanzaro said. "It's my last one and it's a nice sendoff (to college)."
Catrabone finished a 12-0 season with an 8-0 win over Gage LaPlante of Starpoint.
Tremell Mathews of Niagara Wheatfield captured the 126-pound title with a win over Griffin LaPlante of Starpoint.
Ken Schmitz of Hamburg opened the finals by securing the 102-pound class title.
Other champions included Niagara Wheatfield's Collin Coughenour (145 pounds), Lancaster's Bryce Bolognese (160 pounds) and Josh Jelonek (189 pounds), Grand Island's Brian Bielic (172 pounds) and North Tonawanda's Aden Spina (215 pounds).