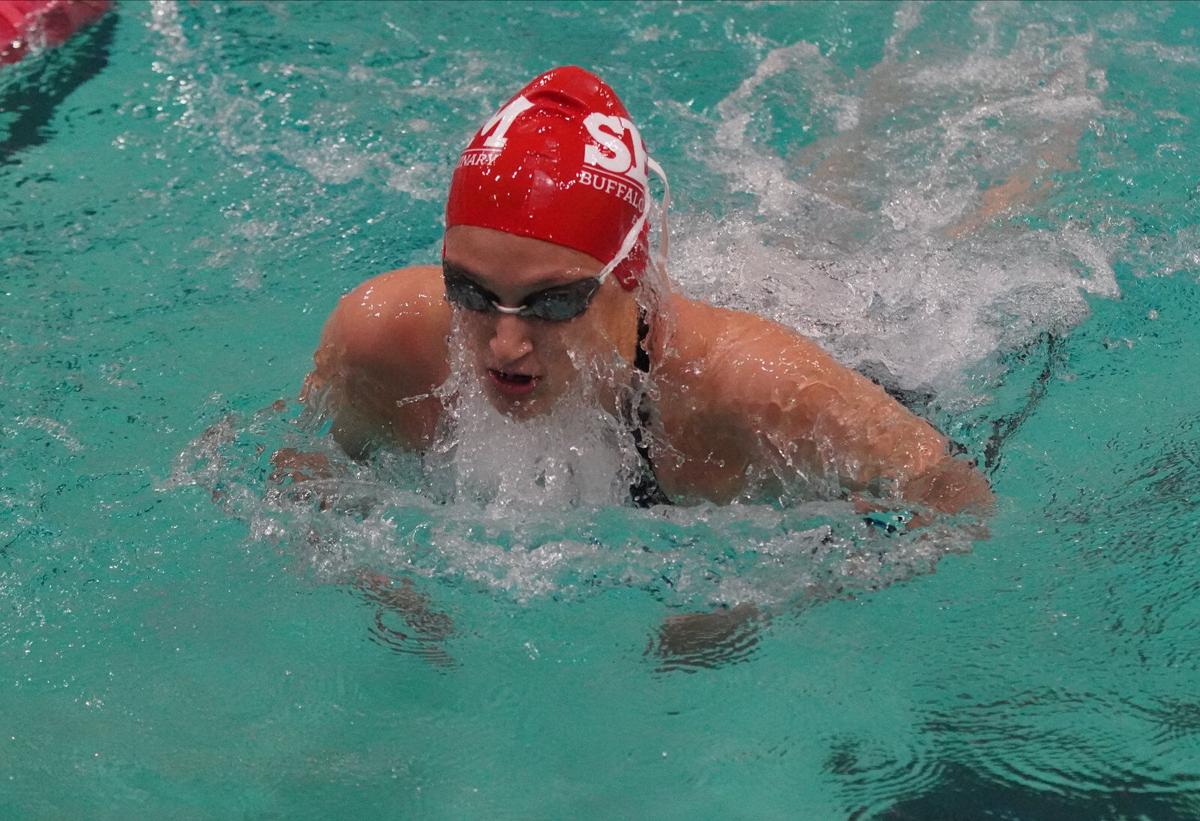 Buffalo Seminary defended its girls swimming title at the All-Catholic Championships in the Monsignor Martin Athletic Association on Tuesday night at the Flickinger Center … sort of.
The last time this event was held was in 2019, when the Red-Tailed Hawks captured a victory over Mount Saint Mary. The 2020 season was marred by Covid-19, and the league only staged a few meets without a championship in the spring of 2021. Individual All-Catholic titles were handed out by comparing times during the season.
Swimming returned to something close to normal this year. Buffalo Seminary, which had contributions from athletes from Nichols and St. Mary's of Lancaster as part of a combined team, was back on top. It finished with 144.5 points, while Mount Saint Mary again was second at 131 and Nardin was third with 101.5.
"I am beyond happy," Buffalo Seminary coach Andrea Parish said after the meet. "I thought they were going to have a great meet, but this is beyond anything I could have asked for."
Lauren Levy led the way with four victories, two in individual events and two in relays. That wasn't a surprise, since she had been awarded three individual titles in the simplified 2020-21 season. Levy was an easy choice as the winner of the Natalie Lewis Swimmer of the Meet Award on Tuesday.
Levy and the Hawks started the meet with a victory in the 200-yard medley relay. She teamed up with Gretchen Gwitt, Elle Noecker, and Sophia Noecker to win in a time of 1:49.08, more than eight seconds ahead of the competition.
Three events later, Levy had a close call in the 50-yard free, at least by her standards. Her time of 24.64 seconds was only .19 faster than Abigail Gioia of Nardin (24.83). After a bit of a break, Levy put up an excellent time of 56.39 to win the 100-yard butterfly. In other words, she had won three events, and the meet wasn't even an hour old.
"You'd think you'd be exhausted, but all of the spirit from teammates, coaches, friends who came out to support, parents, it all gives me an adrenaline rush," Levy said. "It's an honor to be with everybody. I've had the time of my life these fast four years. I couldn't ask for a better environment."
After a relatively long rest of a half-hour, Levy opened the 200 free relay for the Hawks. Her teammates — Beth Tesluk, Gwitt, and Elle Noecker — followed her example in the event, and Buffalo Seminary finished with a time of 1:40.23 — good for a win of nearly six seconds over Mount Saint Mary Academy. Levy played a role in 54 of the Hawks' 144.5 points on the night.
"Lauren is a special girl," Parish said. "Her maturity and dedication will take her a long way in life. … There's not much she can't do."
All four of those times were good enough in theory to qualify for the New York State championships. For example, Levy's time in the 100 fly was more than three seconds better than the State standard.
"The girls exceeded all expectations," said Levy, who has not decided on a college yet. "We've been training for states for all these months, so it's great to see all of that work pay off."
The times from the All-Catholic meet will be compared to a similar competition in Long Island. A slot will be available in the state meet in Ithaca next month to the fastest swimmer from each event in the two meets, provided they break the state standard.
Elle Noecker also had a terrific night. She won the 200 IM in 2:04.18, and followed it with a win in the 100 breast in 1:04.73. Including the two relays, that meant she was part of four wins as well.
The night's best race might have been the 500 free. Sophia Noecker of Buffalo Seminary and Paige Glor of Mount Saint Mary figured to be the class of the field, and they were. But which was better? It was hard to tell with two laps to go, as Glor led Noecker by one-hundred of a second. But Noecker had just enough to pull ahead slightly, winning in a time of 5:31.98 to Glor's 5:32.23.
Gabrielle Adamczyk of Sacred Heart was in peak form, winning the 200-yard free in 2:00.99. A little later, Adamczyk took a close decision over Gioia of Nardin in the 100-yard free, 54.61 to 54.91.
Haley Griffin recorded a win for Mount Saint Mary in the 100 backstroke, touching the wall in 1:01.04 to finish more than a second ahead of Gwitt. Lilith Berrong, Paige Glor, Maren Drews and Peyton Glor teamed up to give Mount Saint Academy a win in the final event, the 400 free relay. But it was not enough to prevent Buffalo Seminary from taking the All-Catholic team title.
"We had a lot of young girls this year that really stepped up," Parish said. "I watched how they practice every day, and it's a total team effort. That's why things like today happened. They get each other fired up, and they build off that."