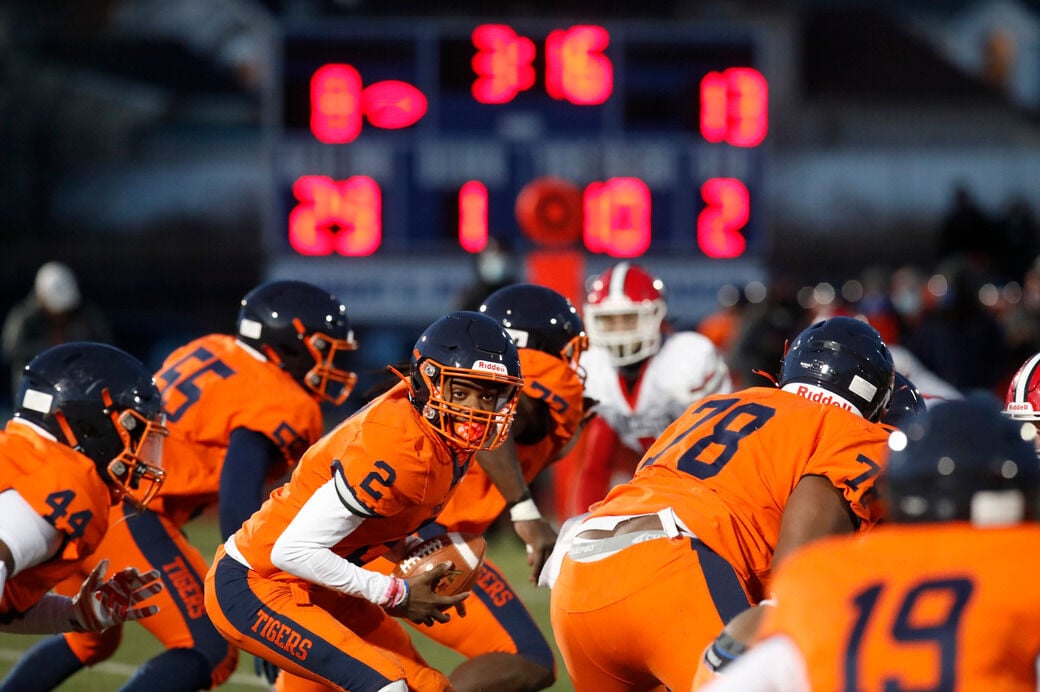 With less than a minute left and his team in need of a first down to close out a win, Bennett football coach Steve McDuffie didn't just explain to his team the best strategy to convert a fourth-down play.
McDuffie drew from a particular adage as he addressed his team during a timeout.
"I always try to go back to the lessons I learned from some of the great coaches I've been around, and I always like to use my favorite quote," McDuffie said. " 'Adversity doesn't build character. It reveals character.' The times when we were at the most adverse times you find out who you are, so let's try to dig in. Let's try to get this first down." 
By that point in the game, answering to adversity was a theme for the Tigers. Each time Bennett found itself down, it collectively responded in a 30-25 win Friday at Frontier, a win that helped the Tigers, in Class AA, earn a spot in the playoffs.  
First, the Tigers (3-1) spotted the Falcons a 13-0 lead in the first 13 minutes of the first half. Then, after taking a three-point lead early in the fourth quarter, the Falcons took the lead right back on Hayden Carder's 75-yard kickoff return.
The Tigers didn't expect much less from the Falcons (2-2). 
"This was a dogfight," said Bennett quarterback Antonio Davis III, who completed 16 of 25 passes for two touchdowns and 244 yards. "It brought us together. It made us stronger. It made us want to get better from here."
The Tigers didn't fold, either. Al McDuffie's 9-yard touchdown run with 6:15 left, followed by Jussean Pearsall's 2-point conversion run, gave the Tigers their final five-point lead. Then, with 57.8 seconds left in regulation, Davis handed off the ball to McDuffie on fourth-and-3 from the Frontier 34-yard line, and McDuffie's 7-yard carry secured the win. 
"The coaches told us to run out the clock and keep our heads up," said Davis, a sophomore who entered the game fourth in Section VI in passing yards, with 509 in his first three games. "Keep fighting.
"I saw the linebacker and he was biting, so I wanted to give it to Al, my running back. I believe in my running back, and he's going to get it." 
Austin Lippert's 2-yard touchdown run with 3:05 left in the first quarter, followed by Carder's 2-yard touchdown run six seconds into the second quarter gave the Falcons a 13-0 lead. Bennett, however, blocked the extra point attempt by Frontier. Then, after sacking Lippert for a loss of seven yards on fourth and 15 behind the Bennett 34, Bennett needed three plays to cut Frontier's lead to 13-6 on Davis' 4-yard touchdown run, a drive that was set up by Al McDuffie's 53-yard-run.
Then, with less than 90 seconds left, Bennett recovered a fumble by Frontier, and opened the ensuing drive with Davis' 33-yard pass to Kevin Lewis, which put the Tigers at the Frontier 10. Two plays later, Davis' 4-yard touchdown pass to James Glover with 46.2 seconds left in the half cut Frontier's lead to 13-12, and Pearsall's 2-point conversion run gave Bennett a 14-13 lead at the half.
Carder, who began the game as the leading rusher in Section VI, scored the second of his three touchdowns on a 7-yard run with 5:27 left in the third, which gave Frontier a 19-14 lead, but Bennett recovered a fumble by the Falcons late in the third to stay within five points, and Davis' 57-yard touchdown pass to Kevin Lewis, followed by Pearsall's 2-point run, gave Bennett a 22-19 lead 1:07 into the fourth.
After Carder's kickoff return for a touchdown gave the Falcons a 25-22 lead 13 seconds later, the Tigers got a break on the ensuing possession. Frontier was called for pass interference on Davis' fourth-and-9 pass attempt from the Falcons 46, and the 15-yard penalty revived the drive for the Tigers, who took a 30-25 lead three plays later on Al McDuffie's touchdown run, followed by Pearsall's conversion run, with 6:15 left. 
"As soon as I put on the film (of Frontier), I said, 'Uh oh!' " Steve McDuffie said. "After I watched them beat up on Williamsville South, I said, 'Hey, this game is going to be a battle. This game is going to decide the playoffs.' "