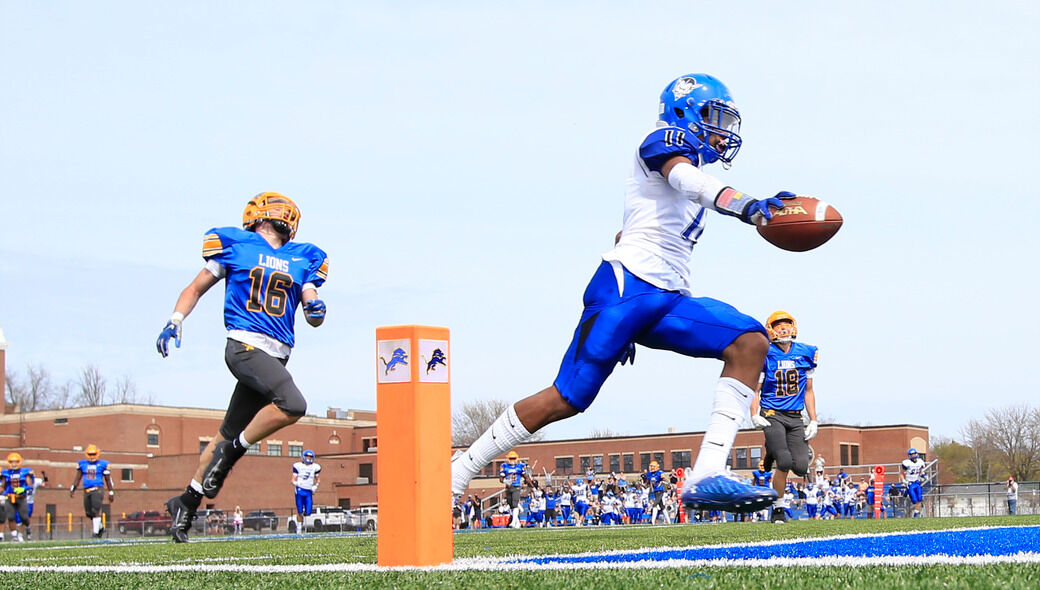 Jermaine Atkins has been learning as he goes about how to make the transition from wide receiver to running back this season.
Atkins, however, was in full form as the primary rusher for the Kenmore West football team Friday. The junior set a school record by scoring seven rushing touchdowns in the Blue Devils' 62-36 win at North Tonawanda.
"I kind of wanted to see how things unfolded," Atkins said Monday. "I didn't expect to score that many touchdowns! This was mind-blowing, for me. When it happened, I was just like, 'Wow, I really did this!' It really felt pretty good."
On Friday against North Tonawanda, Atkins scored on runs of 40 yards, 33 yards, 28 yards, 47 yards, 30 yards, 31 yards and 1 yard.  
Atkins also tied Crosier's school record of seven touchdowns in a game. Crosier scored six rushing touchdowns and a receiving touchdown in the 2018 game against Kenmore East.
Atkins wasn't even Kenmore West's starting tailback at the beginning of the season. Blue Devils coach John Haynes explained that Atkins split time between wide receiver and worked out with two other players at tailback. However, roster changes due to disciplinary issues elevated Atkins to become the starting back.
"At wide receiver, you're running routes and trying to get open," Atkins said. "At running back, you have to be a little more patient and hit the holes. It's a bit more different. And you have to adjust to when and how the line is blocking, and take what the defense gives you."
Atkins had 13 carries for 251 yards and seven touchdowns against the Lumberjacks. He also made key blocks that helped teammate Jason Britton score a pair of receiving touchdowns, and played at cornerback for the Blue Devils (3-3, 3-1).
Atkins made sure to thank his offensive line for its work in blocking and opening holes: center Charlie Marzec, guards Hezekiah Mercado and Mason Forney, and tackles Evan Davie and Andrew Burgess.
"The offensive line owned the line of scrimmage, all night long," Haynes said. "Jermaine also worked his butt off to get what he needed to get. Jermaine, once he got to the open field, away from the linebackers, it was just a foot race. He's very fast, and he's an elusive running back. He's tough once he gets to the outside."
After Atkins scored his sixth touchdown, Haynes told him that he was approaching the single-game school record of seven touchdowns.
"I was told the record was six, and that I was going to stay in," Atkins said. "We were just marching down the field and got to that point, and when I got the seventh touchdown and the record, it felt good."
Haynes also thought back to earlier in the evening, when he addressed his team prior to the game. He told the story of how Dallas Cowboys running back Emmitt Smith singled out former Cowboys fullback and Lewiston-Porter graduate Daryl Johnston during Smith's 2010 Pro Football Hall of Fame induction speech.
"Emmitt Smith said he wouldn't have been what he is today if Daryl Johnston hadn't guided him," said Haynes, whose team hosts Starpoint at 2 p.m. Saturday at Crosby Field. "Jermaine did this with his teammates. It made it extra special for myself and for the kids. Talking to him about that, and what it takes to do that, but when it happens and it becomes a reality, it was like, 'wow, the kids got it!' "