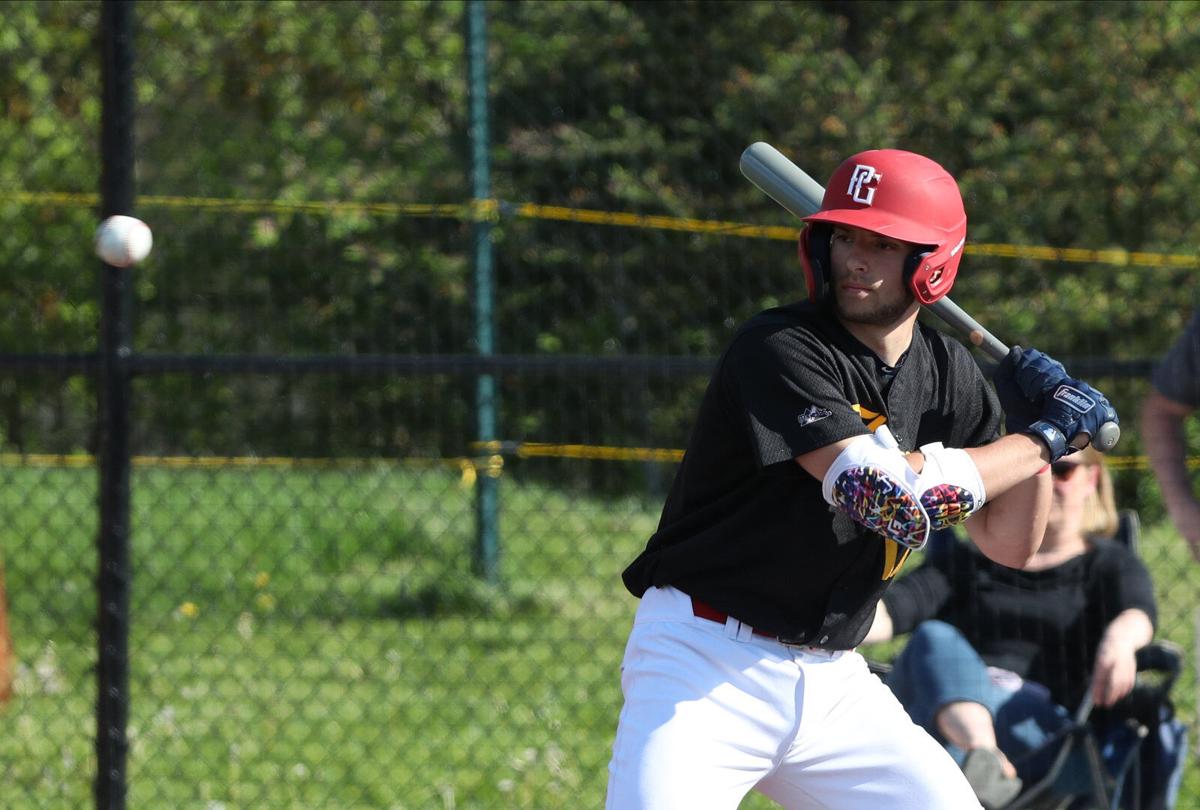 It was billed as the big game in which top baseball prospects Joe Mack and Evan Chaffee were going to face each other as hitter versus pitcher for the first time this season. But the second meeting in as many days between Williamsville East and Hamburg had a little bit of everything for folks – not just a battle between coveted talents.
Drama. An I-can't-believe-that-just-happened sequence. And, of course, a mammoth crowd-pleasing home run from the day's star attraction.
Mack went 1 for 1 with a homer and reached base four times during the Flames' 6-4 triumph over Hamburg on a hot Saturday afternoon at the Williamsville East Athletic Complex.
Mack delivered the shot that had folks talking with two outs in the bottom of the sixth inning off Bulldogs reliever Myles Best – a towering homer over the left field fence to punctuate East's two-game series sweep of Hamburg, which, like the Flames, began the weekend unbeaten in ECIC II play.
Only Williamsville East, 11-2 overall, holds that distinction now, with a 7-0 mark in division. Hamburg is 7-5 overall, 6-2 in the division.
Turns out this is a week full of memorable baseball games in Western New York, but not all of them are taking place at Sahlen Field.
"It's awesome," Mack said. "It's definitely a great moment in our season. I mean, Hamburg's a really good team. They came out fighting. It's just really important we got these two wins. … We have momentum going into the next week."
More than 1,000 fans showed up, along with more than 20 baseball scouts to watch Mack – the lefty-hitting catcher who has signed with Clemson but likely will be a first-round pick in next month's MLB Draft – go head-to-head with the lefty-throwing Chaffee, a junior who can throw up to 91 mph and has verbally committed to Alabama.
A potential future Tiger versus a potential future Crimson Tide player. Atlantic Coast Conference recruit versus Southeastern Conference gem. That's not a matchup seen too often in these parts.
Folks didn't have to wait long, as both stars batted in the lead-off spots for their respective clubs. Mack set the table for a big inning by the Flames by drawing a six-pitch walk after taking the first three offerings – including a couple close ones – as balls. East drew two walks and had two batters get hit by pitches – including Glen MacLeay's RBI plunking.
Still, Chaffee almost escaped the jam without any further damage. That was until Owen Valley's three-run double to the gap provided the big inning that gave the Flames the lead for good.
This is no ordinary final season for Mack. It's a busy one filled with a series of job interviews, as a parade of MLB scouts roll though just to size him up one more time.
"Very gutsy at-bat for him," first-year Williamsville East coach Chris Gruarin said. "We wanted to get up on them early and we did that. … He came up huge."
Mack admitted he was amped up getting to face a pitcher of Chaffee's caliber. Heading into Saturday, the two had only crossed paths two years ago when Chaffee was a freshman. Mack hit a double in that matchup.
"Just being able to see velocity is good," Mack said. "I feel I can hit higher velocity better. I just felt more comfortable at the plate and I was able to see certain pitches better and react to them better."
Chaffee grinded through a wild five innings, recording five strikeouts and yielding just three hits. But he issued five walks and hit two batters. According to one scout, he threw mostly in the mid-80s, topping out at 87.
"Great atmosphere here today. Great energy. About as good as it gets around here," Chaffee said. "At the end of the day it just comes down to me not executing my pitches. At the end of the day, it's on me that first inning, but I'm happy with the way myself and my team bounced back in the later innings and battled back as a whole."
Chaffee led off the game with a booming triple as part of a 2 for 3 day with two RBIs at the dish. The second RBI came off a long sacrifice fly to center field with runners on the corners in the top of the sixth. Nate Milk made a great catch for the Flames, but his momentum carried him into and through a temporary structure. Umpires ruled Chafee out via catch and ruled a dead ball, which allowed each runner to advance a base – trimming the Bulldogs' deficit to 5-4.
That's as close as they got, with Mack providing winning pitcher Trey Maclay with some breathing room in the bottom of the sixth in the form of a huge insurance run. Mack drove a fastball the other way for his home run. It was just the third time he swung at a pitch Saturday.