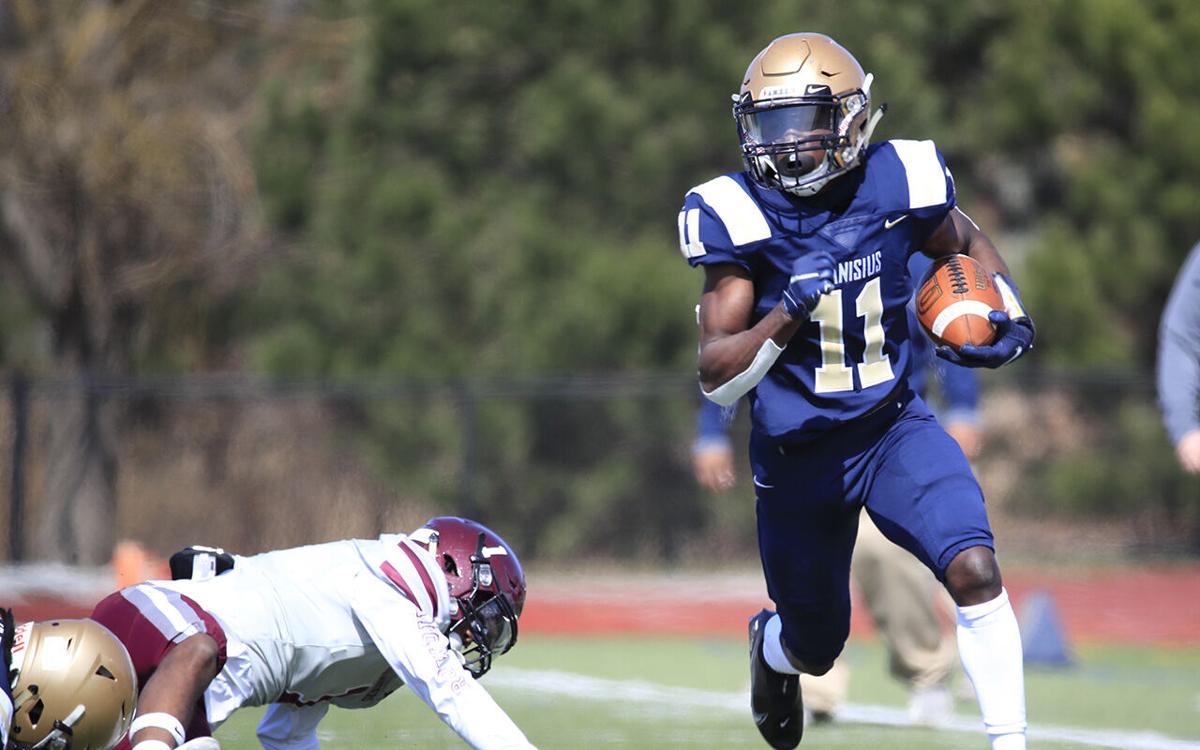 Wisken Whited caught two touchdown passes, returned an interception for another score and kicked nine extra points.
"I'd have to say kickoff," the Canisius High School senior said, "because it was just the thrill of playing football after so long, and it felt so good to be out here."
Crusaders junior Tyler Baker completed 9 of 13 passes for 219 yards and three touchdowns and rushed for another score as Canisius throttled archrival St. Joe's 63-0 on a sunny Saturday afternoon at the Stransky Athletic Complex. It was the first high school football game in Western New York in 485 days after the fall season was wiped out because of the Covid-19 pandemic.
Canisius hadn't played a football game since Nov. 24, 2019, when the Crusaders defeated Cardinal Hayes 25-24 with a successful two-point conversion to win the New York State Catholic Athletic Association championship on the final play of regulation.
The last high school football game involving a team from Western New York was Nov. 29, 2019, when Clymer-Sherman-Panama repeated as Class D state champion.
"We're in unprecedented times, having spring football and having to get a team ready to play some football in March," Canisius coach Rich Robbins said. "But these kids have been ready to play since September. We've been working hard and all through the winter and now into the spring. Today was a great opportunity to let all those guys get out on the field and do their thing.
"I reminded them how blessed we are to have this and to appreciate every single snap and every play, and with all this craziness going on, you just never know, so enjoy the moment."
A couple of hundred masked spectators dotted the stands on each side of the field and leaned against the chain-link fence for the resumption of a rivalry that dates to 1921. St. Joe's leads the series 48-42-3.
But perhaps no game in the series was played under such odd circumstances, with the delayed and abbreviated season kicking off on the final weekend of March. The Monsignor Martin basketball championships were last weekend, while the public schools' Section VI boys and girls basketball and boys hockey title games are in progress. Section VI football begins Thursday.
The state has limited attendance at outdoor athletic events to either 200 spectators or two per athlete.
"You look out and there's a smattering of people on this side, a smattering of people on that side, and normally we'd have about 2,500," Canisius athletics director Jim Mauro said. "So it's tough on the kids because these are the games the kids will never forget. And it's a lot, changing the locker room setup. St. Joe's, unfortunately, you come dressed to play. But you do everything you can do to make it work as best you can to keep everybody safe and keep them playing."
Nik McMillan had a game-high five catches for 103 yards and a touchdown for Canisius (1-0). He also had an interception.
Whited caught three passes for 82 yards, scoring twice.
Joe Dixon, Z'Aire Leonard and Jadon Baker each rushed for a touchdown.
And Lamar Thomas returned the second half kickoff 72 yards for a score.
Seven of 11 Canisius possessions began in St. Joe's territory. The Crusaders led 35-0 at halftime and scored three touchdowns in the first four minutes of the second half.
"It was amazing. It felt so good," Tyler Baker said. "We've all just been waiting so long for this moment. It's been like a year and a half, so to get back out here and put up 63 points against our rival, it was great."
Naseem Zeigler had 67 rushing yards on 19 carries for St. Joe's (0-1), which was limited to seven passing yards and 59 yards of total offense.
Paul Swiencicki recorded three sacks for the Marauders.
"It was definitely a ton of fun," St. Joe's junior Michael Noonan said. "We've all been waiting for this for over a year and a half now. Coming out here, all the memories of beating them last year kind of overwhelmed me and I was like, 'Oh, man, we could do this again.' And obviously, first-year program, new coach, new everything, 75% of the team never played football before, so it's a little overwhelming for everybody. But I think we're going to be all right."
The game marked the delayed debut for St. Joe's coach Michael Corona, a Rochester native and University at Buffalo graduate who was hired on Feb. 12, 2020, after spending five seasons as head coach at St. Joseph's By the Sea of Staten Island.
"Obviously, you'd like for the kids to have a better experience their first game, but you don't learn much by winning," Corona said. "Winning feels good, but losing is where you have to sit down and go, 'OK, I went in the wrong direction, I blocked the wrong guy, I didn't cover this dude.' That's where you have to do the real work. We have work to do, which we're going to do, and the kids will get better every week. The main thing is that they're having fun and they're competing and this is an experience that develops them into good men down the road."
There will not be a state Catholic final this season.
The initial Week 1 schedule had Canisius playing St. Francis and St. Joe's playing Bishop Timon, but it was reshuffled with St. Francis' season paused until Monday because of Covid-19.
In Week 2, Canisius will visit St. Francis and St. Joe's will host Bishop Timon on April 6.
"Tuesday night lights!" Robbins said. "We'll take it. Whenever we can play, we'll take it."