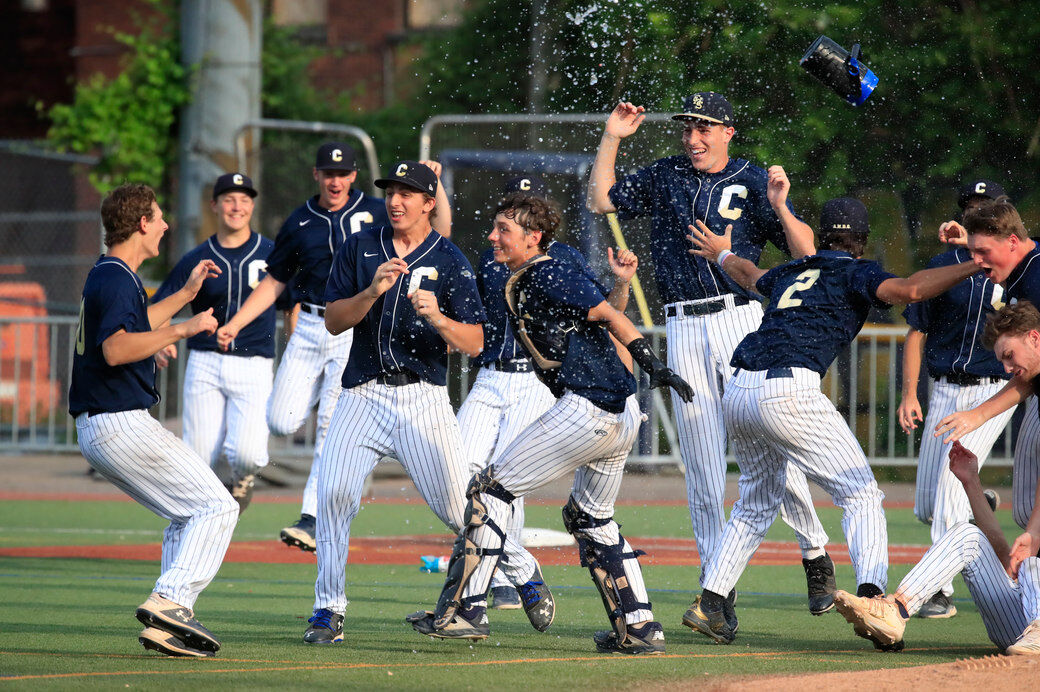 Jacob LaDuca was gassed, but he wasn't going to give up the ball. Canisius High School baseball coach Justin Santonocito didn't plan on taking it from him either.
LaDuca was going to continue battling on the mound because that has been the defining characteristic of the 2021 Canisius Crusaders. With the Georgetown Cup Championship within reach, LaDuca dug deep and blunted an almost sensational comeback by longtime rival St. Joseph's Collegiate Institute.
LaDuca retired the final two batters, stranding the game-tying run at second base in the process, as the Crusaders earned a 14-13 victory over the Marauders on Tuesday night at Canisius College's Demske Sports Complex. With the win, Canisius (15-5) swept the best-of-3 championship series to secure its first Monsignor Martin High School Athletic Association postseason championship trophy since 2016.
LaDuca said he couldn't feel his arm during the championship celebration, noting the soreness probably would come later.
Chances are, the pain will be worth it.
Nardin Academy and St. Mary's of Lancaster waged two stirring games in splitting their two r…
"I knew I wanted the ball in my hands," said LaDuca, who pitched the final 3.1 innings of this slugfest to earn the save. "No matter what it took, I was going to finish off the job.
"Words can't even explain it. I hadn't won a varsity championship for baseball or hockey for four years, so it finally feels great to get one."
Senior catcher Justin Hodil said: "This is something I've been looking forward to accomplishing since I came to Canisius as a freshman.
The Crusaders captured Game 1 of the series Monday, coming from behind to beat the Marauders 5-4 behind Christian Cabrera's tiebreaking homer in the seventh and Tommy Lynch's complete-game pitching effort. It was an entertaining, well-played nail-biter.
Game 2 turned into a heart-stopping finish because of the mettle of the Marauders, who refused to be blown out.
Canisius sent 12 batters to the plate during a six-run first inning and raced to a 9-0 lead through two innings.
St. Joe's (17-5) responded by scoring the game's next seven runs, but the Crusaders scored four more in the bottom of the fourth to make it 13-7. Hodil (2 for 2, five RBIs) drove in two of the Crusaders' runs in the inning with a ground-rule double to right. The Marauders pulled within 13-9 on Tristian Weigand's two-run single in the fifth. LaDuca's bunt single with two out drove in Drew Podlas from third to make it 14-9 in the sixth.
A slightly more comfortable lead. More wiggle-room.
Canisius needed every bit of it as the first four St. Joe's batters of the seventh inning all reached and scored. The last two scored on Brendan Bucello's one-out booming double to left center. LaDuca recovered to retire Jeremy Connor on a nasty 2-2 curveball. LaDuca then induced Chris Casarsa into a game-ending popup to second.
"We were riding him the whole way," Santonocito said of LaDuca. "The kid is just a gamer. Super smart. … He was dead tired, but it shows the kind of grinder that he is."
LaDuca also went 3 for 4 with a walk, reaching base five times. Lynch went 2 for 3 with three runs scored. 
This was the seventh time in coach Paul Nasca's nine seasons that St. Joe's reached the Georgetown Cup championship-game series. They've won three under his watch. He's proud of the way his team battled till the end.
"This team has character," he said. "There's no group I'd rather be with. … We made a couple of gaffes, lost a ball in the sun that hurt us. It just happens that way sometimes."
Canisius started the big first inning the hard way, with Victor Mazzara absorbing a hard pitch off the helmet protecting his head. Mazzara got hit by a pitch twice in the inning and if one counted his final at-bat from Game 1, he got hit by pitch three straight at-bats.
Canisius' first six batters all reached base to force the Marauders to change pitchers, lifting Eric Swiencicki for Griffin Snyder. Hodil greeted him to the game with his two-run knock – the lone multi-RBI hit of the inning.
Hodil later welcomed Snyder's reliever, Mike Noonan, into the game in the bottom of the second inning with sacrifice fly to center.
Every Canisius player in the batting order reached base at least once, while eight of the nine scored at least once.
Weigand finished with three hits and three RBIs for St. Joe's, while Brendan Bucello and Connor each drove in three runs.
"Kudos to Canisius, we're honored to play in a competition like that with a quality team," Nasca said.