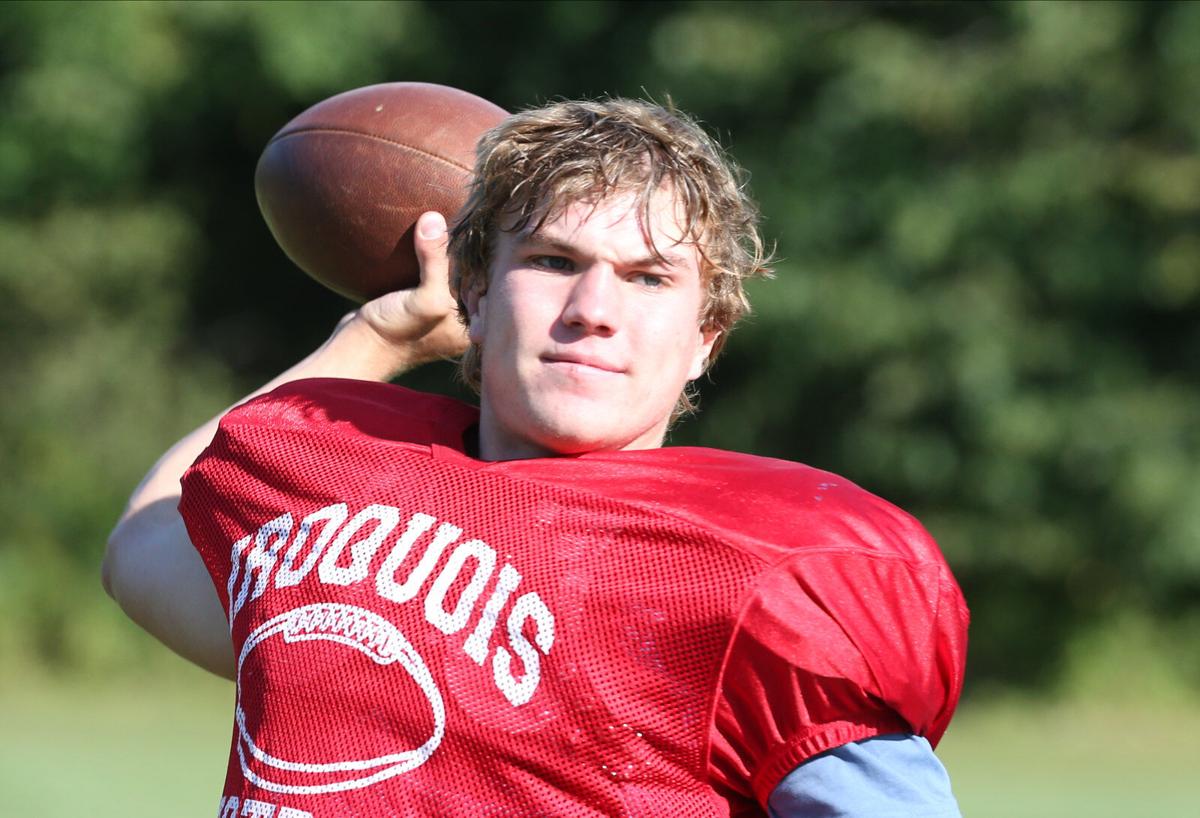 After playing in the final scheduled championship football playoff game of the Covid-19 impacted Fall II season May 15, the Iroquois Chiefs found themselves in a somewhat similar situation again last Saturday night.
They were scheduled to play the last game of a marquee opening weekend of high school football against a very good and determined opponent in Southwestern. Much like last season: the game came down to Iroquois' needing to score from near the goal line to have a chance at victory.
There's where the similarities end.
Iroquois emerged victorious. The Chiefs did it when senior quarterback Trey Kleitz ran in the two-point conversion to secure the decisive point needed with 9.9 seconds left to earn a 22-21 triumph over a Trojans team hoping to reach its sixth straight Section VI Class C final once this marathon of a season is complete two months from now.
Two months from now. There's something to wrap your head around.
Remember, the shortened Covid season meant there were just four games left after opening weekend compared to the seven still on the docket for Section VI teams.
A lot can and will happen between now and the start of the playoffs. A season-opening loss isn't as dire as it was in Fall II.
From an Iroquois point of view, the win is a nice start over a very good team. That's some nice momentum to start off with, but the team understands it's just a beginning. The Chiefs hope to use the positive developments, along with the extra time to hone their game through hard work in practice so that the payoff is capturing the No. 1 ranking among small schools when it matters most – after Championship Weekend at the Ralph, er, Highmark Stadium.
Don't get Iroquois wrong. It's good to be No. 1 in the first poll of the season, but the Chiefs aren't satisfied with their standing heading into Friday's nonleaguer against Tonawanda.
"It shows our hard work paid off, but we know we have to keep pushing so that no one tops us," said Kleitz, a returning third team All-Western New York pick. "There's obviously room for improvement. … I missed a ton of assignments but the fact we were able to pull it out shows us if we have our best game who's there to stop us."
There's still two-time defending Class B champion Western New York Maritime/Health Sciences, which remains the hunted even though it opened with a nonleague loss at Class AA Bennett and has another nonleague toughie on deck at Canisius on Saturday before returning to league play.
Remember, the Falcons turned Iroquois away on four plays from between the 3 and the 1 yard lines in overtime in the sectional final before winning the title on a 1-yard Maurice Vaughn run on fourth down.
That play is something that has fueled the fire for Iroquois, including Kleitz, who bulked up to about 195 pounds so that he can have that little extra oomph to push his way through potential tacklers on rushing plays.
Kleitz didn't get his number called last season in overtime with a chance to give the Chiefs the lead, but he understood why as the team opted to rely on key seniors who helped it get there in that situation.
It's what the Chiefs did last Saturday, except this time the outcome was different.
"For (coach) to have that trust in me, it's just great to get that opportunity," Kleitz said.
Iroquois coach Rob Pitzonka said: "It stems from last spring. I took away from that game saying that we have that senior quarterback back for his third year if we get the opportunity to go for it again from there, I'm going to leave it in his hands. Again, having that game situation to run something like that who knows, we may be put in that spot again in a potential playoff game or a potential division-clinching game and then run against a team like Southwestern who is a perennial powerhouse and have them execute it is only going to help us if the situation arises again during the season."
The rally enabled Kleitz to earn bragging rights with his friend Aidan Kennedy, the Southwestern quarterback. They train together at the same recruiting service. Kleitz also sees other members of the Trojans there, too.
Another positive development was that Kleitz wasted little time finding a potential new go-to target in junior tight end Nate McGoldrick, who caught three touchdown passes Saturday. It's his first three-TD game in high school in his first game as a tight end. McGoldrick served as backup quarterback last season while playing safety on defense. Last spring, Kleitz completed 65 passes but all but one was caught by seniors.
McGoldrick said the roots for his breakout game were planted during the pandemic when he'd attend quarterback meetings via Zoom and practiced as a backup receiver.
Being in the QB room last season also helped, as did going through an offseason in which he trained at tight end two days a week and safety the other two days. He also got some live action play at two seven-on-seven tournaments and helped the Chiefs reach the semifinals of those events.
"I think being trained as a quarterback he sees the field differently than a typical wide receiver would," Pitzonka said of McGoldrick. "He knows where he wants to expose holes. In that first game, he definitely did that. He's put in a lot of work. A lot of those touchdowns was just him being physically strong and running through tackles and finishing plays for us."
Every game is big during football season, but some carry more weight than others. Here are a few games to keep an eye on this week.
• West Seneca West at Frontier, 7 p.m. WSW stunned defending Class A champion South Park last week, while Frontier quietly scored an impressive road win at Williamsville South. The winner of this game won't just be 2-0 but 2-0 in the division.
• Grand Island at Orchard Park, 7 p.m. Another nonleaguer for both teams although GI steps up in competition after routing Class B Cheektowaga last week. Class AA runner-up Orchard Park dropped a 38-27 decision at Class A runner-up Jamestown.
• Franklinville/Ellicottville at Randolph, 7 p.m. Class D contenders meet with defending champion F/E coming off a road win at Lackawanna, while Randolph routed JFK, 47-0.
• WNY Maritime/Health Sciences at Canisius, 1 p.m. Another tough nonleague match for defending Class B champion Falcons. Canisius playing its first game under new coach Bryan Gorman.
• Kellenberg Memorial at St. Francis, 1 p.m. St. Francis looks to build off season-opening win at Carrier Dome Classic over III-Liverpool against a tough New York City Catholic High School League team from Long Island.