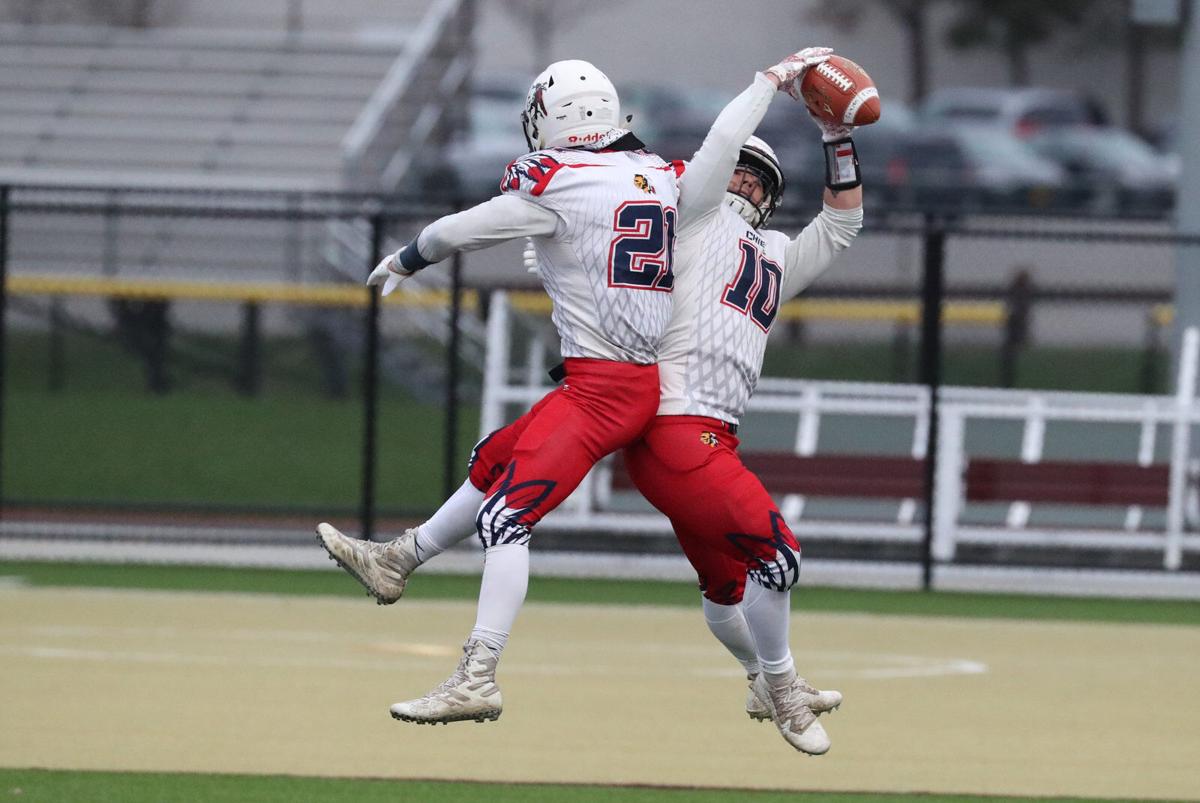 Toward the end of a practice on a snowy day in April, Robert Pitzonka began to trace the outline of a large square next to the Iroquois football team's practice field in Elma. The square was large enough to hold a football team.
When the square was completely traced, and when football practice was finished, Pitzonka, the Iroquois coach, and his assistants picked players to go to two teams. Nobody knew exactly why, or what the coaches were thinking, but the players did it because it was customary for Iroquois to hold some sort of post-practice competition.
Then Pitzonka told the two teams to start throwing snowballs at each other. Instead of a charged atmosphere, a snowball fight turned into a spirited end to an otherwise routine afternoon of practice.
Pitzonka and his coaching staff had a goal: Formulate another way of teaching the Chiefs to be prepared for anything.
"A reason why, with all of these things happening with Covid, why it doesn't faze us, is because I try to have them compete at the drop of a notice," Pitzonka said. "We're in the weight room and I hit the whistle and two guys are matching up with one another, doing some sort of athletic movement, and they're trying to win.
"You never know when your number is called, but you'd better be able to deliver, because your teammates are expecting you to."
Now, instead of pivoting at a moment's notice, the Chiefs prepare for playoff competition. Iroquois (3-0) is scheduled to host Olean (4-1) in a Section VI Class B semifinal at 7 p.m. Friday. The winner will face either Western New York Maritime/Health Sciences or West Seneca East in the Section VI Class B final.
Making the playoffs, Pitzonka said, validates how the Chiefs' players have adapted in an unusual season and in an unconventional school year, during which football season was postponed from the fall to the spring by the New York State Public High School Athletic Association due to the Covid-19 pandemic.
"You always have to be on your toes," said Noah Kedge, a senior tight end. "Last week, we had to game plan for two different teams, and it's just being ready for anything."
The Chiefs didn't make the playoffs in a straightforward fashion. Iroquois' activities were paused after the second day of practices. Then, the final week of the regular season became a series of pivots for the Chiefs. After a 68-6 trouncing of Lewiston-Porter on April 23 in Youngstown, the Chiefs prepared to face East Aurora/Holland in their regular-season finale, a game that could help them finalize a playoff berth.
Three days before kickoff, the game was called off after East Aurora/Holland ended its season due to low participation numbers and injuries. A game against Pioneer was quickly scheduled for 5 p.m. Saturday (May 1), but Pioneer had to pause team activities due to Covid-19 issues.
That left the Chiefs without a game last weekend despite their best efforts to schedule a third opponent. Ultimately, the Chiefs won the Class B-1 title and earned the top playoff seed.
"Last week, to be as hectic as it was, I expected nothing less than for them to handle it maturely and to respond the right way," Pitzonka said. "And we probably had our best week of practice. That was with, knowing our rival game with East Aurora was pulled on us Tuesday, because they didn't have enough players.
"Rumors swirled. Us versus Canisius, us versus this or that, and I said, 'Guys, we've got to go here and focus on ourselves.' Our motto the last couple weeks has been 'We dictate the season. We're the team that dictates what happens to us. Nobody else.' "
Earlier in the school year, the Chiefs wondered if they would have a football season, but when they realized they would, they began informal practices in December.
"We just didn't know when," said running back Blake Nolan, who has 331 yards and three touchdowns on 67 carries this season. "But we were always prepared, whenever it did happen."
Players organized their own practices during the offseason and participated in a local 7-on-7 football league, which helped Iroquois hone its passing game. Quarterback Trey Kleitz is 43 for 72 passing for 703 yards and 10 touchdowns, and was intercepted once in Iroquois' three games; wide receiver Tyler Barry has 19 catches for 336 yards and four touchdowns, and Kedge has nine catches for 207 yards and five touchdowns.
"It helped a lot, being able to run our formations," Kedge said. "We pass the ball a lot here, and that helped our passing game."
When the pandemic first shut down school in March 2020, they moved team meetings to online video conferences, which sometimes turned into online video game tournaments.
In the winter, as they prepared for the spring football season, players organized team meals after workouts.
"Our whole team has always had a great bond," Nolan said. "We knew this team was going to be something special, since the seventh grade. We've been waiting for this year to happen. When we were in seventh grade, our modified team went undefeated, and we realized, 'Hey, we might have something cooking here.' "
It didn't necessarily go to the traditional plan. Iroquois, though, is ready for anything.
"We ended up winning the division because of all the circumstances," Pitzonka said. "It's not the way we wanted to do it. We'd rather earn it. We earned it by what we were able to do, but we would like to play in a game and win that game, too.
"But now, that's all behind us. Our next goal we set is to get to the section championship, and that's the opportunity we have Friday."