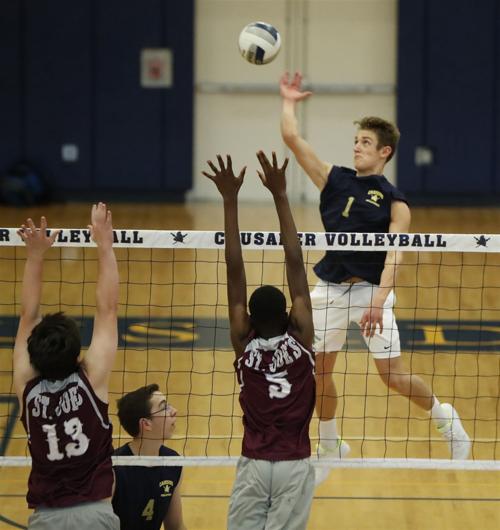 As playoffs continue, get yourself ready for today's #PrepTalkLive action with everything you need to know about the day ahead in high school sports.
What to watch for Tuesday
1. Boys volleyball - Canisius at Clarence, 6 p.m.
No. 1 vs. No. 2. Public school vs. private school. A collection of some the top talent in Western New York. What more could you ask for in a boys volleyball match?
Henry Payne and the No. 2 Red Devils (17-3) are winners of seven straight since their last loss late in September and have also won tournament titles at Sweet Home and Orchard Park. Meanwhile, Chas Palka, Griffin Schmit and the top-ranked Crusaders (24-2) have passed almost every nonleague test so far this year with wins over Frontier, Eden and Section V power McQuaid.
2. Girls soccer - Class A semifinals
Williamsville North hosts today's Class A-1 and A-2 semifinal quadruple-header.
In A-1, 2-Williamsville East (14-3) and 3-Williamsville South (10-6) start at 6 p.m., while 1-Grand Island (16-1) and 5-Hamburg (8-9) square off at 8 p.m. The Flames, led by reigning Prep Talk Player of the Year Marissa Birzon (34 goals, 12 assists), dominated South, 4-1 and 6-1, in ECIC II regular season play. Birzon might have some competition for the honor this year in Grand Island's Madisyn Pezzino, who has 65 goals this season on her way to setting the New York State career goal-scoring record.
In A-2, 2-Pioneer (14-3) and 3-Amherst (12-4-1) play the early game at 6 p.m. simultaneously on a second field, which will be followed up by 1-Lew-Port (12-3-2) and 4-Starpoint (13-3-1) at 8 p.m. The Tigers beat the Panthers in overtime earlier this season, 4-2, after scoring twice in the extra period. The Lancers feature a 16-goal scorer in Kerstin Crum, while Kristen Prohaska leads the Spartans with 33 goals.
3. Boys soccer - Class AA semifinals
3-Lancaster (12-3-2) and 7-Kenmore West (7-9-1) start off the evening at 5 p.m. in a double-header at Sweet Home. The Legends are 8-0-2 in their last 10 games, including wins over Orchard Park and Lackawanna, after losing three in a row in the middle of the season. The Blue Devils are the surprise team of the bracket with its 3-1 quarterfinal upset of 2-Williamsville North, which held the top spot in the large schools poll for the majority of the season.
1-Clarence (14-2-1) and 4-Orchard Park (11-4-2) play in the nightcap at 7:30 p.m. The Red Devils shut out the Quakers in both ECIC I matchups this year, 1-0 and 3-0.
4. Girls soccer - Class C semifinals
2-Holland (13-3-1) and 3-Allegany-Limestone (15-2) are set to battle at 6 p.m. in the first game of a double-header at Dunkirk. The Dutchmen offense is headed by 20-goal scorer Laura Schiltz, while the Gators have three scorers in double figures: Senior Danielle Spring (21 goals) and freshmen Alyssa Spring (16 goals) and Molly McClelland (15 goals).
1-Maple Grove (17-0) and 4-Frewsburg (12-6) close out the action at Dunkirk at 8 p.m. The Red Dragons, led by Adrianna Carlson's 21 goals, are the lone undefeated girls soccer team left in Section VI. The Bears lost to Maple Grove twice in a row to open the season, 4-0 and 2-1, but feature two 20-goal scorers in Maddie Sohl (22) and Gabby Iuculano (20).
5. Girls volleyball - Sacred Heart at Frontier, 6 p.m.
No. 4 small school Sacred Heart (12-2) heads to Frontier (4-9), an honorable mention large school, for a nonleague matchup. Both Sharks losses this year have came to No. 1 St. Mary's of Lancaster in Monsignor Martin play. The Falcons may not have the most impressive record, but playing against top 10 large schools Lancaster, Clarence, Orchard Park in the rugged ECIC I division will do that to you.
#PrepTalkLive updates: While we follow ALL the high school action via our Prep Talk team, we encourage YOU to also tweet updates from the games you are attending with the hashtag #PrepTalkLive attached.
#PrepTalkSpirit: Show us your school spirit by tweeting us fan photos with the hashtag #PrepTalkSpirit and we'll highlight one every week.
- Prep Talk Athletes of the Week: Coaches can nominate players by sending a name and details of the week's accomplishments to sports@buffnews.com by no later than Saturday night
- As always, we'll monitor today's action in our #PrepTalkLive post
Get in the game with our Prep Sports Newsletter
Sent weekly directly to your inbox!