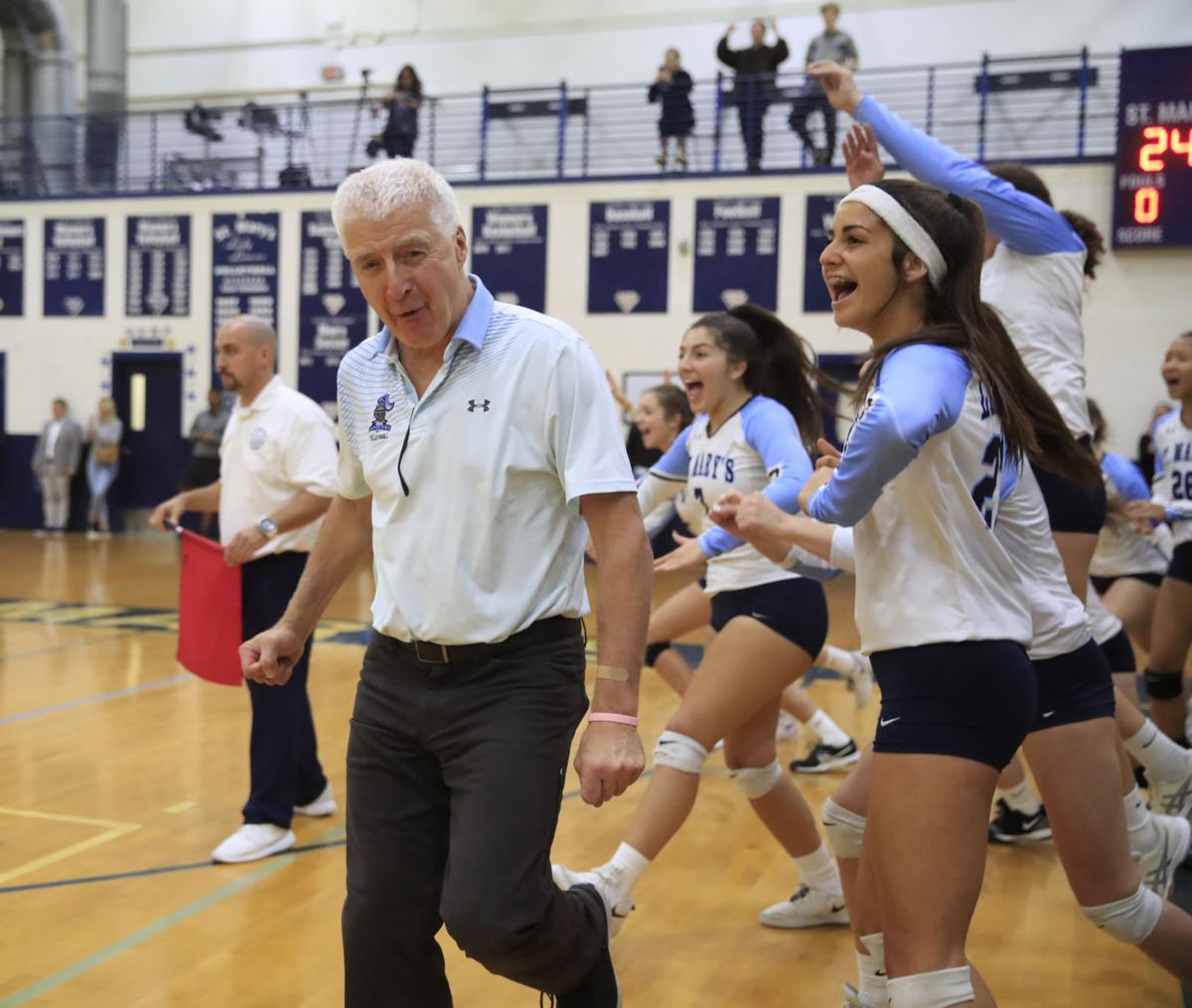 The St. Mary's girls volleyball team had an unforgettable season capped by winning the state championship.
With several key players expected to return from that outfit – including Courtney Kurkowiak, Jordan Hummel and Sam Gary, the obvious goal was for the Lancers to pursue their fourth New York State Catholic High School Athletic Association crown in five years and 18th in program history.
Instead of getting ready to deliver an encore performance, coach Don Pieczynski's crew prepares for the unknown.
Like all high school volleyball teams in New York state, the Lancers may or may not have a season because the Covid-19 pandemic continues to cause chaos in high school sports.
In two weeks, the high-risk fall sports can begin limited practices in small groups that involve no- to-low contact while waiting to see if Gov. Andrew Cuomo allows them to hold competitive contests. Right now, it's just practice.
And a whole lot of uncertainty, as the New York State Public High School Athletic Association continues to work on the do's and don'ts for those practice sessions.
It's up in the air when any boys or girls volleyball team in the state will get to play matches because state government officials deem it a high-risk sport along with football and competitive cheerleading.
The virus has already delayed the start of all fall sports from Aug. 24 to Sept. 21. It has led to the cancellation of the NYSPHSAA and NYSCHSAA fall championships.
Only low-risk fall sports are allowed to practice and play games, although Cuomo has left the final call to districts as to whether schools will allow sports this fall, with the NYSPHSAA releasing guidelines last Friday night for sports in the low-risk category on how to proceed with their coming seasons.
"If we start on the 21st and there's no word on length of the season, you just can't plan anything," Pieczynski said.
"Practice is good, but kids really improve when they're competing against another team," longtime Williamsville East girls volleyball coach Scott Wright said.
Folks in the volleyball community, while understanding the need for safety, aren't thrilled their sport is considered high-risk in this state while the NFHS guideline for the sport is that it's moderate- to low-risk. It's believed to have high-risk status because it takes place indoors with a volleyball that could touch 12 hands on a given point.
The NYSPHSAA said last week it doesn't have the authority to override a decree from Cuomo and his state officials.
Rocco Luccia Jr., the Club Director for Niagara Frontier Volleyball, sent a letter to the Empire State Development Corporation trying to sway politicians to change the status of the sport.
"I don't see them wavering on that," Section VI Executive Director Timm Slade said.
"Department of Health has held their stance on that," Pieczynski said. "I don't know their exact reasoning. I'm sure it's because they're inside and everyone touches the ball."
If that's the case, Pieczynski says there's a solution.
Use a system in which sanitized volleyballs are used at the start of every point. In addition to that, players wash or sanitize their hands before entering the match.
"If you have two sets of hands sanitized, where's the danger? We have one of the lowest infection rates in the country," Pieczynski said. "You look at soccer, they're using the same ball and (there's contact)."
Longtime Eden boys volleyball coach and Niagara Frontier Volleyball skipper Robert Pierce doesn't agree with the state classifying the sport high-risk.
While indoor volleyball clinics have been limited to just 10 participants throughout the summer, athletes have gotten their drills and skill work in without any incidents, he said. They haven't played matches because they need 12 players allowed to gather in order for a 6-on-6 match to take place.
"In the club we're still not going 6-on-6, we're spraying the ball and there's a lot of cleaning we're doing that a school may not be able to do," Pierce said.
Pierce isn't opposed to moving the season to the spring but adds he'll coach whenever teams are given the OK. The NYSPHSAA is giving sections the opportunity to choose whether they want to hold a high-risk sport in the fall or move it to the spring to be played between early March and May.
Of course, not knowing whether teams will be allowed to play games during the true autumn is something that needs to be cleared up.
"It would be hard for any athlete to train and get really hyped up not knowing if they'll have a season," Pierce said.
However, Wright also pointed out something that's kind of been lost.
"I definitely don't want to be the coach who runs a kid out who's sick and starts something," Wright said." I see both sides of it. If I was a parent, I'd love my kids to compete. I'm a coach and I'd love to see my kids compete, but I don't want to see anybody else put in jeopardy."
Pierce, meanwhile, said his main job at the moment is as an educator. Kids have missed a lot of school and he and other teachers need to help them play catch-up.
"My main energy now is academics," said Pierce, who teaches social studies. "If we can do the athletic piece down the road, great. But let's just worry about getting this right first and getting the kids caught up on what they missed in the spring."
Section VI girls volleyball chairwoman and Frontier girls coach Debby Schruefer said the high-risk status is something the sport is going to have to deal with while waiting for more guidelines on how to conduct practices coming from the NYSPHSAA. The guidance is expected later this week, perhaps Wednesday.
"We will be reaching out to our sports' chair people to answer any questions that they have (about the NYSPHSAA return to play document)," Section VI Executive Committee President Brett Banker said in a statement Sunday night. "We will open the lines of communication further by surveying our membership, interpreting the results and determining where we are as a Section. We hope to have a clear direction this week."
The bright side to all of this, according to Schruefer.
"We're just glad we haven't heard the word cancel," she said.
Get in the game with our Prep Sports Newsletter
Sent weekly directly to your inbox!