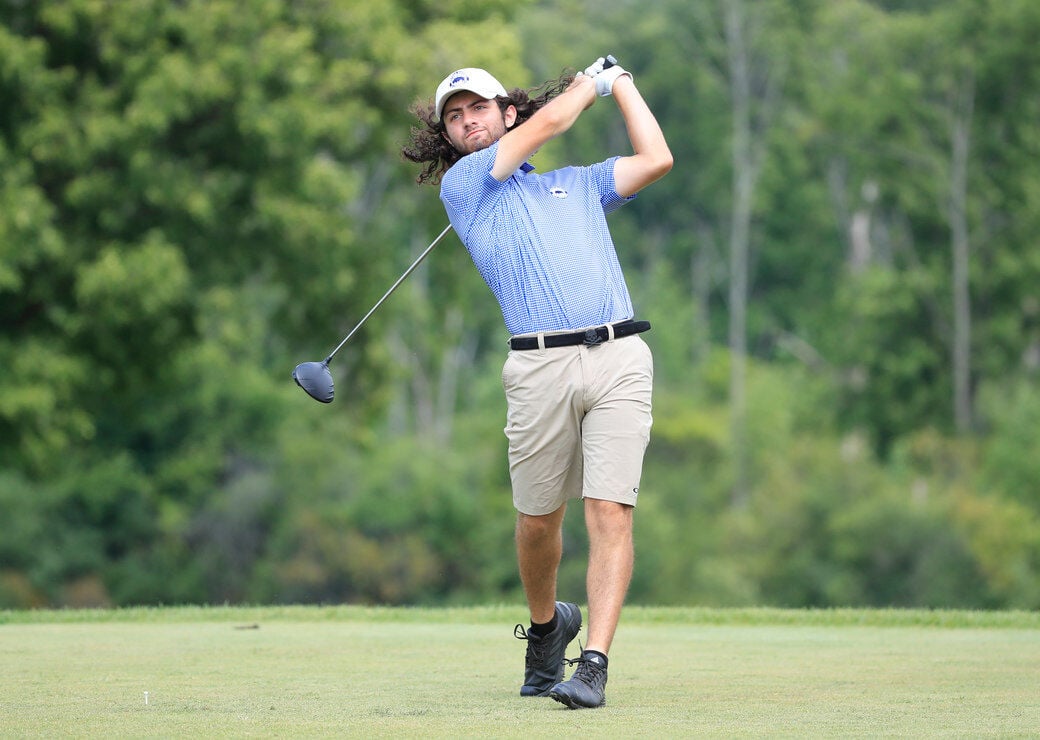 Orchard Park and Niagara Wheatfield are familiar names that chalked up victories Tuesday in Western New York boys high school golf championship events.
After missing a year of competition with the Quakers, Charlie Fischer shot 74 at Diamond Hawk in Cheektowaga, leading Orchard Park over Amherst, 485-514, in the championship match for its seventh ECIC team title in the last 10 years.
Michael Wolski of Lancaster also shot 74 and beat Fischer on the first playoff hole with a birdie to capture overall honors. 
"I played decent golf throughout the day, made the putts that I needed to make coming down the stretch," Wolski said. "I knew where I stood throughout the whole day and I think that helped me dig deep towards the end."
Wolski now has the winter to prepare for the Section VI championships and potentially a berth in the state tournament.
"I'll be tuning up my swing over the winter and working out," he said. "It will be lots of time at the dome this winter to work some things out. Other than that, just setting the goals I have for next year and making sure I take the right steps to complete them."
After an off year when Lockport won, Niagara Wheatfield is champion of the Niagara Frontier League, edging Lewiston-Porter by just two strokes, 449-451. Lew-Port's Rocco Randazzo won the individual medal, winning a playoff over R.J. Delisanti, younger brother of Niagara Wheatfield's Anthony Delisanti, who has moved onto college after winning Niagara Frontier League individual honor for four years.
Randazzo, a junior who qualified to play in the 2021 Porter Cup, won the playoff after he and Delisanti tied with 79s after 18 holes at Willowbrook Golf Course.
Jake Dantonio of St. Mary's of Lancaster was the medalist for the third year in a row in the Monsignor Martin Athletic Association tournament, but this time he had to share the honor with freshman Jake Tebeau of St. Francis and senior Robbie Cehulik of St. Joe's with 74 scores at Lancaster Country Club.
Besides Fischer, senior Conor Balen (78), freshman Enzo Clarici (79), senior Tyler Keller (82), sophomore Garrett Senfield (83) and Michael Robertson (89) scored for Orchard Park in its victory. Matt Stewart had an 80 to lead Amherst.
Dantonio, Tebeau and Cehulik made All-Catholic first team and will lead the Monsignor Martin contingent at the State Catholic High School tournament at James Baird State Park in Poughkeepsie next June 6.
Others who earned All-Catholic first team were senior Brendan Reid of St. Francis, senior Steven Bleck of Canisius, and junior John Boscasrino of Nichols. Reid shot 76 on Tuesday while Bleck came in with 78 and Boscarino at 79.
Dantonio won the medal with a 71 as a freshman at the Springville CC and a 74 last year.
Besides Randazzo and Delisanti, other low scorers in the NFL tournament were: Tom Cavarello (Kenmore West) 81, Anthony Gaylord (Lockport) 83, Lucas Mateyevich (North Tonawanda) 85, Adam Firkins (Lockport) 86, Ryan McAvoy (North Tonawanda) 86, Dominic Townsend (Lew-Port) 88 and Josh Gleason (Niagara Wheatfield) 89.
Note: An earlier version of this story incorrectly stated the winner of the ECIC playoff.