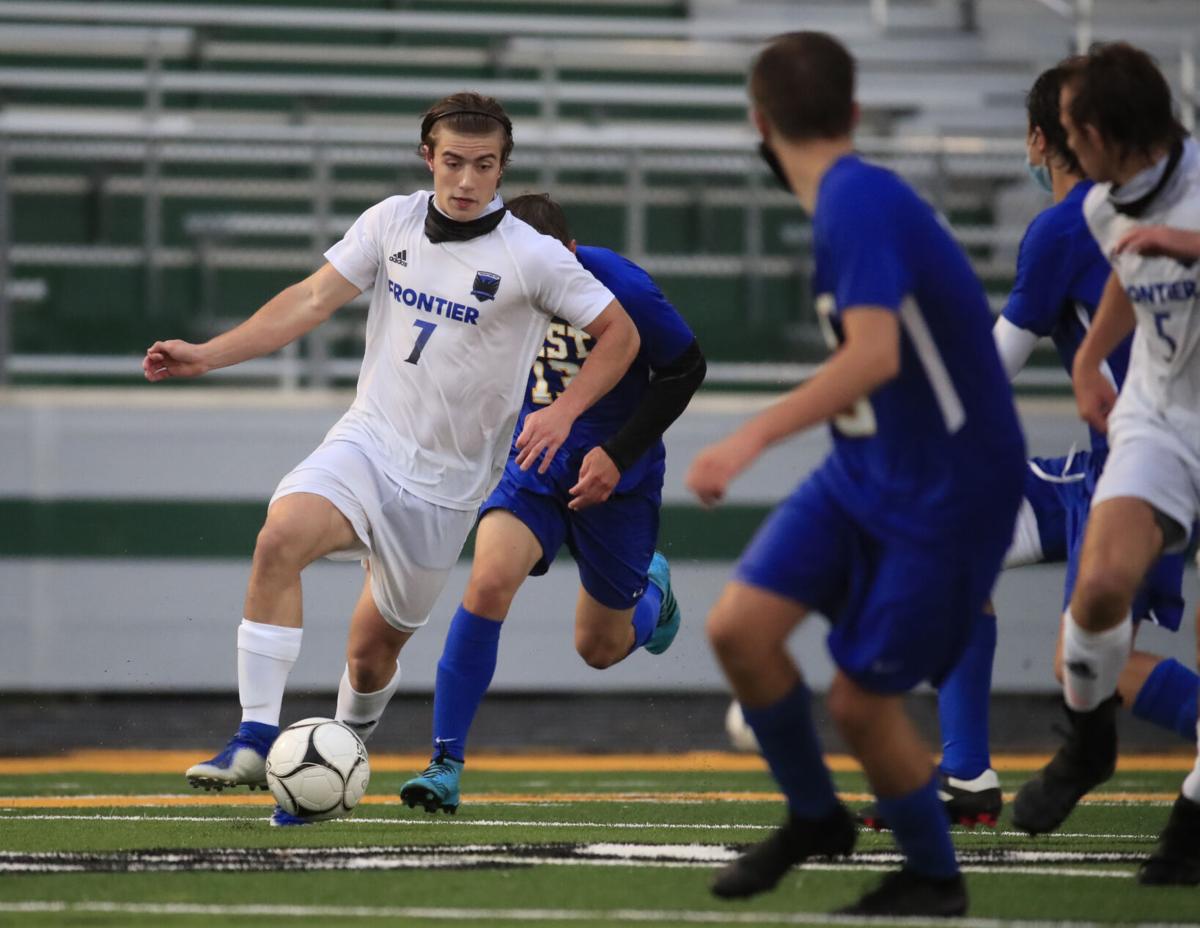 Jon Czajka was just trying to motivate his tired Frontier teammates when the senior decided to think outside the box during a series of sprinting drills.
That explains how Czajka opted to do the sprinting drill running backwards. How fast was the 6-foot, 170-pound, physically fit striker backpedaling? Fast enough that his teammates, who were all running forward, couldn't catch him.
"We had to do a lot of sprints, so I was just trying to keep them going and get them through it," said Czajka, who is in his fifth varsity season.
That's just one method Czajka uses while trying to lead the Falcons. The way he typically contributes is via his ability to put the ball into the opposing team's net. He's closer to doing that better than any other Frontier boys soccer player in program history.
Czajka has scored 49 goals during a scholastic career that began as an eighth-grader for the Falcons. That is three off the record of 52 set by Sotir Tanevski 30 years ago. Tanevski also is the program's all-time points leader (132), and though University at Buffalo no longer has a men's soccer program, he ranks in the top 10 of the program's all-time goal scorers.
"It'd be cool for sure (to get the record)," Czajka said, "but my senior year, I'm more concerned with winning whether it's scoring or getting an assist. I'd rather be winning. The record is just a bonus."
Winning has been tough to come by for Frontier, which had been experiencing a resurgence in the sport during most of Czajka's time on varsity. The Falcons are off to a 0-5 start and have scored just four goals. Czajka has three of them, and he hoped to add to that total during Tuesday night's game against defending Section VI Class B champion Lackawanna.
"The teams are tough this year," said Czajka, who typically has been the focus of opposing defenses, which look to take away his time and space. "It's really just capitalizing on the chances I get. When I do get it, I have to be precise and accurate. Going into these next few games, it's just a lot of running and moving around so I can give myself a chance to have some space and score."
A player doesn't score as many goals as Czajka has during his career, playing in a division with the top public schools teams in the area, by accident. He's good.
After scoring just four goals as a small eighth-grader, he doubled that output his freshman year and followed that with a 14-goal effort during a sophomore season cut short by a broken leg just before playoffs that initially was believed to be career ending. Doctors realized during surgery it wasn't as severe as initially believed, although Czajka faced a long road back.
He tackled rehab as if he were chasing down a cornered defender for the ball, aggressively. He returned leaner and stronger as a junior, scoring 20 goals – fourth most in a single season in Frontier history.
It is believed Czajka is the first ECIC I player to have a chance to score 50 career goals since 1996.
"For him to get this close even in a career is a big deal for Class AA," Frontier coach Rick Kozak said. "And he's scored against every team in our division. … This is the Holy Grail of Frontier records (he's closing in on). Locally in the Southtowns, this is a big deal."
"That's a lot of goals, I don't care who you're playing," Williamsville North coach Dave LaMastra said. "He has a nose for the goal. He has a big body and he doesn't waste his opportunities. He's not afraid to pull the trigger. He's interested in being the guy, and that's important for a forward. He wants to get the ball to the net all the time."
Czajka started playing soccer at age 4, introduced to the sport by the daughter of a next-door neighbor who currently plays for Frontier's girls team.
He's been hooked ever since, and while he doesn't have the time to commit to playing for a premier club team (he has a part-time job), he stepped up his game during the offseason by playing in a men's league featuring former Division I players, current college players and some semi-pros.
Czajka thought he was in shape, but during his time in that league, he realized he had to take his fitness to another level. He typically works out for two hours before practice. In season, he's focusing more on upper body to reduce wear on his legs. Out of season, he also does exercises meant to increase his speed, strengthen legs and his core.
Czajka hopes this leads to a playing opportunity after high school, whether it's college or a chance to train at one of the academies in Europe.
"That would be almost like a dream come true," he said. "I'm just trying to keep a level head but going over to Europe to play would just be crazy."
For now, his focus is on helping Frontier win. 
"In soccer, the ultimate compliment is being known by only one name – Pele, Messi, Ronaldo," Kozak said. "At Frontier, 31 years ago it was Sotir. Now it's Czajka."
ECIC II tough
This division bears watching with Class A-2 champion Williamsville South among two in the top five of the Western New York Coaches Poll. South is ranked fifth. Unbeaten Williamsville East is third at 3-0.
Hamburg is 2-1-1 and ranked ninth with an OT loss to Williamsville South.
The Bulldogs return most of last year's team except for three. They're a hungry bunch, according to coach Mike Chieffo.
"I'm still expecting great things from the boys," Chieffo said. "We have great leaders returning and a couple of the top players in the area, Dylan Miskell and Brady Reinagel."
Blonde ambition
The Blondes, er Williamsville North, is 4-0 and atop ECIC I (3-0) after scoring wins over Lancaster and Allegany/Limestone.
The Spartans hope to win their first sectional title since 2015. With postseason games being hosted by high seeds, more wins can only help North's quest of having teams come to its complex during the playoffs. In non-pandemic years, semifinals and finals are played at neutral sites.
"You want to be home as much as you can be," LaMastra said. "That'd be a big benefit."
Get in the game with our Prep Sports Newsletter
Sent weekly directly to your inbox!