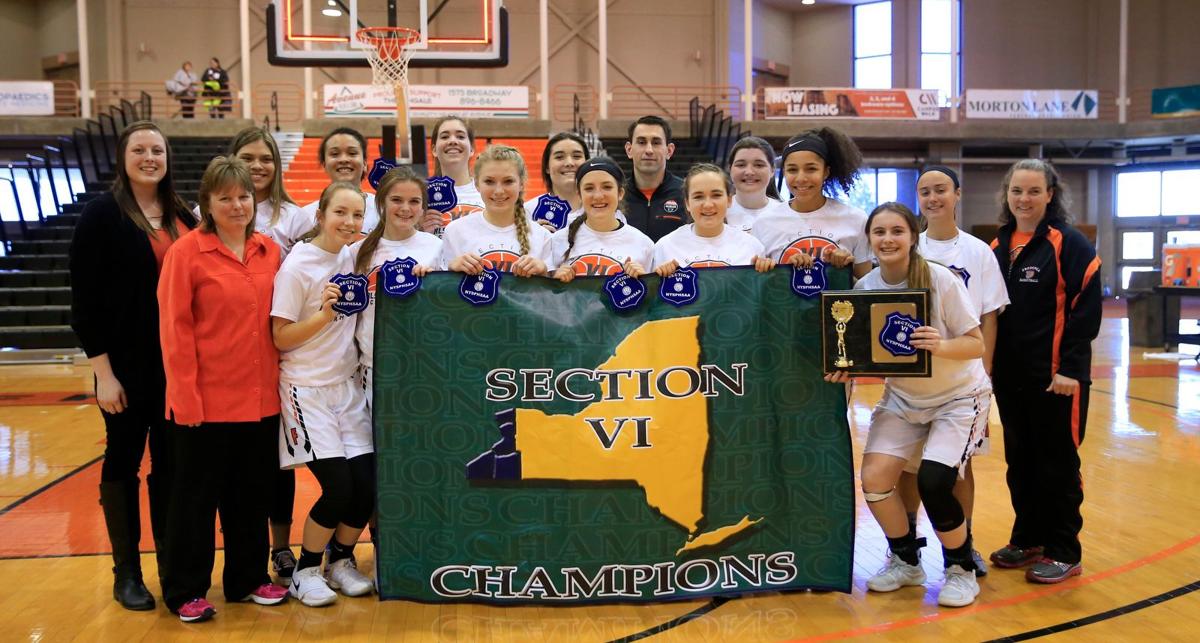 Dunkirk and Fredonia brought their rivalry up the Thruway with the stakes raised higher than ever before.
Meeting in a sectional final for the first time, Fredonia pulled away in the second half to defeat Dunkirk for a third time this season, 72-37, and repeat as Section VI Class B-1 champions in front of an estimated crowd of 500 people Sunday at Buffalo State Sports Arena.
"We were all really excited that it was a rivalry game," senior co-captain Bre Rosen said. "It just added to the excitement of coming back to Buff State. It was really awesome for our community because our towns are right next to each other. A lot of people came out to support us."
Katie Price, Fredonia's other senior captain, led the way with 30 points, five rebounds and three steals. Gracie Morrison had 16 points, six rebounds and five assists. Beers chipped in eight points, eight rebounds and seven assists.
Fredonia (12-12) will now face Southwestern in the Class B crossover on Wednesday night back at Buff State, looking to return to the state semifinals.
While Fredonia was playing in its fourth straight sectional title game, it was Dunkirk's second finals appearance and first since it won the Class B title in 1983.
After winning just one game last season, the Marauders (11-13) came together under first-year coach Darnell Baldwin. With five sophomore starters, they won three playoff games as the No. 11 seed on their way to Buff State.
"If you instill the belief and then come with the hard work, anything can happen," Baldwin said. "This is the standard for Dunkirk basketball now. I hope that we can continue to improve."
Fredonia needed to upset No. 1 seed Newfane to get back to the sectional final as the fifth seed.
"People kind of underestimated us because we lost so many great seniors from last year," Rosen said. "But I know when we work hard, we can accomplish our goals. We knew what it would take to beat this team. They hadn't been here before but we have, and we knew what we had to do to get things done."
Fredonia opened the game on an 8-0 run but Dunkirk dug out of the hole to make it 12-10 by the end of the first quarter. There were three lead changes and two ties in the second quarter before Fredonia built its advantage to 28-23 going into the halftime.
The second half started just like the first, with Fredonia scoring the first eight points. This time, Fredonia preserved its lead and closed the quarter with a 14-1 run that put the game out of reach.
"We made some adjustments at halftime and our defense really picked up," Fredonia coach Carol Zirkle said. "I'm very happy with how we came out and kept our composure."
Kymi Nance scored a dozen points to lead Dunkirk. Nance was able to penetrate Fredonia's defense in the first half but couldn't find the same driving lanes later in the game.
"She's taking this loss harder than anyone else on our team," Baldwin said. "I expect nothing but greatness from her."
Get in the game with our Prep Sports Newsletter
Sent weekly directly to your inbox!