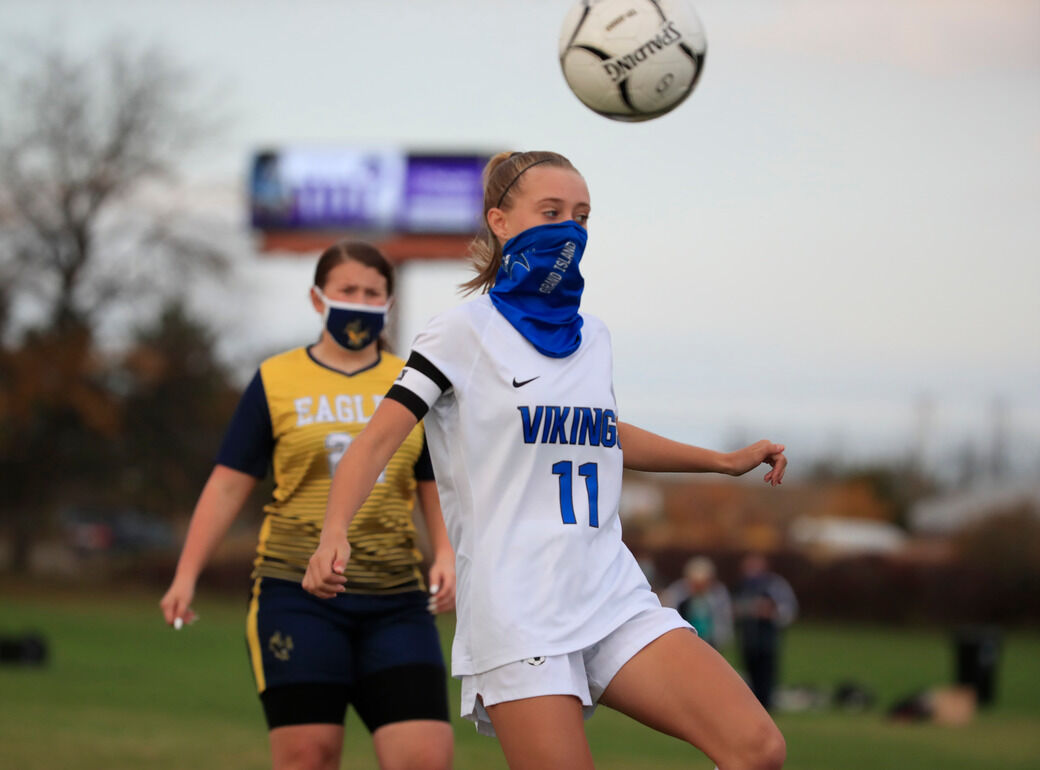 Grand Island junior Avery Mondoux is a self-described soccer freak.
If she's not playing or thinking soccer, she's doing something related to the sport.
Her father, John, confirms Avery's description.
"To see her bedroom, there's nothing but soccer stuff on the wall," he said. "There's even a foosball table in her room. It doesn't look like a little girl's room. ... She's die-hard soccer."
Avery is more than just a passionate fan. She's a scary-good player on the pitch – yet another soccer standout in a long line of them to come out of Grand Island. Avery is a legitimate Division I prospect. She's also, potentially, a recruiter's dream. She is a 4.0 student in the classroom.
She led the Vikings in goals with 17 and points with 43 heading into Wednesday night's clash against North Tonawanda. Her goal and point totals both rank third in Section VI. The goals total stands fourth overall in Western New York. More importantly, the Vikings once again are contenders for the Niagara Frontier League title and Section VI championship.
Pasqualetti has been named Track and Field News' High School Girls MVP for the 2020 season.
"Her love for soccer is evident every time she takes the field, whether it is a game or practice," Vikings coach Dave Bowman said. "She is so important to Grand Island because of her talent with the ball, her finishing skills, which show with her being one of the leading scorers in Section VI, and her setup ability. Her skills are far beyond just finishing goals, she beats defenders and then finds teammates incredibly well, putting them in a position for great scoring opportunities. She is one of the best true finishers with both feet that GI has seen in some time."
Avery's athleticism and skill set have stood out since she gave the sport a try at age 4.
"She was leading the pack all over the field," John Mondoux said. "The coach's jaw just dropped.
"She's always been really athletic. Even at a young age I could whip a baseball at her and without fear she'd stand there and catch it. Even ice skating, I grew up playing hockey. The first time I put her on the ice, she didn't need any help at all. She had no problem doing it."
John Mondoux also said running track on the indoor team at school last year made Avery a faster player on the pitch.
But it is always soccer season for Avery.
Nichols' boys soccer team has used past disappointment as fuel for its unbeaten start and rise to No. 1 ranking in the Western New York Coaches Small Schools poll.
When she's not playing for her high school team, she's playing for her premier team out of Rochester, Empire United, four to five times a week. She also works with a personal soccer coach, Michael Ertel. And in her free time, she works out on her own on the turf field at the school, which is just five minutes away from her home.
"I just put my full commitment into soccer," she said. "I want to play soccer in college. You have to have your full commitment into that sport, so that's what I'm doing now."
The Covid-19 pandemic has slowed down the recruiting process.
"I still have a lot of time; we'll see how it goes," Avery said. "Being a student-athlete has always been a priority, especially being able to play in college. … There definitely have been tough times trying to keep up with schoolwork, but I've always found a way."
Wang capped her high school comeback by winning the Section VI singles championship Saturday night at Miller Tennis Center.
"Her dedication to the sport of soccer and the teams she plays for makes her a truly unique player that anyone would love to have on their roster," Bowman said. "Grand Island has and will continue to benefit from her drive to be better and make those around her the best they can be."
– St. Mary's scoring sensation Shae O'Rourke crossed the 100-goal milestone with three goals Wednesday against Nardin, giving her 101 in 43 career games. She has 25 goals in six games this season. Nardin won in double overtime, 6-5.
– Unbeaten East Aurora has steamrolled opponents by a combined 58-1 during its 8-0 start. The Blue Devils lead ECIC III. Their closest pursuer is Iroquois, which they defeated, 5-1, earlier in the season. That was the only time East Aurora failed to scored six or more goals in a game. The offense is led by Section VI leading scorer Anna Bean (22 goals, 60 points), followed by teammate Katie Kivari (19 goals, 47 points).
– Game of the week: It's a super duper non-league clash of defending champions. Grand Island visits Clarence at 7 p.m. Friday. Defending Class AA champion Clarence is 8-0, while reigning Class A champ GI had a 9-0 mark entering Wednesday.