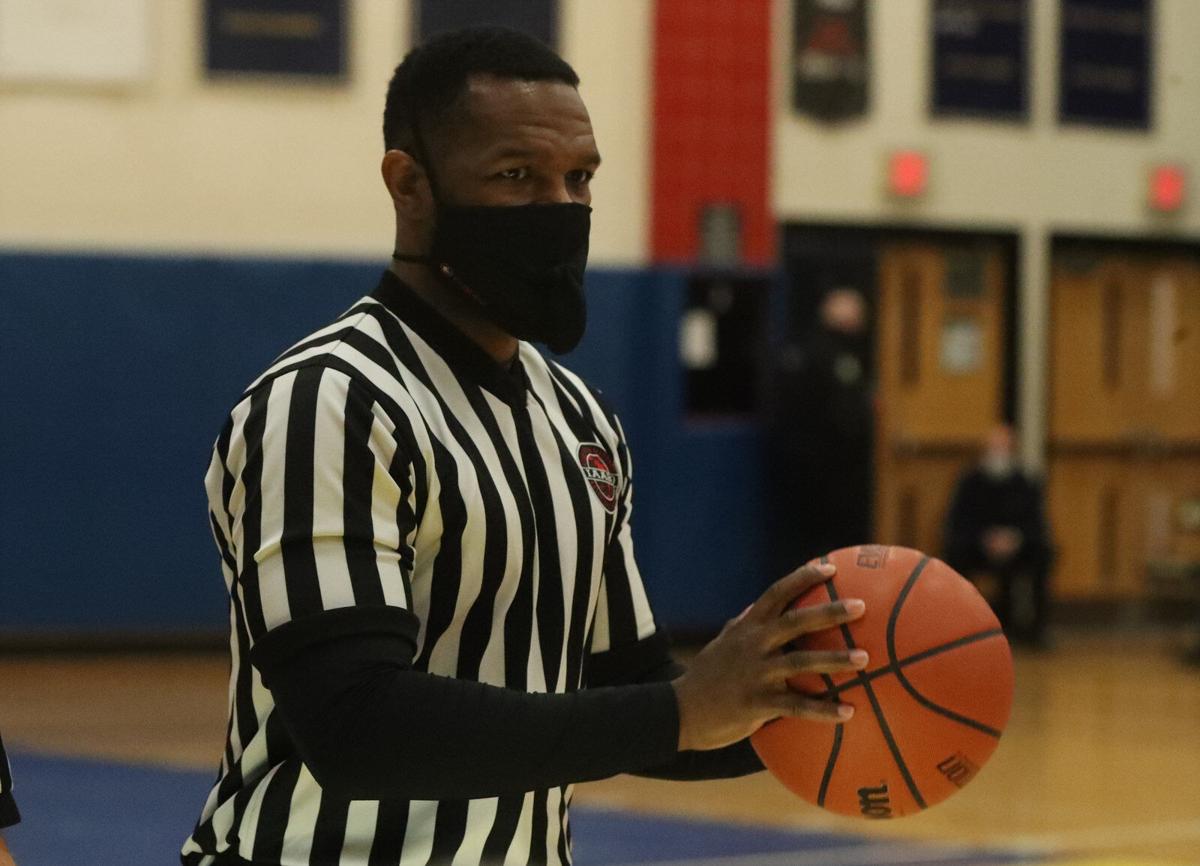 Ka'Ron Barnes and Phil Stasiak played high school basketball in different eras, but they got to run up and down the court together Thursday night at Hamburg.
The two didn't combine for any points or impactful plays. They did call some fouls.
That's their job as referees.
Two of the all-time leading scorers in Western New York history are among the latest former scholastic players to become officials. Barnes, who shined at now defunct Turner/Carroll, and Stasiak, the former Williamsville South star, likely won't be the last.
They join a group that includes the Konst twins (Justin and Jeremy of Williamsville East and Buffalo State fame), Mike O'Bryan (Kenmore East and Buff State), Steve Kensy (Maryvale), Dan McFarland (St. Mary's and Hilbert), Greater Buffalo Sports Hall of Famer Benjamin Bluman (Riverside and Buffalo State) and his son Kory Bluman (Williamsville East). Another to keep an eye out for down the road is newcomer Anthony Battaglia (Depew).
"I didn't really have an ambition to become a referee, but I did have an ambition to get back into the game some sort of way where I could help the kids and pass along the knowledge of basketball," the 38-year-old Barnes said.
Officiating gave Stasiak, 28, an outlet to stay in the game after an Achilles injury ended his college career at Medaille.
"My father has been a referee for 20 years," Stasiak said. "I love the game. I wanted to stay part of the game. I got injured playing college basketball. I just took it and ran with it. I love working with the kids. I love giving back."
Barnes has been an official since 2016, but is in his second year calling varsity games. Though he got a late start, he's already earned chances at officiating Division II and III college games.
Barnes graduated from Cornell University as one of its all-time greats in 2004. He was inducted into the Cornell Athletics Hall of Fame in 2010 after finishing his college career ranked fifth all-time in program scoring (1,382 points), third in steals (150) and games started (88) and fourth in free throws made (308) and assists (327). The two-year captain averaged 20 points per game as a senior, earning first team All-Ivy League and National Association of Basketball Coaches' all-district team honors.
He played two seasons professionally overseas before returning to the United States, where he went to work at ESPN in studio production. He cut highlights and video montages for various shows, including "SportsCenter." One of his last assignments was working on site at Augusta National as part of the network's coverage of the Masters. He got to walk the course during the last round.
"That's the greatest place I've ever seen and watching it on TV doesn't do it justice," Barnes said.
Barnes left ESPN to serve as an assistant coach at Army (West Point) for two seasons. He then returned to Buffalo, first working at Bank of America in the corporate office. He's currently director of urban affairs for the City of Buffalo as part of Mayor Byron Brown's administration.
Barnes had a good reason for not pursuing a coaching career.
"There were aspects of coaching I liked but I realized after those two seasons I wasn't going to do it for the rest of my career," Barnes said. "It was definitely fun but the lifestyle of the coach, it's a grind."
During his scholastic playing days, the point guard helped Turner/Carroll win back-to-back New York State Federation Tournament of Champions titles, Class C in 1998 and Class B in 1999. He scored 1,549 points in his high school career.
Barnes has crossed paths with players he either competed with or against in high school, college or rec leagues who are now coaching games he officiates. The list includes Brian Ferris (St. Francis), Andrew Bush (Olmsted), Brandon Woods (Sweet Home) and Chris Kensy (Amherst).
The interaction is interesting.
"It's one of those things where if you know somebody, it's easier to have a conversation because you know each other's temperament," Barnes said. "They may not be as boisterous when they're arguing a call in the heat of the moment. If you know each other and there's a level of respect, it'll be a more respectful asking because I can explain why I made the call I made or why I didn't make the call. … There's almost a calm that comes over the coach."
Stasiak, on the other hand, has called games featuring a lot of coaches who used to conspire to stop him during a playing career in which he scored 1,641 points. That includes Zaire Dorsey (McKinley), Chuck Swierski (Williamsville North), Larry Jones (Depew), Mark Kensy (ex-Maryvale coach, now an assistant at Amherst) and Starling Bryant (East).
"It's just good to see them still coaching," said Stasiak, who is in his fifth year calling varsity games. He also officiates Division II and III college games. "Now I'm getting yelled at by them for calls I supposedly missed or calls I made. It's just good seeing familiar faces on the sidelines and helping kids out."
While the majority of coaches recognize Stasiak, who was a three-sport star and also earned All-Western New York honors in football and baseball, there are a handful of current scholastic athletes who remember him as a player, he said. Most of them recognize him from officiating in rec leagues in the area.
Stasiak and Barnes have been part of the same officiating crew before, so each has a feel for how the other works.
They were teammates of sorts for one night Thursday.
"When I see him on the schedule, it makes me happy being on with someone who really cares about the game," Stasiak said.
Barnes plans to keep officiating so long as he stays healthy, enjoys it and it doesn't interfere with his work schedule. Stasiak wants to wear stripes until he can't run anymore.
Jones, who is the Section VI boys basketball chairman, is grateful they have joined the fraternity of ex-players-turned-officials.
"It's nice for us as coaches to see kids who were good players involved in the game," Jones said. "You know they're going to be good officials because they know the game, and they're in the game for the right reasons."
When Tapestry defeated Health Sciences, 81-79, in overtime Wednesday, it marked the first time since 2014 in which the Thunderhawks got the better of its Charter School rival.
The teams have gathered for entertaining, intense affairs since Tapestry's previous win, 87-74, on Dec. 11, 2014. But the Falcons seemingly found ways to come up with key plays in winning 12 straight games in the series.
Health Sciences led by 14 on Wednesday but unlike previous encounters, Tapestry didn't surrender.
"Confidence," Ester said of the difference in his team. "The kids didn't quit. We kept fighting and fighting our way back in. Ricky Washington came off the bench, hit two 3s back to back and that changed the complexion and got us excited."
Massi Graham had 25 points and 12 rebounds in the win. Senior point guard Tariq Eubanks had 19 points, 11 assists, five steals and five rebounds. He also surpassed 1,000 career points by sinking a free-throw in overtime for his final point of the game.
Eubanks wasn't the only player in the Tapestry-Health Sciences game to surpass 1,000 career points. Health Sciences senior and reigning Allen Wilson Buffalo News Player of the Year JaVaughn Jones also surpassed the 1,000 points barrier.
Needing just 13 points, Jones went off for 41 points and finished off a triple-double with 11 assists, 10 rebounds and six steals.
Jones now has 1,028 points.
Another milestone: Jamyier Patton of Bishop Timon-St. Jude eclipsed 1,000 career points during the Tigers' win over St. Mary's on Wednesday.
Milestone alert I: Niagara Falls' Jalen Bradberry is 38 points from reaching the 2,000 career points mark. His single-game career high is 43 points, achieved two years ago. His season high is 39 in a win against Niagara-Wheatfield.
Milestone alert II: Canisius coach Kyle Husband has won 341 games during his tenure. He is one win from matching the program record set by Greater Buffalo Sports Hall of Fame member Johnny Barnes. The Crusaders host Health Sciences on Friday night and entertain St. Joe's on Sunday.